If you're trying to manage and maintain your weight in a healthy way, then you may find yourself considering how many calories are in each meal and, in turn, how much energy you use each day (that is, how many calories you burn off) during your various body-boosting physical activities. While that's all fine and good, you might also want to keep an eye on the number of carbohydrates (or carbs) that you tend to consume, due to the fact that they can also affect both your health and your weight.
For example, one study found that diets high in refined carbohydrates (think added sugars, white bread, pasta, etc.), increased the risk of diabetes and cardiovascular disease. Another recent study discovered that a low-carb diet may help lower the risk of cardiovascular and cancer mortality.
Information like this may understandably prompt you to start looking for meals that are on the low-carb side. Fortunately, we can help you with just that thing due to the fact that there are plenty of easy low-carb meals that you can make at home. Granted, there are also quite a few tasty options if you happen to be craving fast food, which is something that you don't have to deny yourself even if you want low-carb options. If you head to Subway, Taco Bell, Wendy's or another one of your favorite fast food restaurants, you can still keep things relatively low-carb by opting for one of the following suggestions from dietitians who know just what to order.
What 'Low-Carb' Fast-Food Is
If you're trying to stick to a low-carb diet, then the Mayo Clinic notes that you should aim to consume between 20 to 57 grams of carbs per day. This equals around 80 to 240 calories (of course, you'll also be getting calories from other sources, so don't worry about this low amount). However, other low-carb diets can bump that number all the way up to 120 grams of carbs per day, according to Frontiers in Nutrition.
Whatever your particular goal might be when it comes to the maximum amount of carbs you ingest each day, you might think that anything you eat at a fast food restaurant will blow right past your daily limit. However, it turns out that there are quite a few low-carb fast food options at your favorite restaurants that will very likely spark your appetite.
Tips for Ordering Low-Carb Fast Food Options
There are a few easy ways to ensure that your meals are low-carb. Registered dietitian Ashlee Welter, RD tells Eat This, Not That! "when ordering your meal, try to avoid some culprits that commonly contribute to higher carbs." She explains that "this includes soda, French fries, and ice cream shakes." 
On top of that, Welter says to "watch for hidden carbs that are also found in salad dressings, ketchup, BBQ sauce, and honey mustard." Of course, you can still keep the extras if the rest of the meal is relatively low-carb, which includes the following list of totally tasty and super convenient options.
The Best Low-Carb Fast Food Options
1. Subway Veggie Delite Salad
Per salad: 50 calories, 1 g fat (0 g saturated fat), 75 mg sodium, 9 g carbs (4 g fiber, 5 g sugar), 3 g protein
"The Veggie Delite Salad is a great low-carb option at Subway," says Mary Sabat, MS, RDN, LD. Basically, a garden salad that "includes lettuce, tomatoes, peppers, cucumbers, and other vegetables," Sabat notes that "it has only 12 grams of carbs," which definitely makes it a delightful—or rather, "deliteful"—low-card option. It's also a fresh menu item that will provide you with plenty of other nutrients that your body will surely appreciate.
2. Taco Bell Power Menu Bowl
Per bowl: 460 calories, 21 g fat (6 g saturated fat), 1,250 mg sodium, 12 g carbs (8 g fiber, 3 g sugar), 27 g protein
When it comes to Taco Bell, Sabat suggests ordering the Power Menu Bowl if you're looking for something that isn't jam-packed with carbs. Indeed, "It has only 12 grams of carbs," says Sabat. She also points out that along with shredded chicken, you'll find lettuce, guacamole, pico de gallo, reduced-fat sour cream, and avocado ranch sauce in this bountiful bowl.
3. KFC Grilled Chicken Breast
Per chicken breast: 270 calories, 7 g fat (2 g saturated fat), 710 mg sodium, 2 g carbs (0 g fiber, 0 g sugar), 38 g protein
If you find yourself craving KFC's signature secret blend of herbs and spices, then you might assume that you can only get it with their carb-loaded fried chicken. However, that's not the case at all. Instead, you can pick up a Grilled Chicken Breast which also features the famous flavor. On top of that, Sabat points out that it "has only 2 grams of carbs," which definitely makes this a winner-winner chicken dinner.6254a4d1642c605c54bf1cab17d50f1e
4. Arby's Roast Turkey Farmhouse Salad
Per salad: 230 calories, 13 g fat (7 g saturated fat), 870 mg sodium, 8 g carbs (2 g fiber, 5 g sugar), 22 g protein
When you think about ordering from Arby's, you likely try to decide between the various beef sandwiches that the chain offers on its menu. But if you're interested in a lower-carb option, then you should try out the turkey. Sabat explains that the Roast Turkey Farmhouse Salad is made with (surprise!) roast turkey as well as cheddar cheese, tomatoes, lettuce, and buttermilk ranch dressing, yet only has 8 grams of carbs per serving.
5. Chipotle Burrito Bowl (without rice)
Per chicken bowl without rice: 570 calories, 37 g fat, 18 g carbs, 41 g protein
One of the great things about Chipotle is the fact that it's the kind of fast-food joint that gives you the opportunity to customize your order. While doing so, you can nab a Burrito Bowl, which offers you "your choice of protein, lettuce, fajita vegetables, salsa, and guacamole," Sabat says.
6. Jack In The Box Grilled Chicken Salad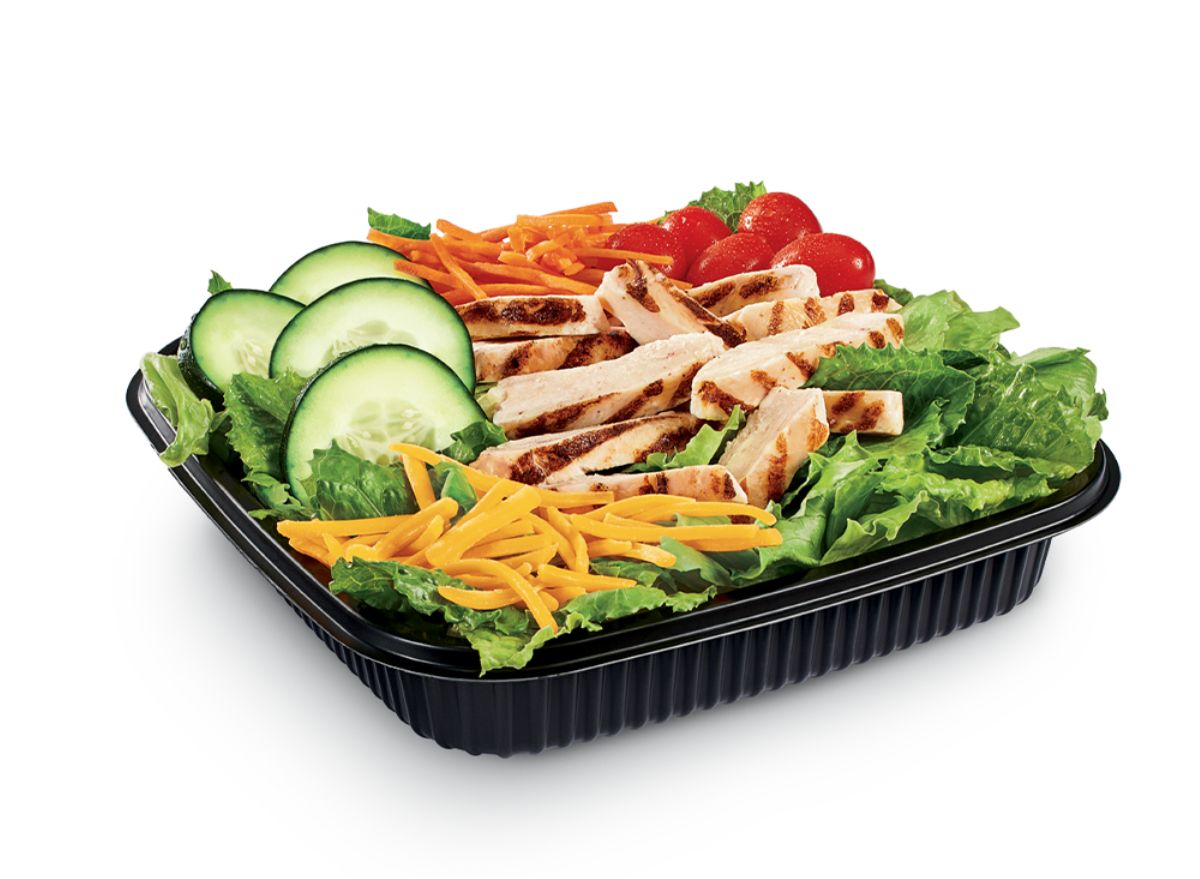 Per salad: 220 calories, 9 g fat (4 g saturated fat), 740 mg sodium, 14 g carbs (4 g fiber, 4 g sugar), 14 g protein
If you're a fan of Jack In The Box, then Sabat suggests ordering the Grilled Chicken Salad for a delicious low-carb fast food order.  Despite having "grilled chicken, lettuce, tomatoes, cheese, and honey mustard dressing," Sabat tells us "it has only 14 grams of carbs."
7. Chick-fil-A's Spicy Southwest Salad
Per meal: 690 calories, 49 g fat (10 g saturated fat), 1,570 mg sodium, 29 g carbs (8 g fiber, 8 g sugar), 33 g protein
"The Spicy Southwest Salad with a grilled filet contains 29 grams of carbs for the entire meal," Welter says. Although that may already suit your goals—not to mention fulfill your need for something spicy—Welter points out that "If you want to lower the carbs even more, hold the tortilla strips and chili lime pepitas." She explains that "this will save 10 grams of carbs." However, she also notes that you need to "be sure to get the grilled chicken and not crispy chicken, as grilled chicken does not have breading and will save on carbs."
8. Wendy's Double Stack Cheeseburger
Per burger: 410 calories, 24 g fat (10 g saturated fat), 690 mg sodium, 26 g carbs (1 g fiber, 6 g sugar), 23 g protein
You may be thrilled to find out that burgers aren't an option that you have to avoid if you're sticking to a low-carb diet. In fact, you can even grab yourself a cheeseburger while ensuring that you're not eating too many carbs. As Welter points out, Wendy's "Double Stack Cheeseburger contains 26 grams of carbs." On top of that, you can "remove the bun to save around 15 to 20 grams of carbs." If you're still hungry, she adds that you can "pair this with a cup of chili (22 grams of carbs) or some apple bites (8 grams of carbs)." However, she's also sure to note that you need to "watch out for high-carb sides such as French fries (large fry is 63 grams of carbs) and baked potatoes (61 grams of carbs)."
9. Chick-fil-A's Grilled Nuggets
Per serving: 130 calories, 3 g fat (0.5 g saturated fat), 440 mg sodium, 1 g carbs (0 g fiber, 1 g sugar), 25 g protein
"My personal favorite low-carb fast food meal is the Chick-fil-A grilled nuggets with a side salad," Feder says while describing an option that might become your favorite as well. Honestly, how could you resist when you find out why Feder happens to adore them? "The grilled nuggets actually have that delicious grilled flavor and are all white meat, which is very lean," he says while also pointing out that "getting a side salad just adds on a good amount of fiber and nutrients to your meal, all while keeping the carb count at practically zero."
10. Wendy's Avocado Chicken Salad
Per salad: 485 calories, 36 g fat (9.5 g saturated fat), 550 mg sodium, 7.5 g carbs (5 g fiber, 1 g sugar), 32 g protein
"Wendy's avocado chicken salad is a delicious low-carb fast food option," Feder notes while recommending the meal which contains 7.5 grams of carbs. On top of that, he explains that "It is packed with lean protein from white meat chicken as well as healthy fats from the avocado." That's not to mention the fact that "you also get added fiber and nutrients from the lettuce and vegetables, making this a pretty well-rounded low-carb fast food meal."
11. Jack In The Box's Grilled Chicken Club Salad
Per meal: 220 calories, 8 g fat (2.5 g saturated fat), 800 mg sodium, 13 g carbs (3 g fiber, 5 g sugar), 25 g protein
Finally, Feder recommends the grilled chicken club salad from Jack In The Box, which "is a great low-carb fast food option" at 13 grams of carbs. He adds that "They use white meat grilled chicken and a nice mix of fresh vegetables to provide you with protein, fats, and fiber, all while keeping the carb count quite low."