30 Richest Sportsman in the World in 2021
Sports lovers are very much interested to know who is the richest sportsman in the world in 2021. They want to find their loving athlete in the top list of the highest net worth.
The list of the richest sportsmen in 2021 was arranged by the current net worth of the players. Earning a lot and the highest fame cannot bring a sportsman to the top of this list. 
Sometimes the luxurious lifestyle of a sportsperson spends a lot and makes him a luxury person instead of the richest person.
Let's find out your loving 2021's richest sportsman in the world and learn more about his financial statements with earning reports, and net worth revolution.
#Here is the top richest sportsman in the world 2021 with the recent net worth
01. Vince McMahon
Net Worth: $2.3 Billion
Nationality: American
Occupation: Entrepreneur and businessman, Professional wrestling promoter and executive, American football executive, Media proprietor
Title: Chairman and CEO of WWE and Founder and chairman of Alpha Entertainment
Business: WWE, Alpha Entertainment, XFL
Political Party: Republican
Born: August 24, 1945
Education: East Carolina University (BA)
Spouse: Linda McMahon (m. 1966)
Children: Stephanie McMahon, Shane McMahon
Height: 6 ft 2 in (1.88 m)
Passion: Wrestling Shoes
Vince McMahon is a very popular person mostly known as the richest sportsman in the world. He is an American professional wrestling promoter, film producer, occasional wrestler, and commentator with a net worth of $2 billion.
He has got to his position as the CEO of World Wrestling Entertainment, commonly known as WWE.
He owns 28.7 million shares of WWE's stock. He holds class B shares that control 80% of WWE's voting power and also 37% (roughly) of the company's total outstanding shares.
He has plans to invest around $500 million of his own money in the re-booted XFL.
02. Michael Jordan
Net Worth: $1.6 Billion
Nationality: American
Occupation: Basketball player, Entrepreneur, Spokesperson
Business: Charlotte Hornets
Award: NBA Most Valuable Player Award
Born: February 17, 1963
Full Name: Michael Jeffrey Jordan
Education: University of North Carolina, Emsley A. Laney High School
Spouse: Yvette Prieto (m. 2013), Juanita Vanoy (m. 1989–2006)
Children: Jasmine M. Jordan, Jeffrey Michael Jordan, Marcus Jordan, Victoria Jordan, Ysabel Jordan
Height: 6 ft 6 in (1.98 m)
Number: 23
Popular Product: Michael Jordan Jersey
I've missed more than 9,000 shots in my career. I've lost almost 300 games. Twenty-six times I've been trusted to take the game-winning shot…and missed. I've failed over, and over and over again in my life. And that is why I succeed.
Michael Jordan is the richest sportsman in the world in 2021. He is a retired American basketball player, product endorser, team owner, and entrepreneur with a net worth of $1.6 billion. His total earning is $93.7 million from his salary during his NBA career.
The first athlete in history to earn over $30 million per year in salary
He achieved billionaire status
Has won six titles with the Chicago Bulls
Although he is not playing played basketball professionally in nearly two decades, today Michael earns $100 million per year from endorsements and  also from various other business ventures
03. Ion Tiriac
Net Worth: $1.6 Billion
Nationality: Romanian
Occupation: Tennis player, Businessperson, Tennis Instructor
Business: Romanian Tennis Federation (Leader)
Award: Order of the Star of Romania
Plays: Right-handed (one-handed backhand)
Born: May 9, 1939
Education: National University of Physical Education and Sport
Spouse: Erika Braedt (m. 1963–1965)
Children: Ioana Natalia Ţiriac, Karim Mihai Ţiriac, Ion Ţiriac jr.
Height: 6 ft 0 in (1.82 m)
Recommendation: Personal Tennis Gear to Start
Ion Tiriac is the 2nd richest sportsman in the world in 2021. He is a Romanian businessman and also former professional tennis and ice hockey player who has a net worth of $1.6 billion.
He is not only successful in his tennis career but also pivoted to an extremely successful career as a businessman and consequently earned billions of dollars.
Ion Tiriac who was a former athlete heads Tiriac Group, which has interests in real estate, auto, financial services and more
After his retirement, Tiriac coached top players named: Guillermo Vilas, Marat Safin and Boris Becker.
He started off his investment career after the fall of communism in Romania, and as a result founded the Tiriac Group.
He owns an exclusive car and motorcycle collection of more than 400 models. It includes cars previously owned by Al Capone, Sammy Davis Jr. and many.
He has represented Romania in  international platform  in ice hockey. It includes an appearance in the 1964 Winter Olympics and three Davis Cup finals.
04. Anna Kasprzak
Net Worth: $1.3 Billion
Nationality: Danish
Occupation: Danish equestrian
Business: ECCO
Current team: Denmark
Award: Dressage World Cup
Born: December 8, 1989
Education: Not Founded
Marital Status: In Relationship
Children: 1
Height: 5ft 9in
Weight: 66 kg
Anna Kasprzak is a popular and one of the richest female sportsmen in the world in 2021. Anna Kasprzak, a Danish dressage rider whose net worth is $1.3 billion. She is renowned as the youngest billionaire in the world.
Anna Kasprzak has achieved several bronze medals:
The 2008 Azeitao European Young Riders Champions in team dressage,
The 2009 Ermelo European Young Riders Championships in team dressage,
The 2010 Kronberg European Young Riders Championships in freestyle dressage
The 2010 Kronberg European Young Riders Championships in team dressage many more.
Anna's late grandfather Karl Toosbuy was the founder of the shoe company ECCO in 1963. She is the only child to her parents and subsequently inherited the majority of the company upon her father's death in 2004.
Anna Kasprzak's $1.3 billion net worth has ranked her as one of the youngest billionaires in the world at various points.
05. Tiger Wood
Net Worth: $800 Billion
Nationality: American
Occupation: Professional golfer, Author, animal trainer
Award: Sports Illustrated Sportsperson of the Year
Education: Stanford University
Born: December 30, 1975
Full Name: Eldrick Tont Woods
Spouse: Elin Nordegren (m. 2004–2010)
Children: Charlie Axel Woods, Sam Alexis Woods
Height: 6 ft 1 in (1.86 m)
Residence: Jupiter Island, Florida
Recommend: Pro Golf Gear
Tiger Woods, an American professional golfer who has a net worth of nearly $800 Million. Every year he earns grossly $50-60 million. He is called the highest-earning golfer of all time. He was the highest-earning celebrity on the planet for many years.
Tiger Wood is very very popular and many expect him as the top richest sportsman in the world. He cannot hold the number one position as he has not have that much net worth.
Highlights from his long list of success include 15 professional major tournaments, 81 PGA Tour wins, 41 European tour wins along with five Masters Wins, and many more.
Tiger has been ranked in the number 1 position for more consecutive weeks than any other player. He also has the lowest scoring average of all time.
Regarded as one of the greatest golfers and also as one of the most famous athletes of all time.
He will be introduced to the World Golf Hall of Fame in 2021.
06. Michael Schumacher
Net Worth: $780 Million
Nationality: German
Occupation: Race car driver, Author, Diplomat, Voice acting, Motorcycle Racer, Car race driver
Award: Laureus World Sports Award for Sportsman of the Year
Born: January 3, 1969
Education: Columbus State Community College
Spouse: Corinna Schumacher (m. 1995)
Children: Mick Schumacher, Gina-Maria Schumacher
Height: 5ft 9in
Books: Michael Schumacher: Formula for Success: the Gripping Inside Story of One of Motor Racing's Greatest Champions
Michael Schumacher, a former German Formula One race car driver has a net worth of $780 million.  He started off his racing career at a very early age and today he is considered to be the most successful Formula One driver of all time.
His career span: 1991 to 2006 with Jordan Benetton, and Ferrari.
His younger brother Ralf Schumacher also had a highly successful racing career
One of the highest-paid athletes of all time with career earnings that easily surpass $1 billion.
He is the 5th highest-earning athlete of all time just behind Jack Nicklaus ($1.2 billion),
In years when he was not racing managed to earn $50 million from endorsements only.
At the peak of his career, he earned $10 million per year.
At his peak, he earned $80-100 million per year which was enough to make him the highest-paid athlete in the world.
07. Arnold Palmer
Net Worth: $750 Million
Nationality: American
Occupation: Professional golfer, Architect, Actor, Aircraft pilot
Business: Arnold Palmer Enterprises, Inc.
Award: Sports Illustrated Sportsperson of the Year
Education: Wake Forest University, Greater Latrobe Senior High School, Louisville Collegiate School
Born: September 10, 1929
Died: September 25, 2016
Full Name: Arnold Daniel Palmer
Spouse: Kathleen Gawthrop (m. 2005–2016), Winifred Walzer (m. 1954–1999)
Children: Peggy Palmer, Amy Palmer
Height: 5 ft 10 in
Passion: Easy Golf Gear
Arnold Palmer, an American professional golfer, and entrepreneur have a net worth of $750 million. He is considered to be one of the greatest golfers of all time.
Arnold Palmer is one of the richest sportsmen in the world in 2021, and he has a good net worth of being in this list. 
Arnold earned more than $1.3 billion from endorsements and business ventures (after adjusting for inflation).
He won the PGA Tour 62 times and the Championship Tour ten times.
He was introduced to the World Golf Hall of Fame in 1974. 
He was famous for being one of the three legends named together "The Big Three" in golf, along with Jack Nicklaus and Gary Player who were the three key players credited with popularizing the sport around the world.
08. Roger Staubach
Net Worth: $650 Million
Nationality: American
Occupation: American football player, Businessperson, Officer
Business: The Staubach Company
Award: Walter Payton Man of the Year
Education: United States Naval Academy, Purcell Marian High School, Purcell High School, New Mexico Military Institute
Born: February 5, 1942
Spouse: Marianne Staubach (m. 1965)
Children: Jeffrey Roger, Jennifer Anne, Stephanie Marie, Michelle Elizabeth, Amy Lynn
Height: 6 ft 3 in (1.91 m)
Number: 12
Favorite: Roger Staubach Football
Roger Staubach, an American former professional football quarterback, has a net worth of around $650 million. He is widely known as a former quarterback for the Dallas Cowboys team in the National Football League (NFL).
After retiring from professional sports, he spent his time on The Staubach Company, and he served as its chairman and CEO until the announcement of his stepping down on June 20, 2007.  The Staubach Company was sold to Jones Lang LaSalle for $613 million on July 11, 2018.
Besides real estate, Staubach has managed other projects. His other projects include joint owner along with fellow former Cowboy Troy Aikman of Hall of Fame Racing.
09. Junior Bridgeman
Net Worth: $650 Million
Nationality: American
Born: September 17, 1953
Education: University of Louisville, Washington High School
Occupation: Basketball player, Businessperson, Restaurateur
Business: Bridgeman Foods Inc.
Spouse: Doris Griffith
Children: Eden Bridgeman, Justin Bridgeman, Ryan Bridgeman
Height: 6ft 5in
Junior Bridgeman, an American retired professional basketball player and also a highly successful fast food entrepreneur have a net worth of $650 million. 
Junior Bridgeman passed a moderately successful 12-year career as an NBA player. He has played for the Milwaukee Bucks and Los Angeles Clippers. His highest (single-season) salary was $350,000.
He took all his money and invested all of it into fast-food franchises, Specifically Wendy's food chains. Today he is undoubtedly one of the richest athletes in history who has become a model for gaining success even after leaving professional sports.
His professional basketball career duration was 1975 to 1987.
By 2016, Bridgeman Foods Inc demonstrated more than 160 Wendy's and above 120 Chili's franchises.   He sold his fast-food empire in 2016.
In 2018, he signed a letter of intent so that he can buy bottling operations in Canada. Junior is now working as the president and CEO of Coca-Cola Heartland.
10. Lionel Messi
Net Worth: $600 Million
Salary: 41 million USD (2022)
Nationality: Argentina
Occupation: Football player, Actor
Current Teams: Paris Saint-Germain F.C.
Number: 30
Teams: Barcelona (2004-2021)
Born: June 24, 1987
Education: Escuela Primaria N° 66 "Gral. Las Heras"
Height: 5.7 Feet
Lives in: Castelldefels
Spouse: Antonela Roccuzzo (m. 2017)
Children: Thiago Messi Roccuzzo, Mateo Messi Roccuzzo, Ciro Messi Roccuzzo
Award: Ballon d'Or
House: House in Castelldefels, One Zero Eco House
Vehicle: Maserati GranTurismo, Maserati GranTurismo Sport, Audi R8, Dodge Charger SRT8, Audi R8 Spyder, Audi Q7, Ferrari F430 Spider, Lexus RX, Toyota Prius Dodge Charger LX
Private Jet: Gulfstream G550
Lionel Messi, an Argentine professional footballer has a net worth of $600 million. Lionel Messi has obtained his net worth as a striker and also as a winger of the FC Barcelona and the Argentina National Team. He is a living legend in the football world of this era.
He is often called the best soccer player in the world.
He is undoubtedly one of the highest-paid soccer players in the world.
He has been the highest-paid player in a series of years.  In 2020, he earned $130 million –  $92 million from base salary and another $38 million from endorsements.
The World's Highest-Paid Athletes 2021
11. Kobe Bryant
Net Worth: $600 Million
Nationality: American
Occupation: Basketball player, Screenwriter
Business: Bryant Stibel
Award: NBA Finals Most Valuable Player Award
Born: August 23, 1978
Died: January 26, 2020
Education: Lower Merion High School
Spouse: Vanessa Bryant (m. 2001–2020)
Children: Gianna Bryant, Bianka Bella Bryant, Natalia Diamante Bryant, Capri Kobe Bryant
Height: 6ft 6in
Favorite: Kobe Bryant Shoe
Kobe Bryant, an American professional basketball player, had a net worth of $600 million at the time of his death. Kobe Bryant died on January 26, 2020, in a helicopter crash. He was an 18X NBA All-Star and a 5X NBA Champion.
During his NBA career, Kobe Bryant earned just over $328 million in salary alone.
He also earned an estimated $350 million from endorsements for a total of $600 million in NBA career earnings.
In his final year in the NBA, Kobe earned $25 million.
His most notable endorsements are- Nike, Sprite, McDonald's, Turkish Airlines Lenovo, and many.
 12. Magic Johnson
Net Worth: $600 Million
Nationality: American
Occupation: Basketball player, Coach (sport), Entrepreneur, Sports commentator, etc.
Business: Magic Johnson Enterprises
Position: Point Guard
Award: NBA Finals Most Valuable Player Award
Born: August 14, 1959
Education: Michigan State (1977–1979), Everett High School
Spouse: Cookie Johnson (m. 1991)
Children: EJ Johnson, Andre Johnson, Elisa Johnson
Height: 6ft 9in
Weight: 100kg (220lb)
Favorite Basketball: Magic Johnson Basketball
Johnson earned almost $40 million from his salary during his NBA career that includes a 25-year, $25 million contracts with the Lakers in 1981 that has ranked as the richest deal in the history of sports.
Played point guard for the Lakers for 13 seasons.
Won the NBA Championship along with the NBA Finals Most Valuable Player Award in his rookie season.
Johnson is the former president of basketball operations for the Lakers whose net worth is $600 million, according to Forbes.
13. Cristiano Ronaldo
Net Worth: $500 Million
Salary: 26.52 million GBP (2022)
Nationality: Portugal
Occupation: Portuguese soccer player, Fashion entrepreneur, Model
Business: Manchester United Real Madrid
Played: 22 Matches
Scored: 856 Goal
Team: Juventus F.C., Portugal national football team (Captain)
Number: 7
Trophy: 31 Trophies
Award: FIFA World Player of the Year, FIFA Confederations Cup 2017
Education: Sporting Academy, No Paper Education
Born: February 5, 1985
Passion: Football
Height: 6.2 feet
Weight: 83kg
Spouse: Georgina Rodríguez (Companion)
Children: Cristiano Ronaldo Jr. (b. 2010) son, Eva Maria (b. 2017) twin daughter, Mateo Ronaldo (b. 2017) twin son, (Georgina Rodríguez: Alana Martina (b. 2017), daughter)
Hometown: Europe, Portugal
Vehicle: Bugatti Centodieci, Bugatti Veyron, Bugatti Chiron, Maserati GranCabrio, Rolls Royce Cullinan, Chevrolet Camaro SS, Lamborghini Aventador, Ferrari F12 TDF, McLaren Senna, Ferrari 599 GTO, Mercedes Benz S65 AMG Coupe, Mercedes Benz GLE63s AMG, Rolls Royce Phantom Drophead, Porsche 911 Turbo S, Audi RS7
Private Jet: Gulfstream G650
Work with brands: Pestana CR7, 7EGEND, Insparya, Nike, Herbalife, DAZN, Clear, MTG, Altice, CR7 Fitness, Free Fire.
Cristiano Ronaldo, a Portuguese professional soccer player, is a star of this sports era. He is a product ambassador and an entrepreneur. Cristiano Ronaldo's net worth is $500 Million. Cristiano undoubtedly is one of the highest-paid entertainers on this planet now.
In a given year he earns $100-150 million from both his salary and endorsements.
One of the greatest footballers of all time, Cristiano has made his place among legends such as Pele, George Best, Maradona
He is Also known as "CR7" and has often been compared to  Messi in some fiery debates over who is the best between them.
Cristiano Ronaldo is on his  pace to earn more than $1 billion in his career and that is going to be a milestone that no other footballer has passed
He typically earns more than $60 million per year as a base salary and more than $40 million a year from endorsements.
14. LeBron James
Net Worth: $500 Million
Nationality: American
Occupation: Basketball player, Voice acting, Screenwriter, Television producer
Business: The SpringHill Company
Current Team: Los Angeles Lakers
Award: NBA Most Valuable Player Award
Born: December 30, 1984
Education: St. Vincent-St. Mary High School
Spouse: Savannah Brinson (m. 2013)
Children: Bronny James, Zhuri James, Bryce Maximus James
Height: 6ft 9in
Weight: 113kg (250lb)
Salary: 39.22 Million
LeBron James, an American professional basketball player and also an entrepreneur having a net worth of $500 million.
Every year, LeBron James earns almost $40 million in salaries from the NBA and roughly $55 million from all other endorsements. That makes his total annual income roughly $100 million.
LeBron according to our prediction will retire in roughly 2025 with around $1.1 billion in career total earnings.
According to our estimate, if LeBron can follow the footsteps of legends like Michael Jordan, Magic Johnson, and Kobe Bryant, his net worth would surpass $1 billion in 2035 when he will be 51 years old.
15. Eddie Jordan
Net Worth: $500 Million
Nationality: American
Occupation: Basketball player, Basketball coach
Teams: EMKA Productions Limited
Award: NBA Most Valuable Player Award
Born: January 29, 1955
Education: Archbishop Carroll High School, Rutgers University
Spouse: Charrisse Jackson Jordan (m. 1997)
Children: Skylar Jordan, Justin Jordan, Paul Jordan, Eddie Jordan II, Jackson Jordan
Height: 6ft 1in
Eddie Jordan, a former Irish racing driver and the business boss who has a net worth of $500 million. Eddie Jordan made his net worth by being the founder of the Jordan Grand Prix. He is currently working as the lead analyst for F1 coverage on the BBC.
He is probably best known as Formula One's magical team boss. As of now, he is the lead analyst on BBC's Grand Prix coverage.
It's true he enjoyed his racing career, but he gave up on it in order to manage more drivers' careers via his own team.
He is the man behind the rise of a huge number of forthcoming Grand Prix drivers including Damon Hill and Martin Brundle. He moved into Formula One at the end of the 1980s.
He has numerous involvement in investment companies as well as in other business ventures.
16. Floyd Mayweather
Net Worth: $450 Million
Nationality: American
Occupation: Professional Boxer, Professional Wrestler, Event promoter, Actor
Business: Mayweather Promotions, LLC
Education: Ottawa Hills High School
Born: February 24, 1977
Spouse: Shantel Jackson (Girlfriend)
Children: Iyanna Mayweather, Zion Shamaree Mayweather, Jirah Mayweather, Koraun Mayweather, Devion Cromwell
Height: 5ft 8in
Weight: 68kg
Olympic Games: Featherweight
Award: Best Fighter ESPY Award
Floyd Mayweather, a world-renowned American boxing champion and promoter, whose total career earning is above $1.1 billion. Net worth is $450 million as of 2021
5th highest-paid athlete of all time and got the place amongst six athletes whose career earnings have already topped $1 billion.
Most impressive is that Floyd's achievement has come from scant endorsement earnings while most of the highest-paid athletes in history have earned the majority of their income through their endorsement deals.
Floyd has made more than a half-billion dollars from just two fights. He made $250 million in 2015 after fighting Manny Pacquiao and earned $300 million in fighting Conor McGregor in 2017.
17. David Beckham
Net Worth: $450 Million
Nationality: United Kingdom
Occupation: Footballer, Business man, Model, Spokesperson
Business: Inter Miami CF, Salford City
Organization: UNICEF, Malaria No More
Born: May 2, 1975
Education: Chingford Foundation School
Spouse: Victoria Beckham (m. 1999)
Children: Brooklyn Beckham, Romeo James Beckham, Harper Seven Beckham, Cruz Beckham
Height: 5ft 11in
Award: Sports Personality of the Year
A retired English soccer player, David Beckham, has a net worth of $450 million. It is a combined net worth with his wife, Victoria Beckham, who is a singer and designer.
Started off his professional soccer debut at the age of 17 and for long nine seasons played for Manchester United. During this period the squad won the FA Cup twice,  the Premier League title six times, and the UEFA Champions League once.
During his final six seasons in the MLS with the L.A. Galaxy, David Beckham earned an estimated amount of $255 million including salary, revenue, appearances, licensing, and all his endorsement.
His annual Paris Saint-Germain salary was $50 million.
18. Roger Federer
Net Worth: $450 Million
Nationality: Switzerland
Occupation: Tennis player
Born: August 8, 1981
Education: University of Basel
Passion: Tennis
Height: 6.1 Feet
Spouse: Mirka Federer (m. 2009)
Children: Myla Rose Federer, Charlene Riva Federer, Lenny Federer, Leo Federer
Hometown: Basel, Switzerland
Grand slams won (singles): 20
Tour Finals: W (2003, 2004, 2006, 2007, 2010, 2011)
Vehicle: Mercedes Benz SLS AMG, Mercedes E Class Cabriolet, Mercedes Benz SL, Range Rover
Roger Federer, Swiss-born professional tennis player obtains a net worth of $450 million. His total career earnings are $129 million which is the second-highest amount earned in tennis history behind $145 million which was earned by Novak Djokovic.
He has earned at least $600 million from endorsements during his career so far.
He is maintaining his pace to be one of the very few professional athletes who managed to earn $1 billion from their sport.
He established the Roger Federer Foundation in 2003 with the notion of helping unprivileged children and increasing their access to both education and sport.
19. Phil Mickelson
Net Worth: $400 Million
Nationality: American
Born: June 16, 1970
Education: Arizona State University
Occupation: Professional golfer, Author
Business: TPI
Spouse: Amy Mickelson (m. 1996)
Children: Evan Samuel Mickelson, Amanda Brynn Mickelson, Sophia Isabel Mickelson
Height: 6ft 3in
Award: Best Championship Performance ESPY Award
Mickelson, an American professional golfer, has a net worth of $400 million. Being an incredibly successful golfer he belongs to the small minority of players in the history of golf who have won three of the four majors.
Till today Phil Mickelson's career earnings are about $800 million.
In some years he has earned $80-$100 million. In recent years he has earned $40 to $50 million and the vast majority of this earning comes from endorsements.
He has earned over $90 million in tournament money alone.
20. Bud Seling
Net Worth: $400 Million
Nationality: American
Born: July 30, 1934
Education: University of Wisconsin-Madison, Washington High School of Information Technology
Occupation: Businessperson, Commissioner of Baseball
Business: Teams, Inc.
Spouse: Suzanne Lappin (m. 1977), Donna Selig (m. ?–1976)
Children: Wendy Selig-Prieb, Sari Selig-Kramer, Lisa Steinman
Award: Lombardi Award of Excellence
Bud Selig, an American Commissioner of Major League Baseball, has a net worth of $400 million. Bud Selig did earn his net worth through his years in baseball as the owner of the Milwaukee Braves, former Commissioner of the MLB and Executive Counsel.
At the peak of his career, his salary was $14.5 million per year.
He came up with the idea of revenue sharing for baseball and has been called the best commissioner in baseball history.
Selig planned to retire after the 2012 season but stayed on for two more years.
At the peak of his career, his salary was $14.5 million per year.
21. Michael Buffer
Net Worth: $400 Million
Nationality: American
Occupation: Ring announcer, actor
Born: November 2, 1944
Education: Abington Senior High School
Spouse: Christine Prado (m. 2008), Alina Buffer (m. 1999–2003), Christine Buffer
Children: Michael and Matthew
Height: 6ft 0in
Award: NBA Finals
Michael Buffer, an American boxing announcer and entrepreneur has a net worth of $400 million. He is widely known for being one of the greatest ring announcers for boxing and wrestling matches.
He became world-famous when he used his signature catchphrase "Let's Get Ready to Rumble". He trademarked the phrase.
That trademark earned Michael hundreds of millions of dollars in royalties for years.
22. Shaquille O'Neal
Net Worth: $400 Million
Nationality: American
Born: March 6, 1972
Education: Fulda American High School, LSU (1989–1992)
Occupation: Basketball player, Actor, Singer, Businessperson, etc.
Business: Not Founded
Spouse: Shaunie O'Neal (m. 2002–2011)
Children: Shareef O'Neal, Shaqir O'Neal, Me'arah O'Neal, Myles B. O'Neal, Taahirah O'Neal, Amirah O'Neal
Height: 7ft 1in
Award: NBA Most Valuable Player Award
Shaquille O'Neal, a retired American basketball player, television host, and entrepreneur who has a net worth of $400 million. He has earned $292 million from salary alone during his time in the NBA. He also earned over $200 million from endorsements during that time.
Although he has been retired for years, Shaq still earns almost $60 million per year from endorsements and also from his various business endeavors.
His physical stature made him famous and gave him a distinct advantage over his opponents.
He is famous for his "drop step" move which is nicknamed as the Black Tornado.
His peak salary was $27 million
23. Greg Norman
Net Worth: $500 Million
Nationality: Australian
Born: February 10, 1955
Education: Aspley State High School, Townsville Grammar School
Occupation: Professional golfer, Entrepreneur, Businessperson, Architect, Writer
Business: Greg Norman Estates
Spouse: Kirsten Kutner (m. 2010), Chris Evert (m. 2008–2009), Laura Andrassy (m. 1981–2007)
Children: Morgan Leigh Norman, Gregory Norman
Height: 6ft 0in
Residence: Jupiter Island, Florida, United States
Award: BBC Sports Personality World Sport Star of the Year
Greg Norman, an Australian professional golfer and entrepreneur has a net worth of $400 million. Greg Norman has topped the rank of number one golfer in the world for several times holding the title on and off for almost 300 weeks.
He is nicknamed as "great white shark,". Norman has almost 90 successful tournaments to his name.
Renown as a sporting legend by the golfing community.
Norman has found success in a series of different industries. Moreover, Greg Norman is known for his charity work.
Greg Norman regularly earned more than $1 million per year from golf tournament earnings.
In history, Norman was the first professional golfer to generate more than $10 million in career earnings. Today he has successfully shattered this milestone with over $15 million in career earnings.
24. Dwayne Johnson (The Rock)
Net Worth: $400 Million
Nationality: American, Canadian
Born: May 2, 1972
Education: University of Miami
Occupation: Actor, professional wrestler, producer, businessman
Business: Seven Bucks Productions
Political Party: Independent (2017–present), Republican (formerly)
Spouse: Lauren Hashian (m. 2019), Dany Garcia (m. 1997–2008)
Children: Simone Alexandra Johnson, Jasmine Johnson, Tiana Gia Johnson
House: Georgia Farm
Lives in: Powder Springs, Georgia
Vehicle: Ford F-150 Custom, Hennessey VelociRaptor V8, Pagani Huayra, Ferrari LaFerrari, Rolls Royce Wraith
Private Jet: Gulfstream G650
Height: 6.5 feet
Award: Choice Movie Sleazebag
Dwayne Johnson, aka The Rock, an American actor and professional wrestler has a net worth of $400 million dollars. 
In 2014 he retired with $400 million in total earnings (salary AND endorsements). Roughly $130 million came from endorsements for Derek.
The Rock was added to Celebrity Net Worth in December 2009 with a net worth of $30 million. Within around a year, his net worth had crossed $50 million for the first time.
Named as the richest wrestler in the world with a net worth of $75 million.
By 2015, through successful business movies, his net worth topped $160 million.
Between June 2018 and June 2019, he did earn $90 million which was enough to bring his net worth to $320 million. 
25. Vinnie Johnson
Net Worth: $400 Million
Nationality: American
Born: September 1, 1956
Education: Franklin D. Roosevelt High School, Baylor University, McLennan Community College
Occupation: Basketball player
Business: Piston Automotive
Spouse: Not Founded
Children: Not Founded
Height: 6ft 2in
Award: National Basketball Association (NBA)
Vinnie, a former professional basketball player, who has a net worth of $400 million
Nicknamed as "The Microwave" for his ability to get hot quickly.
After retirement from the NBA, Vinnie founded Piston automotive.
The company soon became one of the largest auto parts suppliers in America.
Today Vinnie is working as Chairman and CEO. The company employs more than 200 people and produces more than $2 billion per year in revenue.
This one is one of the world's largest minority-owned businesses.
26. Alex Rodriguez
Net Worth: $350 Million
Nationality: American
Born: July 27, 1975
Education: Christopher Columbus High School, Westminster Christian School
Occupation: Baseball player, Actor
Business: A-Rod Corp
Spouse: Cynthia Scurtis (m. 2002–2008)
Children: Natasha Alexander Rodriguez, Ella Alexander Rodriguez
Height: 6ft 3in
Award: American League MVP
Alex Rodriguez, an American former professional baseball player and also television analyst, has a net worth of $350million. He played for the Seattle Mariners and Texas Rangers Yet he is widely known for his time with the New York Yankees.
Has played for the Yankees from 2004 until his retirement in 2017.
During his career he earned a bit under $475 million from salary, bonuses and endorsements.
27. Jack Nicklaus
Net Worth: $320 Million
Nationality: American
Born: January 21, 1940
Education: Ohio State University
Occupation: Professional golfer, Architect, Landscape architect
Business: Nicklaus Design
Spouse: Barbara Nicklaus (m. 1960)
Children: Gary Nicklaus, Nancy Nicklaus, Steven Nicklaus, Michael Nicklaus, Jack Nicklaus Jr.
Height: 5ft 10in
Residence: North Palm Beach, Florida, United States
Award: Sports Illustrated Sportsperson of the Year
Jack Nicklaus, a retired American professional golfer, has a net worth of $320 million. Nicknamed as "The Golden Bear" in golfing circles, Nicklaus earned quite a reputation during his playing career.
He is the fourth-highest earning athlete of all time.
His career earnings are $1.15 billion.
He has founded Nicklaus Design 50 years ago and to date has arranged more than 380 golf courses in 36 countries
He's also engaged in endorsement and marketing deals with a number of companies which include Perry Ellis and Rolex.
28. Dale Earnhardt Jr
Net Worth: $300 Million
Nationality: American
Born: October 10, 1974
Education: Mitchell Community College, Mooresville High School, Oak Ridge Military Academy
Occupation: Race car driver, Radio personality, Author, Voice acting
Business: Dirty Mo Media
Spouse: Amy Reimann (m. 2016)
Children: Isla Rose Earnhardt, Nicole Lorraine Earnhardt
Height: 6ft 0in
Award: 1999 Busch Series Most Popular Driver
Dale Earnhardt, Jr. a semi-retired American NASCAR driver and also a media personality who has a net worth of $300 million. He is a NASCAR team owner, an analyst for NBC's NASCAR coverage, and an author. Racing cars has been a family business for three generations
At the peak of his career life, Dale earned $25 -30 million per year. Roughly $22 million of that amount came through endorsements.
In 2008, he earned his peak of $30 million. Throughout his career, his primary sponsor was Bud Light. He also had dealt with Kraft, Drakkar, Chevy, Gillette, and many more.
Dale retired in 2017, and by then he had earned $410 million during his career from both endorsements and winnings.
29. George Foreman
Net Worth: $300 Million
Nationality: American
Born: January 10, 1949
Education: Wheatley High School
Occupation: Professional Boxer, Actor, Entrepreneur, Businessperson, etc.
Spouse: Mary Joan Martelly (m. 1985), Andrea Skeete (m. 1982–1985), Sharon Goodson (m. 1981–1982), Cynthia Lewis (m. 1977–1979), Adrienne Calhoun (m. 1971–1974)
Children: Total: 12 Children (Include: Freeda Foreman, George Foreman III, Natalie Foreman)
Height: 6ft 4in
Award: Male Athlete of the Year
George Foreman, a retired American boxer and also a highly successful entrepreneur have a net worth of $300 million. George Foreman has the net worth of a gem but surprisingly very little of his fortune actually comes from boxing.
Even though he had an impressive career of 76 wins out of 81 fights, by the 1980s Foreman had an r small net worth of $5 million. Later on, All his success came through his entrepreneurship
This two-time World Heavyweight Boxing Champion and Olympic Gold Medalist, multimillionaire entrepreneur represents a beautiful story of success and perseverance.
30. Paul Caddick
Net Worth: $300 Million
Nationality: British
Born: July 1950
Education: Sheffield Hallam University
Occupation: Rugby Player, Businessman
Business: Leeds Rugby Limited, Caddick Group
Paul Caddick, a retired British rugby player, has a net worth of $300 million. Although he was compelled to cease his active rugby career in 1980 he never stopped his involvement with the sport
The Caddick Group has a 76% stake at Leeds Rugby and Caddick chairs this.
Along with other assets, Paul Caddick and his family's wealth reaches £150m.
Still, Paul prefers to spend his free time doing some sports activities, like rugby and shooting.
#Top 10 Richest Sportsman in the World 2021
Vince McMahon – Nationality: American
Michael Jordan – Nationality: American
Ion Tiriac – Nationality: Romanian
Anna Kasprzak – Nationality: Danish
Tiger Wood – Nationality: American
Michael Schumacher – Nationality: German
Arnold Palmer – Nationality: American
Roger Staubach – Nationality: American
Junior Bridgeman – Nationality: American
Lionel Messi – Nationality: Argentina
5 Luxury Car Restoration Ideas in 2022
These luxury car restoration ideas 2022 will help you to decide where you should redesign your car to give a unique look. Aristocratic customized work is required in this field and you just have to find someone to build your WANTS. Don't worry, there are thousands of renowned shops with good ratings who are waiting for you to make your dream true.
Approximately $50k USD is needed in a regular car restoration but extensive money eater is also present in this route, such as the Range Rover SV Autobiography will take $14,500 for its color shifting. Luxurious car restoration has an increasing rating worldwide according to the 2022 survey. It's not surprising because who doesn't want to be different? Actually, it depends on you on which part of your car you want to spend your money on.
There are thousands of examples of luxury car restorations ideas.  Let's see the common renovation parts of your car in 2022 including pricing, brands, colors, shops, time duration, renovating parts, seats, interior & exteriors, lights, etc. You may like our recent publication on World's Most Luxurious Car Brands.
Let's see: World's Most Luxurious Cars in 2022
01. Color Customization
Painting is the thing that comes to one's glance very first. Regular paintings may cost $3000 – $6000 depending on your test. You can also use the Can that comes with different colors but for that you have to pay $15k to $20k more for the application and the preparation.

Range Rover the famous car brand for luxurious cars, gives you the opportunity to customize the color of your car. They have some super expensive ideas that can make your car like your imagination. The Range Rover Chromaflair uses a certain kind of pigment that has a wonderful specialty such as it reflects the light and changes your car's color when you take turns. Isn't it sounding tempting to you? If yes, then you have to expense $19,440 to grab this super color restoration.
Another example can be the Bugatti Veyron which comes for $2 million, can give you the option of painting for only $15,500. Car modification brands, such as Carlson Tuning customize the car according to the car owners and the pricing will start from $5000. This particular brand works especially for Mercedes Vehicles. In 2012 their Mercedes Benz CGL 45 Royal was the best work.
Do you know? Most Luxurious Home in the World
02. Car Seat Restoration
In case you are thinking of doing something more with your car, you cannot but think about fitting new seats. In this very segment, brands like Harmony Defender 360, Diano Radian have good ratings on different platforms like Amazon. These highly luxurious seats will give you the luxurious look to your car and they are comfortable as well. The pricing will start from $200 only.
The common problem which happens almost with every cheap seat is that you tend to slip aside. But these expensive seats will definitely become comfy to you and you will never slip again. It's definitely a product that you should have in your collection if you are a luxury lover. Rolls-Royce in their newly arrived Phantom added silk as their seat covers. Recaro, the famous car modifying brand, is manufacturing sport seats for road cars and it is legal.
Let's see: Luxurious Lifestyle of Dubai
03. Car Interior and Exterior Restoration
Luxurious restoration of cars cannot be described without talking about the luxurious interior and exterior works. Different brands of cars nowadays offer full leather coverage in the interior of the cars. Rolls Royce Autobiography, BMW 3 Series has taken this bold step. Luxurious interior cost starts from $1,000 – $4,000 for basic materials but it will take $6,000-$20,000 with leather or high-end clothing.

You can customize it by your choice. For example, "Rolls Royce Wraith" gives a sky-like effect on its roof. But, of course, you have to pay $17,700 for this beautiful effect. The car needs 134 fiber optic lights and 17 hours to create a sky on the roof and this effect is going to make you different from any other owners of the same car for sure.
Let's see: What you need to lead a Luxurious Lifestyle
BMW 3 Series E46 will show you how your car's interior can be special and luxurious by adding fabric, wood, and leather. Only $47,000 will give this gorgeous internal finishing of your car. Techart Shop will provide you with a luxurious exterior design and the cost will start from $30K – $300K.
04. Car Wheel Restoration
Luxurious car brands like Bently Flying Spur, Rolls Royce, BMW gives you an option to customize your beloved with four wheels. Without upgrading the wheels how can you be able to restore your car luxuriously? The shinier and gorgeous the wheel looks, the more luxurious your car becomes.

Thousands of brands are there for the wheel restoration and the cost starts from $500 to $2500. But we will talk about the luxurious one. Asanti the wheel maker brand gives a wonderful and advanced finishing. You can buy an expensive Asanti wheel with $4200 per rim. Moreover we have brands like Xo luxury, Savini Wheels, Vossen etc.
05. Luxurious Car Amenities Restoration
You can add fancy electronics to your cars such as a touch screen and the modern climate controller which will cost about $40k. Sound deadening in the doors with the silicon sealer can be your luxurious restoration.

You can upgrade your car's regular braking system into a four-wheel disk system which will cost about $2k. You can also transplant something from a new car and then customize the software to deal with your old one. An Apple car play can be helpful for you too that price starting at $500.
The collision avoidance system (precrash system) which comes for $850 can be helpful and luxurious equipment. The name of this wonderful software is mobileye-560. It can really make your life safe. Underbody Neon light can also enhance your car's beauty depending on the lighting system.
There are many brands for these works like AC Schnitzer, a brand of Germany, best for BMW cars. This company has a satisfactory rating of 4.85 out of 5 stars. They have also developed a diesel engine version of the BMD Z4. Another example can be the Kaizenmotor sports. This one is the Toyota specialist. Let's have a Luxurious Tour in Maldives
Luxury Swimming Pools in the World 2022
There are many luxury swimming pools in the world in 2022 to give you a relaxing dip. These can amaze you with their gorgeous designs and features. Let's have a look at the list where you can rush for your next vacation. You may check our recent publication on Luxurious Bedrooms in the World
These most luxurious swimming pools in the world have been arranged with a lot of info including, location, size, attraction, pool owner, price, luxury, management, etc.
01. Mardan Palace – Turkey
Location: Antalya, Turkey
Attraction: Length, private beach, light works
Position: Ground floor, outdoor
The new name is Titanic Mardan Palace Hotel Antalya is located 10 minutes drive from Park Aqua and has an outdoor swimming pool, sun terrace, and an indoor swimming pool. The resort is situated near the Senat Disco and overlooks the Mediterranean Sea.
There is a 5-acre swimming pool at the hotel, and its maritime restaurant is centrally located. It has the largest swimming pool in Europe. The light work will amaze you the most. It has a large area and a beautiful artificial beach. The pool is an indoor one situated on the ground floor. There are 4 aquariums at the restaurant that hold approximately 3,000 fish kinds Don't miss: Most Luxurious Cities in the World
02. San Alfonso Del Mar – Chile
Location: San Alfonso Del Mar, Algarrobo, Valparaíso, Chile
Attraction: Second longest pool in the world
Founder: Crystal lagoon company
In Algarrobo, Chile, a premium resort claims to have the world's largest swimming pool! Imagine a private white-sand beach with a kilometre of clean ocean stretching out in front of you.  This pool is 3232 feet long and it takes 20acres of land. The most interesting thing is it is estimated that the pool uses 66 million gallons of water.
The water comes directly from the pacific ocean but after getting filtered. The pool took two billion dollars to be built. In addition, it takes 4 million dollars yearly for maintenance. Would the major interest you want to stay in this hotel in the next few days be "Do I hit the waves of the sea or relax in the huge swimming pool?
Don't miss: Dubai Lifestyle with Extreme Luxury
03. Capella Pedregal Resort – Mexico
Location: Mexico
Attraction: Private beach, length, light works, natural view, spa
Position: Rooftop, outdoor
Allow yourself to be enchanted by the magnificence of the glittering infinity pools that seem to flow towards the Pacific Ocean's horizon. Relax in the saltwater pool, or get a smack in the center of the resort excitement at the pool area, which features a swim-up bar and excellent beach views.
The pool takes a wonderful look at the dawn by its great light works. This outdoor pool is the longest pool in Mexico with a private beach, spa, and bar where you can detach and feel connected to the ambient sounds and soft waterfalls around you.
From the comfort of your own private plunge pool in your opulent guestroom or one of our numerous resort pools, take in the breathtaking views of our paradise in Los Cabos. This pool alone can make your experience of the next vacation incredible.
04. Amirandes Grecotel Exclusive Resort – Greece
Location: Greece
Attraction: Design like a palace, infinite design, natural view
Position: Roof top, indoor and outdoor both
The Memon Palace inspires the gorgeous design of this pool. The
pool is so long that a part of it has infinite design and the other part is
connected with private pools as
well. The design gives a feeling that the pool is connected with the sea itself, as it is standing in front of the
sea; the infinite design creates the illusion. The sea view is extraordinary
from the pool.
05. Red Pool – Thailand
Location: Koh samui, Thailand
Attraction: Reg mosai ,poolside villas,studios
Position: Rooftop, oceanfront pool
Hearing the name you must be wondering whether the water is red or blue. Well, You can swim in this wonderfully warm, orange-tiled, yellow, and deep red pool at Koh Samui Thailand, producing a gleaming show of vivid color and distinct style.
This is one of the famous pools of Thailand. It is different because of its red-colored tiles, which give it an unconventional look.  Get a Bonus, with a private beach with pristine sand is a stone's throw away. If you are ecstatic about splashing here, get ready to pay roughly $320 per night.
06. Blue lagoon – Iceland
Location: Iceland
Attraction: Hot water, spa, skin care service, silica in the water, milky white water
Cost: $50 USD for a person
Formed in: 1976
This water feature is actually a condensate reservoir of the Svartsengi geothermal power station. The station uses the energy of powerful subterranean sources to provide electricity and hot water to Icelanders. The most unusual thing in this pool is the skincare service. People here dip into the water wearing face masks.
Silica It's white silicate mud, not just any simple mud. It has a revitalizing effect, and mud masks can be applied to your face while bathing in the lagoon. in the water makes it looks different as it reflects sunlight. The water temperature is always 37-40 degrees Celsius, whether it's raining, snowing, or baking in the summer sun.
07. InterContinental Warsaw Pool – Poland
Location: Warsaw, Poland
Attraction: Specialized spa, panoramic view over Warsaw, aerobics ground, fitness ground,steam bath facility
Position: 43rd floor, indoor
The swimming pool on the 43rd floor provides a spectacular view of Warsaw, particularly the Palace of Culture, which is directly across the street. This is one of the tallest pools in Europe , almost 150 meter up from the ground.
The hotel says it like this, that they give a chance to swim" in the clouds". The pool is small but it will give you the chance to explore the city. Their opening hour is 6 am. The rooms are nicely prepared, the check-in staff is kind and fast, and the bar has an excellent selection of local beers.
08. PMYC Pool – Porto Montenegro
Location: Town Quay, Tivat 85320, Montenegro
Attraction: View of marina, mountains and boka bay, private shower, changing room, poolside restaurant, structured activities
Length: 210-fooot infinity pool
Designer: Richard Hywel Evans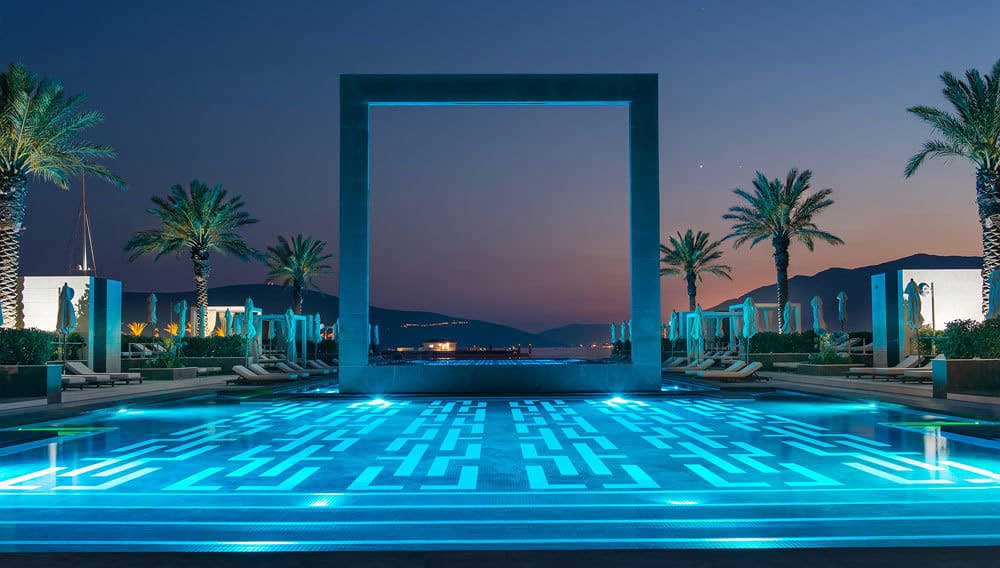 The PMYC pool presently lies where a docking station for a submarine lift originally stood. For the past eight years, the 64m infinity pool has welcomed both PMYC members and tourists from the outside every day during the scorching Montenegrin summers.
It has a capacity of 188 people, including a 20-seater lounge area, and gives a view of the marina and the Boka bay, making it ideal for a sunset. The pool is really a venue for a less ordinary living for PMYC. This pool has absolutely everything you may want on a vacation. It is the main attraction of Montengro. You can enjoy water aerobics, yoga or hydrotherapy in this pool.
Perfect for everyday relaxation as well as significant private and corporate gatherings. The pool offers a vast assortment of signature bland cocktails, champagne and other summer drinks – international and small local businesses.
09. The Oberoi Udaivilas – India
Location: Udaipur, India
Attraction: View, length
Position: Rooftop, outdoor
Udaipur is a city of gorgeous palaces and lovely lakes, in the center of Rajasthan. In this splendid royal era, Oberoi Udaivilas adorns the lakesides of Lake Pichola and bears testimony to the Historic Town Palace. The hotel, designed to seem like a typical Indian palace, features meandering courtyards, softly rippling fountains, and lush gardens that highlight Rajasthan's rich past. Furthermore, the hotel is flanked by two wonderful swimming pools, these are one of the best pools.
One of which faces the lake and the other of which is situated in the middle of a vast green courtyard. The lake face one serves the best natural view. This pool is standing on the top floor of the building, which is just beside the lake Pichola. Its infinity design creates an illusion that the pool is totally connected with the lake.
10. The Pool at Langham Place – Hong Kong
Location: Hong Kong
Position: 40th floor, rooftop, outdoor
Attraction: Splash bar, heated pool, under water audio system, fiber optic lights, Jacuzzi
Length: 20 meter
This swimming pool of hotel Langham, is one of the most luxurious swimming pools with a great view over the city, in the world. Its extraordinary feature will give you the best swimming experience ever in the tallest pool.
You can find it open at 6:30 am to 8:30pm. Their Jacuzzi will help you to be free from all your stress. Moreover, do not forget to test their drinks and snacks from their splash bar. Their underwater audio system and wonder lightings under the water creates a wonderful mood of swim.
11. Golden Energy Pool – China
Location: St. Regis Lhasa Resort, China
Attraction: Different color, real gold tiles, special drinks for the pool
Take the private five-star St. Regis resort in Lhasa (Tibet), if you are ready to break free. This pool is located in the highest city in the world. If you like different colors in the pool, then this one is a "must-see". The water's color of this pool is golden.
The main attraction of this pool is it uses real gold as the tiles. They claim to use therapeutic helper salts in the water.  For $300 a night, you get a bird's eye view of the Himalayas and access to one glowing pool. The water is salted and heated to 28-32 degrees centigrade. A comfortable rest place with refreshments and foot massage is nearby. A perfect experience for everyone with a bling thing!
12. Sanctuary Swala – Africa
Location: Africa
Attraction: Setting in an remote open national park, infinity pool
Position: Ground, middle of a forest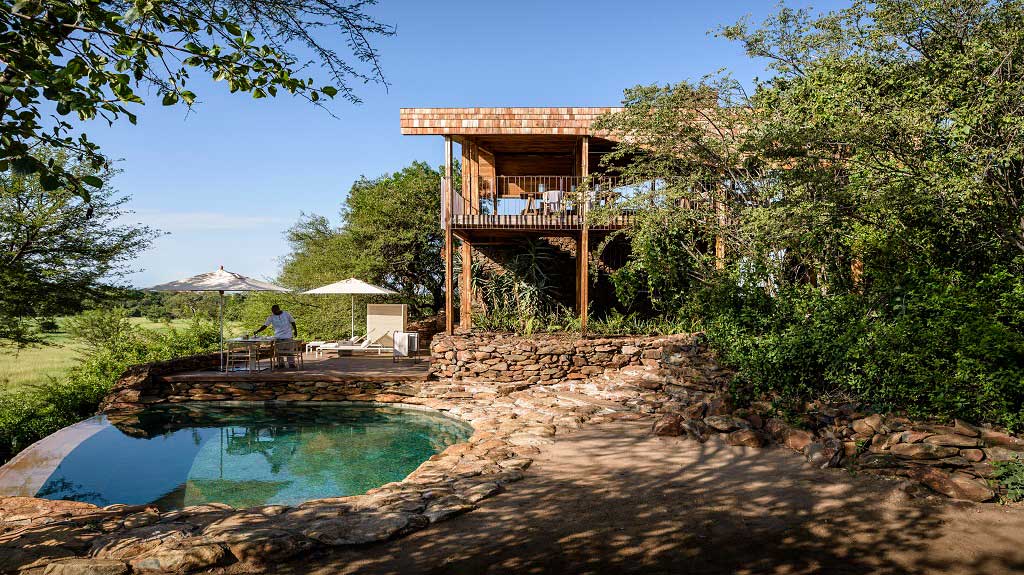 Sanctuary Swala offers a highly unique safari experience in the heart of the land of Maasai and a distant corner of the Tarangire River, completely secluded among enormous acacia trees and overlooking the flat savannah. The lovely terrain is filled with antique baobab trees, sauntering elephants, and soaring birds.
It has a mesmerizing pool. In this pool, you can enjoy trees and animals along with swimming. It really keeps you cool under the hot sun in Africa. This pool does not have a fancy bar or a spa, but the location itself makes it so different. This hotel is rated number one in the area. this resort has a smaller carbon footprint because it was built to the highest environmental standards.
13. The Pool at Hotel Habita – Mexico
Location: Monterrey, Mexico
Attraction: Dramatic setting, infinity design, collaboration of two different pools, view
Position: Top of the hotel, outdoor
Designer: Agustin Landa
Architect Agustin Landa used two infinity pools and a sculptural concrete canopy to create a stunning setting atop Hotel Habita in Monterrey, Mexico. The infinity design will take you close to nature. As nothing is going to create an obstacle between you and the view.
This pool makes sure you get a 360-degree view of the mountain standing in front of it. As the pool is an outdoor one, it provides the best natural view. This pool is one of the best examples of modern architecture; the pool is placed on the top of the building, under a sculpture. Moreover, it is an amalgam of two different infinite pools. Beside the pool, they have a bar. Enjoy a drink at the poolside bar while taking in the 360-degree stunning views of mountains at $210 per night.
14. The Joule Hotel – USA
Location: 1530 Main St, Dallas, TX 75201, United States
Attraction: Floating pool, light works, bar
Position: Rooftop, outdoor
The hotel Joule, located in a former Dallas National Bank building in 1927, revealed the enlargement and refurbishing of a futuristic cantilevered rooftop pool last year. Half of the pool popped out from the roof.  This design gives a feeling of terror and fun at the same time.
The cool light work under the water creates a relaxing situation. A bar is situated just beside it to give you drinks while swimming. Its glass wall offers a magnificent view of the downtown area. The staying charge starts from 250 dollars per night
15. Jumeirah Dhevanafushi – Maldives
Location: Maldives
Attraction: Incredibly large pools, privacy, over water room
Jumeirah Dhevanafushi was designed for life's serene pleasures and is located at the south end of the Maldives in the Indian Ocean. Jumeirah Dhevanafushi provides luxury accommodation in villas with private pools and sandy beaches at steps to pristine lagoon waters.
The hotel has a fantastic spa. This is the most famous and the most expensive pool in the world. It is built in the Indian Ocean, occupying two floating islands.  The lights under the pool look like stars, you will feel like swimming in the sky when the night comes.
These were some famous and luxurious pools out in the world.
# Top 10 Luxury Swimming Pools in the World 2022
Mardan Palace – Turkey
San Alfonso Del Mar – Chile
Capella Pedregal Resort – Mexico
Amirandes Grecotel Exclusive Resort – Greece
Red Pool – Thailand
Blue lagoon – Iceland
InterContinental Warsaw Pool – Poland
PMYC Pool – Porto Montenegro
The Oberoi Udaivilas – India
The Pool at Langham Place – Hong Kong