50 Ways You're Ruining Breakfast & Don't Know It
Not all cliches are true, but "breakfast is the most important meal of the day" sure is! Starting the day with a healthy meal gets your metabolism going and puts you on track to continue a healthy eating pattern throughout the day. (How many of us have skipped breakfast only to arrive at work starving and reach for a sweet treat like a donut?)
Of course, as with anything else in the kitchen, plenty of things can go awry when you're making breakfast—and no one wants to start off the day on the wrong foot by having your omelet stick to the pan or by overcooking your eggs. Ahead are 50 common breakfast mistakes and how to fix each of them. And whatever you do, be sure to avoid these 45 Breakfast Habits Making You Gain Weight.
Max Hardy, chef and owner of Coop Detroit, says that one of the most common ways people can ruin breakfast is by overcooking their eggs, especially scrambled eggs. "People think scrambling eggs is a long process but don't realize it's a 30-second task," says Hardy.
How to fix it: Hardy's advice is to start with a hot pan and have all your mise en place, ready to go. Have some hold butter out, your eggs already whipped, and a rubber spatula. "Place your eggs in a hot pan and slowly scramble, adding your room temperature butter," he says. "Finish with a dash of kosher salt and white pepper and some of your favorite cheese."
RELATED: Sign up for our newsletter to get daily recipes and food news in your inbox!
Cracking all the eggs in the same bowl can result in a mix of spoiled eggs and stray shells, says Palak Patel, chef at the Institute of Culinary Education.
How to fix it: "Use a smaller bowl to crack one egg at a time," Patel says. This way you'll be able to catch stray shells and get rid of any spoiled eggs.
Still confused? This Is the Flawless Egg-Cracking Technique You're Not Doing.
Cooking bacon on the stovetop can result in grease splattering all over the stove, Patel cautions.
How to fix it: Instead, Patel recommends cooking bacon in the oven. Place it on a cooling rack with a cookie sheet underneath and cook it at 400 degrees Fahrenheit.
And whatever you do, be sure to avoid these 20 Things You Should Never Do When Cooking Bacon.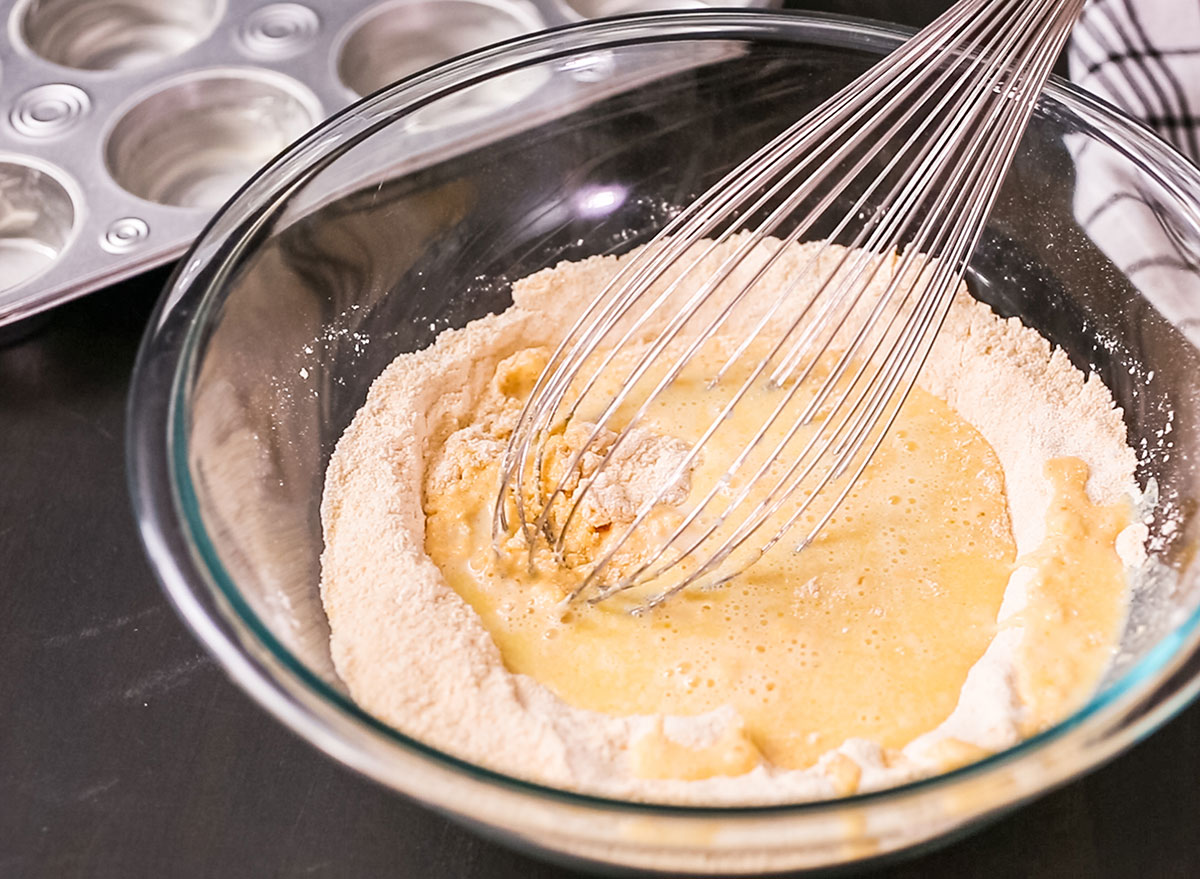 "Pancake batter has flour, and overmixing it can cause the gluten to activate," says Patel. This results in tough pancakes.
How to fix it: For fluffy pancakes, mix the batter until ingredients are just combined, Patel advises. When you're adding leaveners, rest the batter for only five minutes before cooking.
Patel recommends avoiding common syrups, which have artificial ingredients and flavorings.
How to fix it: Use pure maple syrup instead. "There's no comparison between the two," says Patel.
Not sure what brand to buy? This Delicious Maple Syrup from Trader Joe's Only Has Two Ingredients.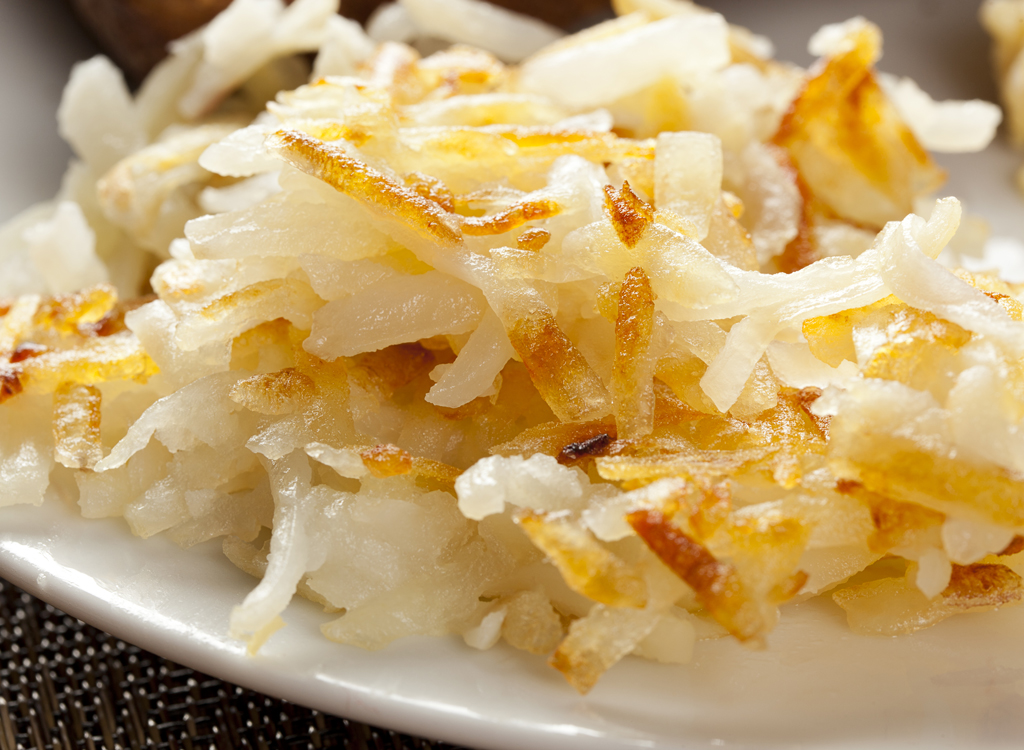 "It's common to want to add a lot of oil for crispier hash browns, but too much oil makes them soggy," says Patel.
How to fix it: Using clarified butter and a larger surface area is the key to extra-crispy potatoes, Patel explains. She also notes that it's important to use the right potato—waxy russet potatoes are the best. "If making [hash browns] from scratch, grate potatoes, rinse extra starch, and season well," she says.
If you're using frozen hash brown potatoes, make sure you don't overcrowd the pan, because doing so can create extra moisture.
RELATED: 25 Healthy and Delicious Sweet Potato Recipes for Fall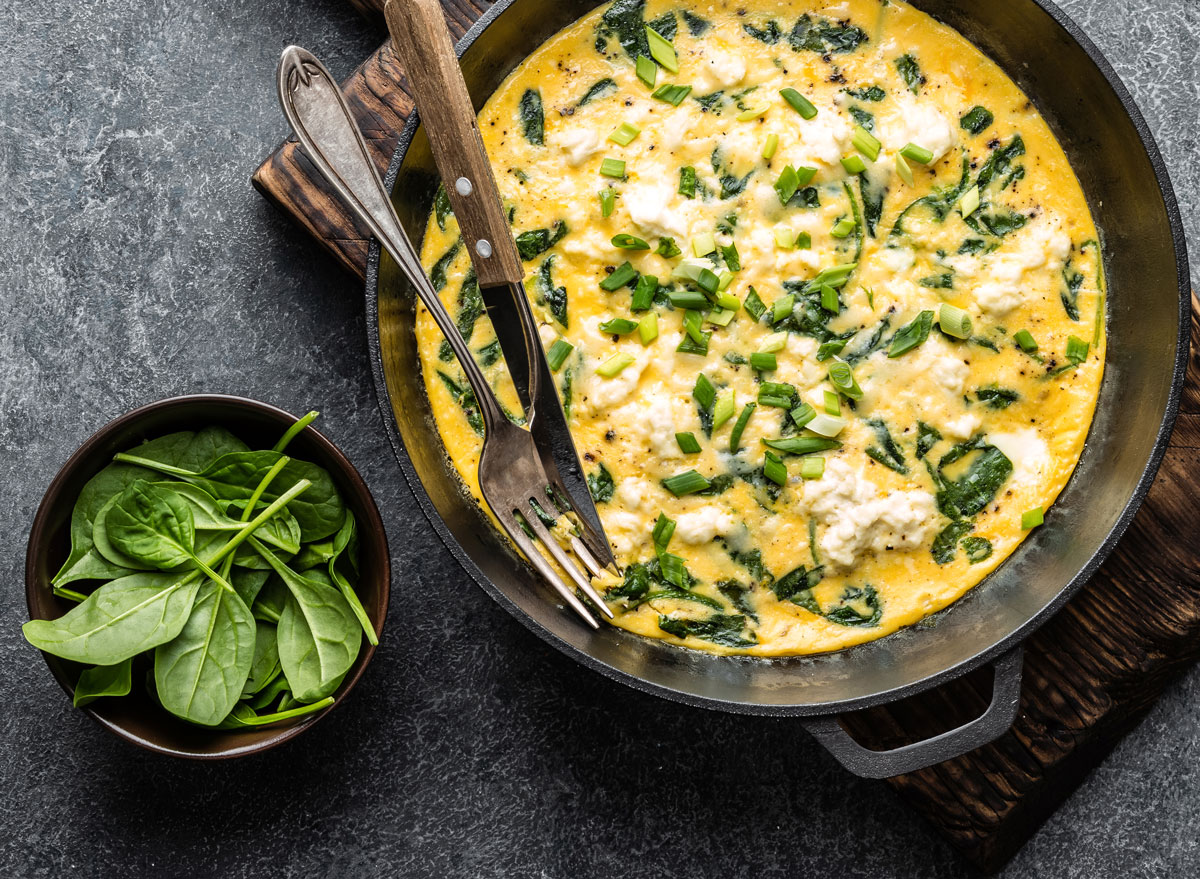 Not using a properly seasoned carbon-steel or non-stick pan will cause the omelet to stick to the pan and become a scramble instead, Patel says.
How to fix it: "Start with oil or butter in the pan, then pour in the egg mixture and use a spatula to move the eggs around the pan," says Patel. When the eggs form a shape that looks like a scramble, tilt the pan and use the spatula to move around excess liquid so it can cook. Then gently fold the omelet onto itself once or twice based on the thickness and filling of the omelet.
RELATED: The Best and Worst Ways to Cook Eggs—Ranked!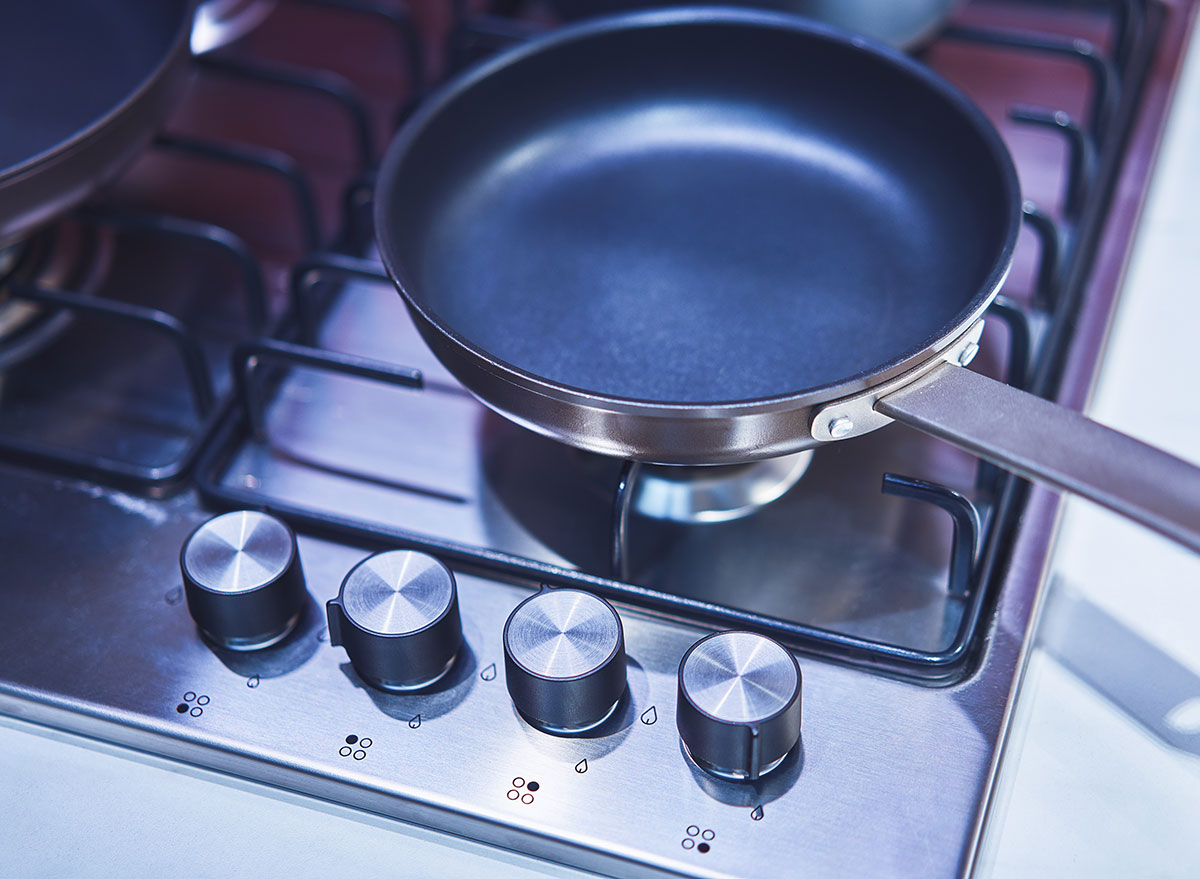 Rebekah Ziesmer, development chef at Conagra Brands, says a common mistake is not using heat properly. Don't put the heat too high when making pancakes and french toast, she advises.
How to fix it: Preheat the griddle, spray with PAM between each batch, and wait until thoroughly cooked on one side for easy flipping, instructs Ziesmer. "Both the pan and the oil should be heated before adding the food so that it sears, rather than soaking up the oil," she says.
Don't use a ladle when making pancakes, says John Adler, vice president of culinary at Blue Apron. It can result in drips down the side and measuring cups caked with batter.
How to fix it: Use a squeeze bottle instead. "[It's] easy to manage, easy to maintain, and a great (and safe way) to bring your kids over to the stove," says Adler.
And if you're whipping up some flapjacks, here are 13 Common Pancake Mistakes—and How to Fix Them.
Adler says that putting milk in your scrambled eggs is a common mistake that makes the eggs runny and cook unevenly.
How to fix it: "Beat your eggs well with salt and then add in a couple of knobs of cold butter into the bowl right before you add them to the pan," says Adler. Regardless of whether you like a soft scramble or a harder one, the cold butter slows down the cooking a bit and makes the eggs extra creamy. If you want to get fancy, Adler recommends adding a teaspoon of creme fraiche or sour cream right at the end.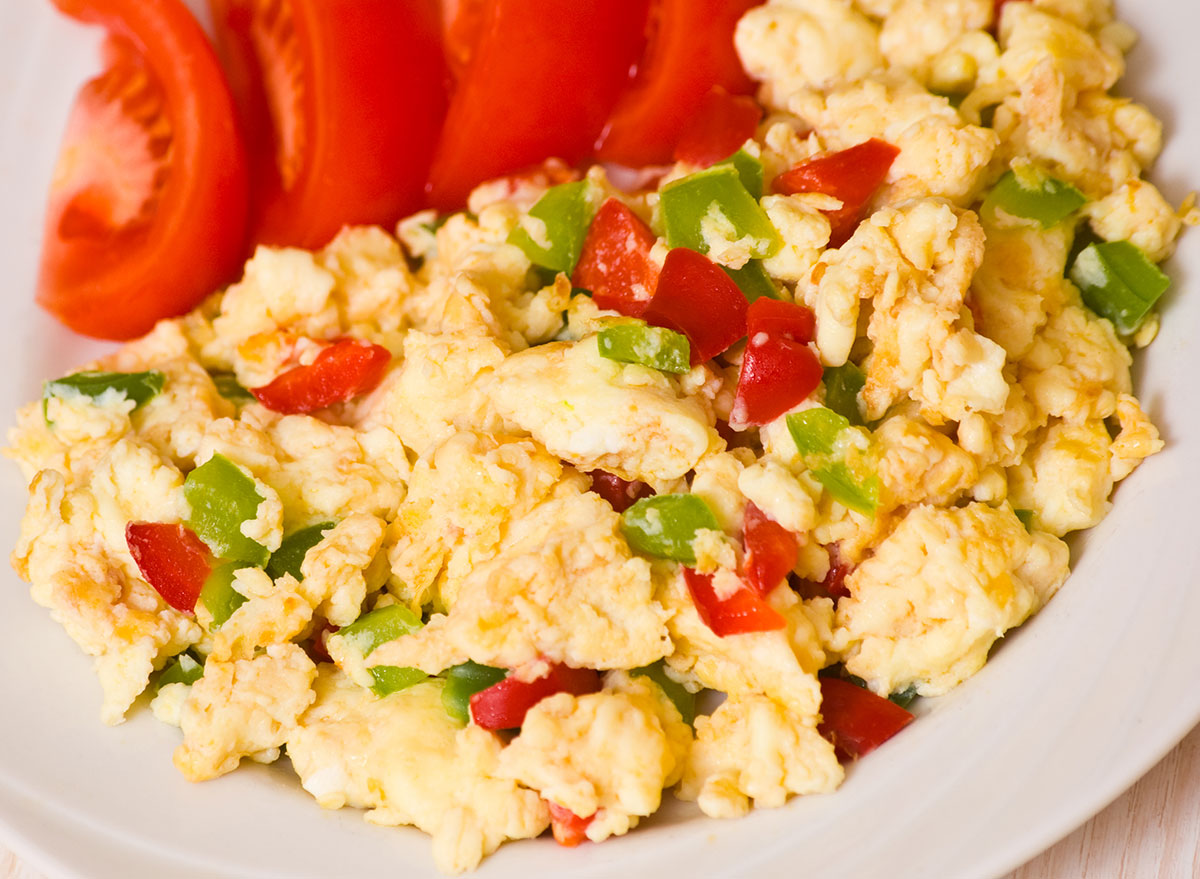 Attention cooks with large households: You'll lose your mind if you try to keep scrambled eggs warm or make 15 perfect individual omelets, Adler warns.
How to fix it: "Make a frittata instead," he says. "[It's] so much easier to deal with." A frittata is best eaten at room temperature and can even be made the day before.
Cooking breakfast sausages raw in a pan is both difficult and messy to clean off the stove, says Adler.
How to fix it: Adler recommends boiling the sausages until they're cooked through, then crisping them nicely in a pan for just a minute so you don't lose that perfect snap.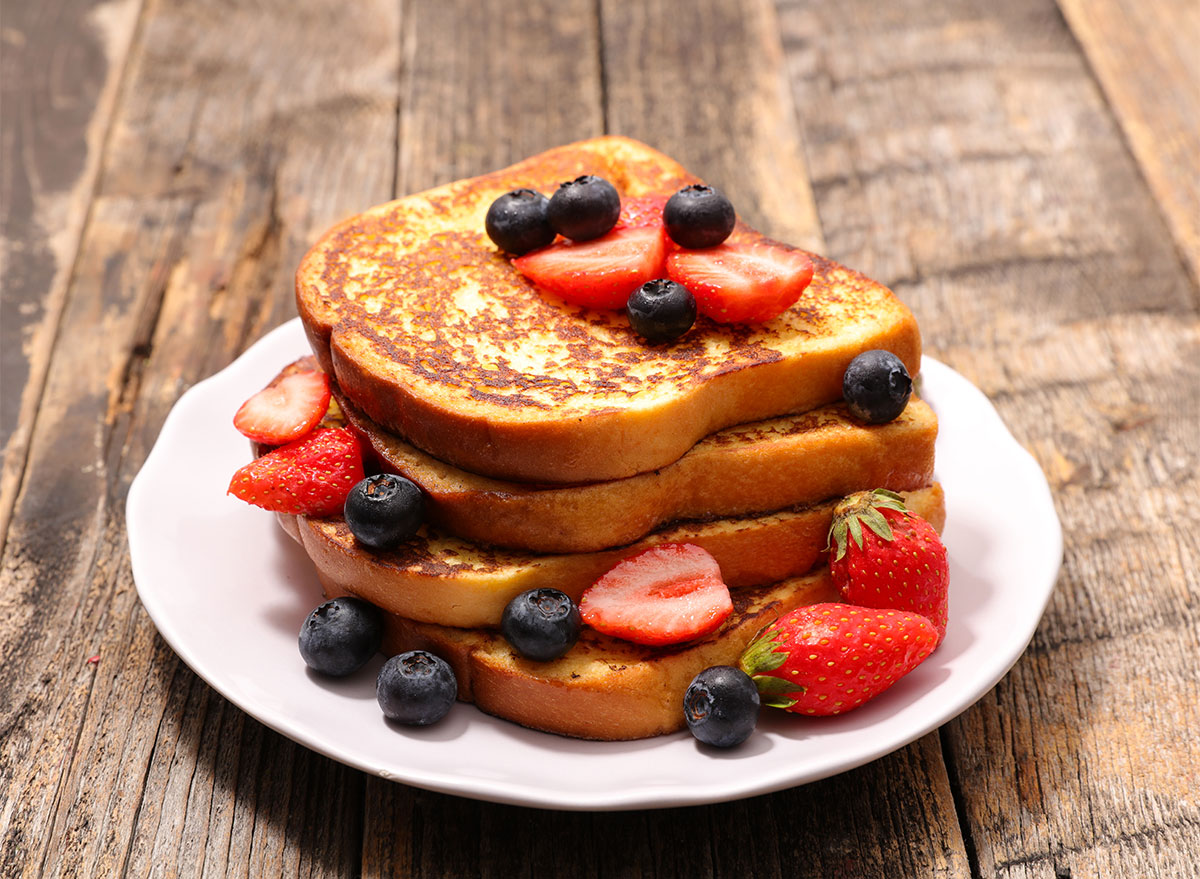 When it comes to making French toast, Allison Robicelli, chef and writer at The Takeout, says not all bread is created equal. Using a thin cut bread can result in underwhelming French toast.
How to fix it: "French toast really needs a thick cut bread that's strong enough to stand up to being soaked in custard, and it should always be partially dried out," says Robicelli. If you only have sliced white bread, she recommends toasting a few slices, stacking them three-high, and then smearing a little cream cheese, peanut butter, or jam in between to help them stick together.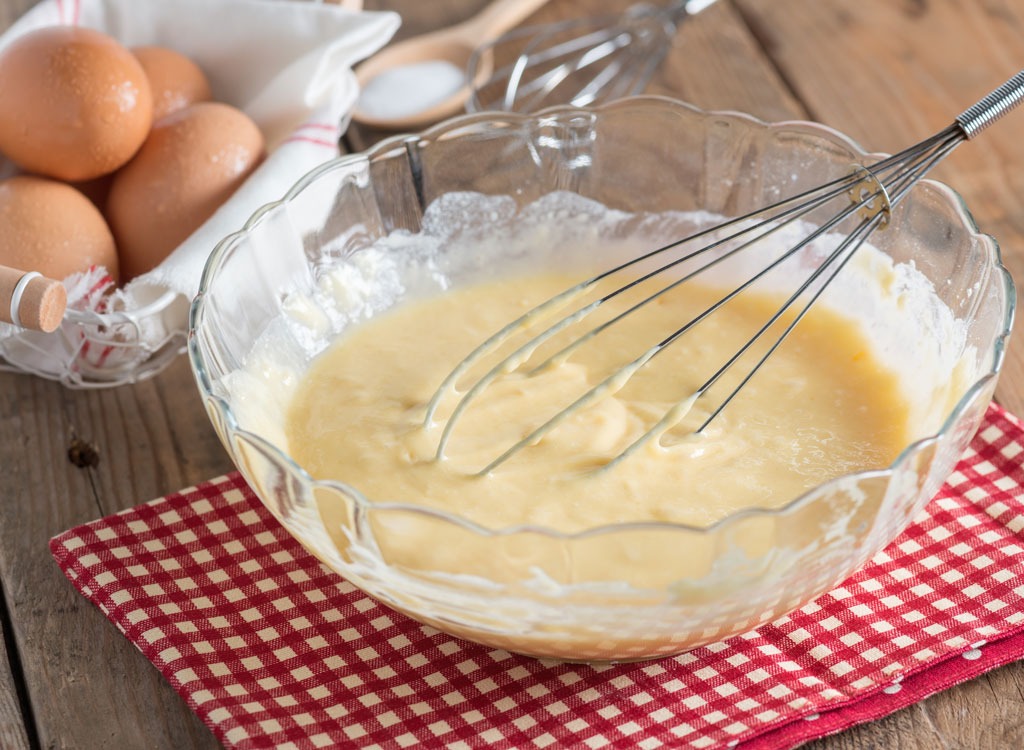 Robicelli says that if you don't allow pancake batter to sit, its flour won't hydrate and soak up all the moisture from the milk and eggs, which is what makes pancakes fluffy.
How to fix it: For the best results, Robicelli recommends making your batter the night before, then letting it hang out in the fridge. "Don't worry about it coming to room temperature first," she says. "You can scoop straight from the fridge to the pan."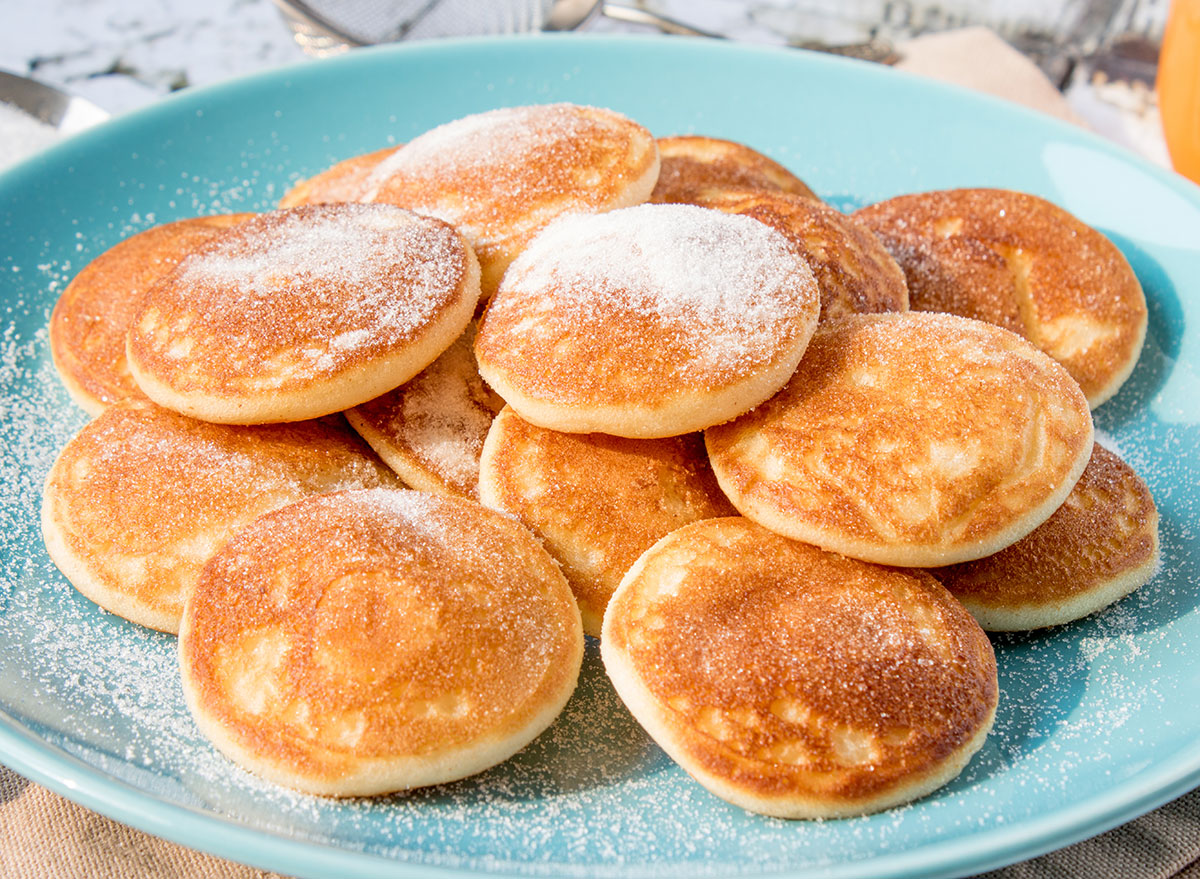 "Pouring batter with a measuring cup, or, worse, using spoons, always makes a giant mess and gives you inconsistent pancakes," says Robicelli.
How to fix it: Go to an online restaurant supply store and buy a few "dishers," Robicelli suggests. Dishers are what non-restaurant folks may call ice cream scoops. "In the biz, these are used to make perfect portions of cookie dough, biscuits, side dishes, and, yes, pancakes," she says.
RELATED: Your ultimate restaurant and supermarket survival guide is here!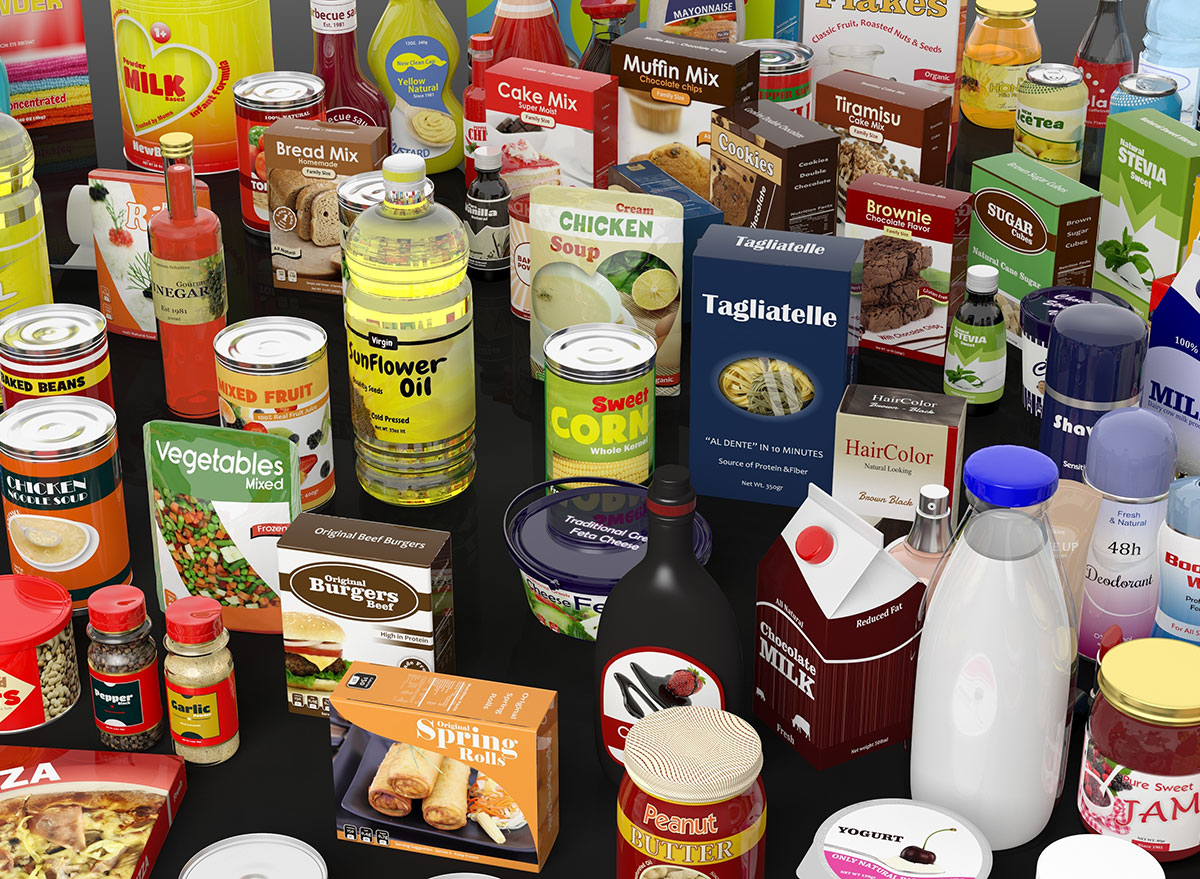 Jessica Randhawa, the head chef, recipe creator, photographer, and writer behind The Forked Spoon, says eating prepackaged foods is never ideal, but it's especially unhealthy at breakfast time. They contain high amounts of sugar and salt and lack fiber.
How to fix it: If you're perpetually rushed in the morning, learn some quick and easy breakfast recipes that you can prepare the night before, and keep healthy breakfast foods on hand.
Randhawa says another common mistake is eating a breakfast that doesn't contain any protein, which can result in having a bigger appetite later in the day.
How to fix it: Randhawa recommends incorporating nuts, nut butter, eggs, sugar-free yogurt, and cottage cheese into your breakfast.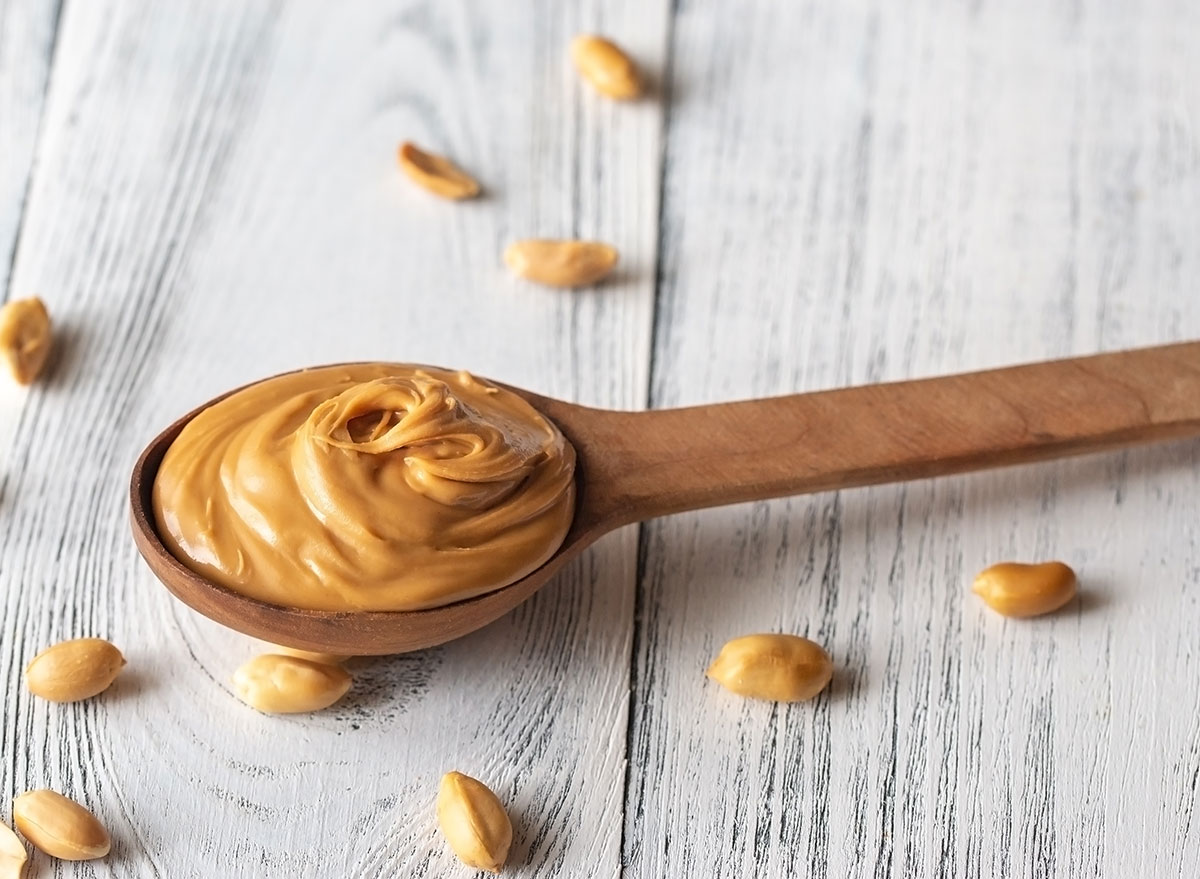 It's also important to eat unsaturated fats early in the day, says Randhawa.
How to fix it: Randhawa suggests sprinkling seeds and nuts on cereals or oatmeal, eating sugar-free yogurt, or trying nut spreads like peanut butter or almond butter at breakfast.
Sarah Adler, a chef, nutrition coach, and best-selling cookbook author, says that breakfast food doesn't have to be "traditional" fare like eggs, toast, and cereal. In fact, mixing it up a bit can be a good thing.
How to fix it: Adler says that more savory (and just as filling) options like veggie or lentil soups, smoked salmon, bean salads, and tuna or chicken salads are all great options. She notes that a bonus is these foods "keep you full longer and are much more nutrient-dense [compared to] some of the more classic sugary options."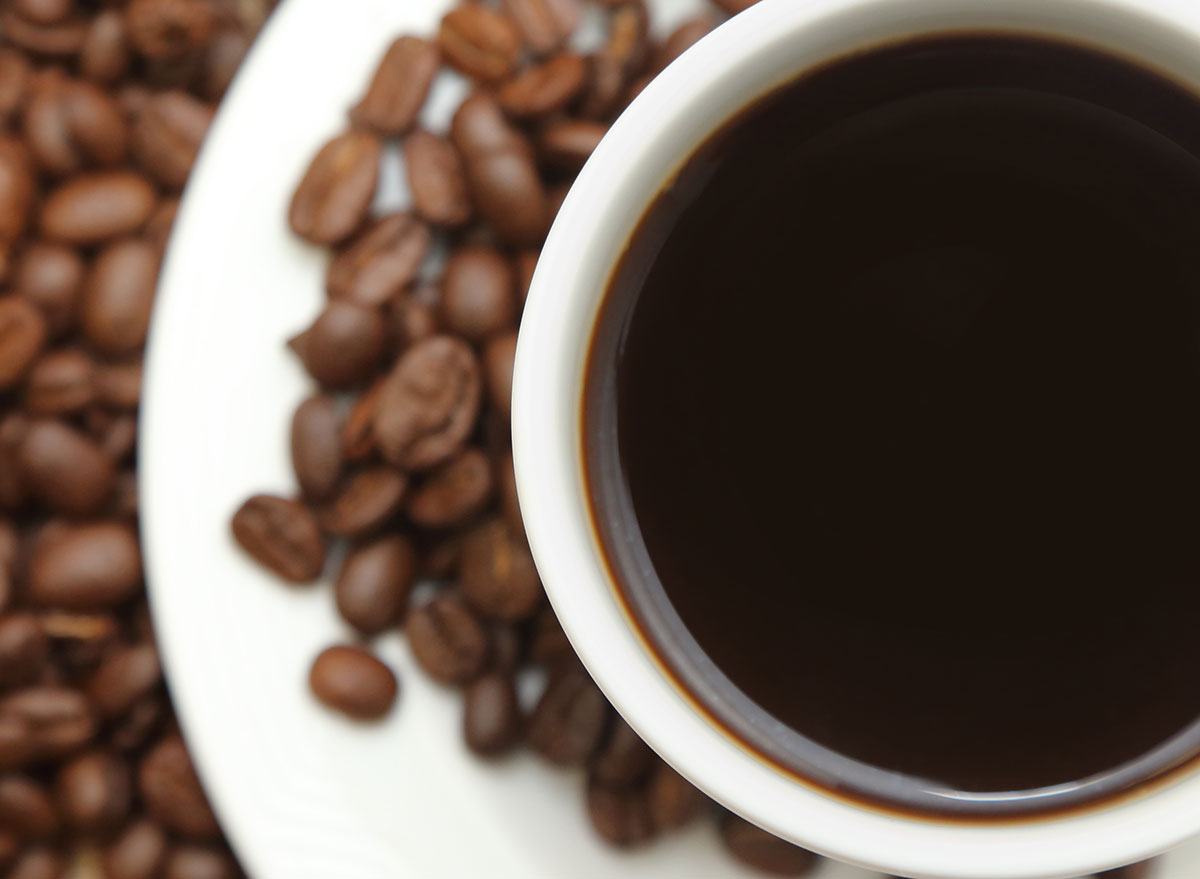 We all know it's the most important meal of the day, but Adler says that if you don't wake up hungry, there's no need to eat breakfast right away.
How to fix it: If you don't wake up hungry, Adler recommends starting the day with a big glass of water and then drinking your coffee (if you're a coffee drinker). Then check in with yourself and prepare a healthy breakfast.
You can't go wrong with one of these 19 High Protein Breakfasts That Keep You Full.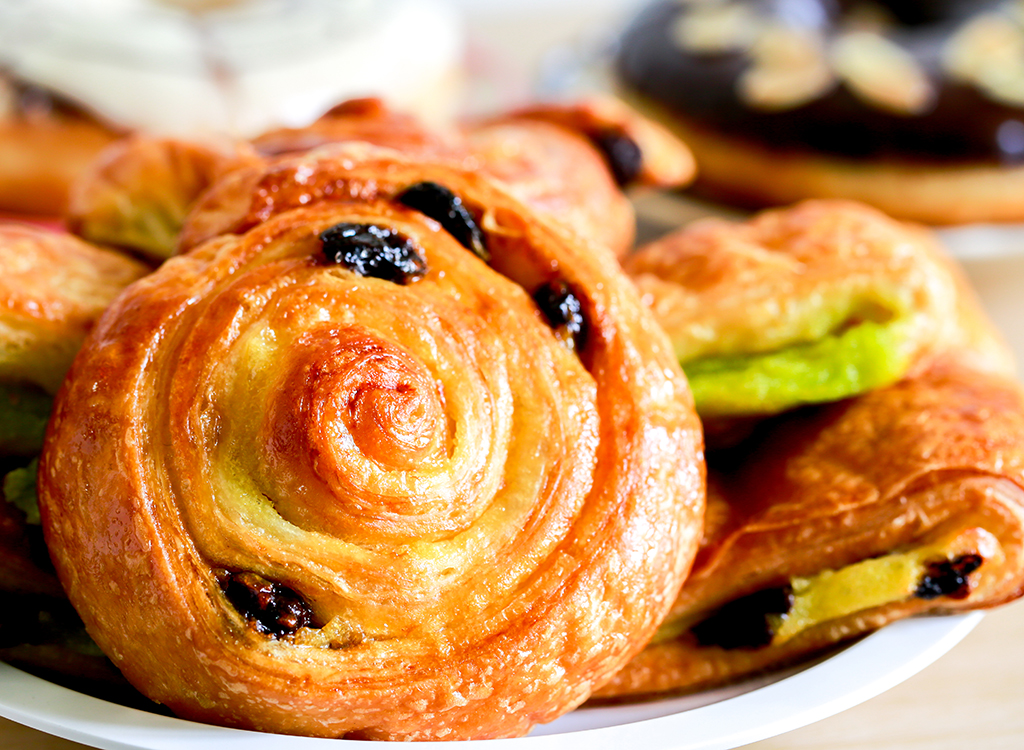 Chef Elizabeth Blau, founder & CEO of Blau + Associates and owner of Honey Salt in Las Vegas, says it's unnecessary to limit ourselves to either sweet or savory breakfast food.
How to fix it: "Go sweet and savory," says Blau. Either do some baking yourself, or pick up muffins, scones, or croissants from your local bakery. "Doubling as a sensational start or a sweet finish, these treats are an absolute must," she says.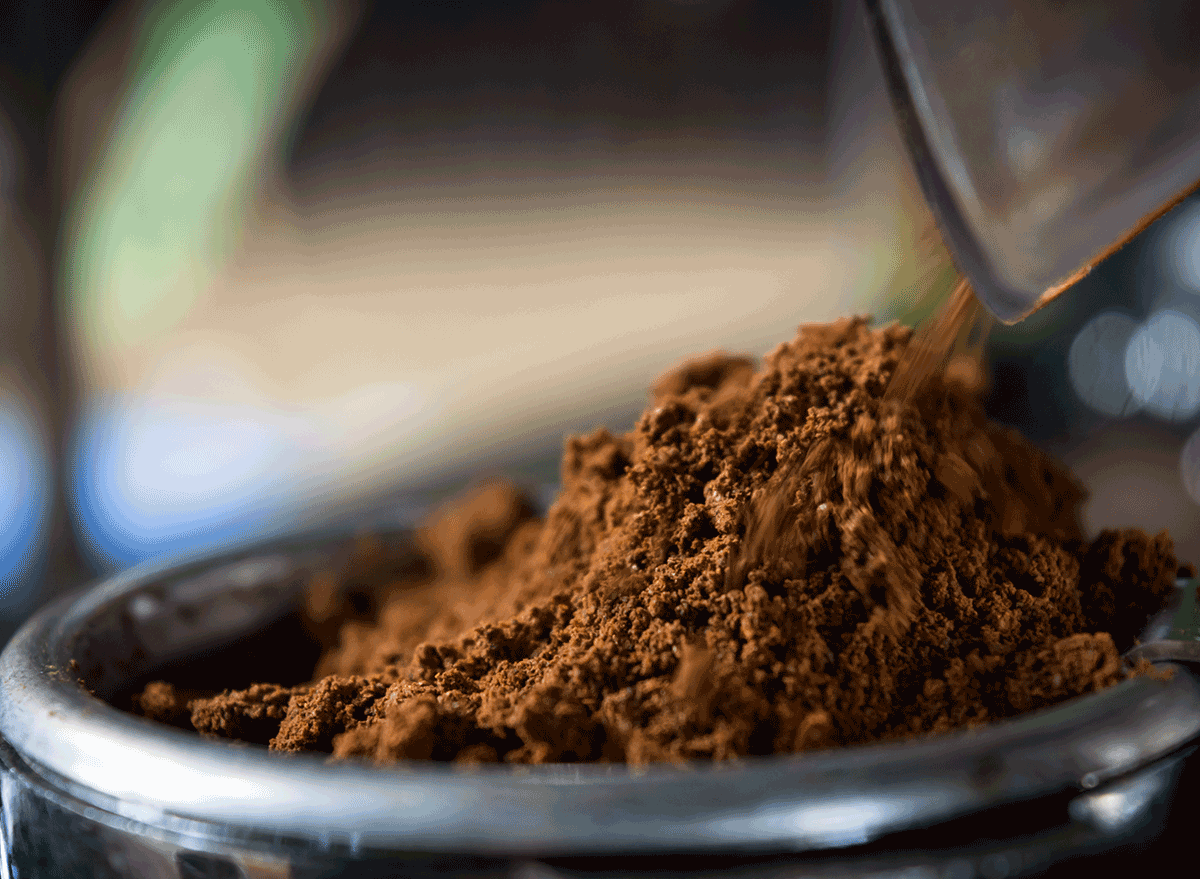 Laura Olsson of Johan's Joe, a Swedish coffee shop and café in downtown West Palm Beach, Florida, says that some people grind their coffee beans fresh at home before brewing their cup of coffee. However, it can take some experimentation before you figure out the right grinding strategy for your taste. For example, grinding coffee beans finer pulls out a stronger flavor, but it can also add a bitter taste.
How to fix it: "Finding the perfect grind takes time," says Olsson. "Play around with it until you find the perfect taste for you."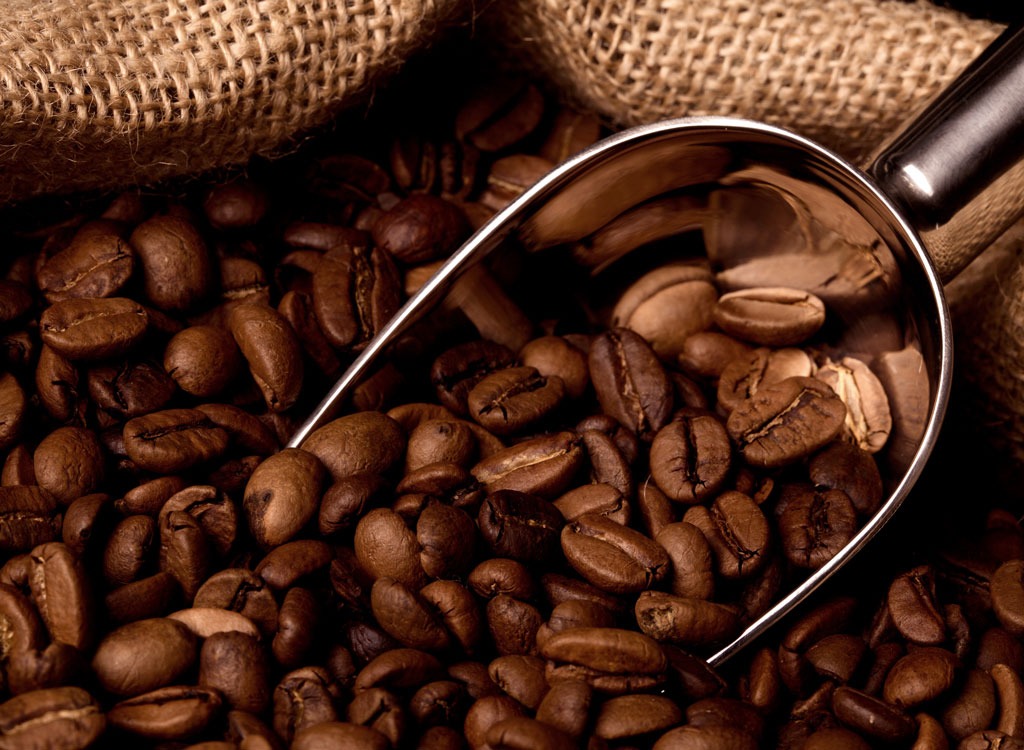 Olsson says it's important to store your coffee beans in a place that doesn't expose the beans to oxygen. A common mistake is storing coffee beans in the fridge or freezer.
How to fix it: "Keep your coffee beans in a cool and dry place and in [its] original packaging," Olsson says. She explains that fridges and freezers create too much moisture in the bags, so beans shouldn't be stowed in either place.
"If you drink coffee daily, taking the coffee in and out of the fridge or freezer every day changes the temperature too much, creating that extra moisture," says Olsson. Instead, store the beans in an airtight container, or (once opened) in original packaging with a clip on it and then placed in a Ziploc bag.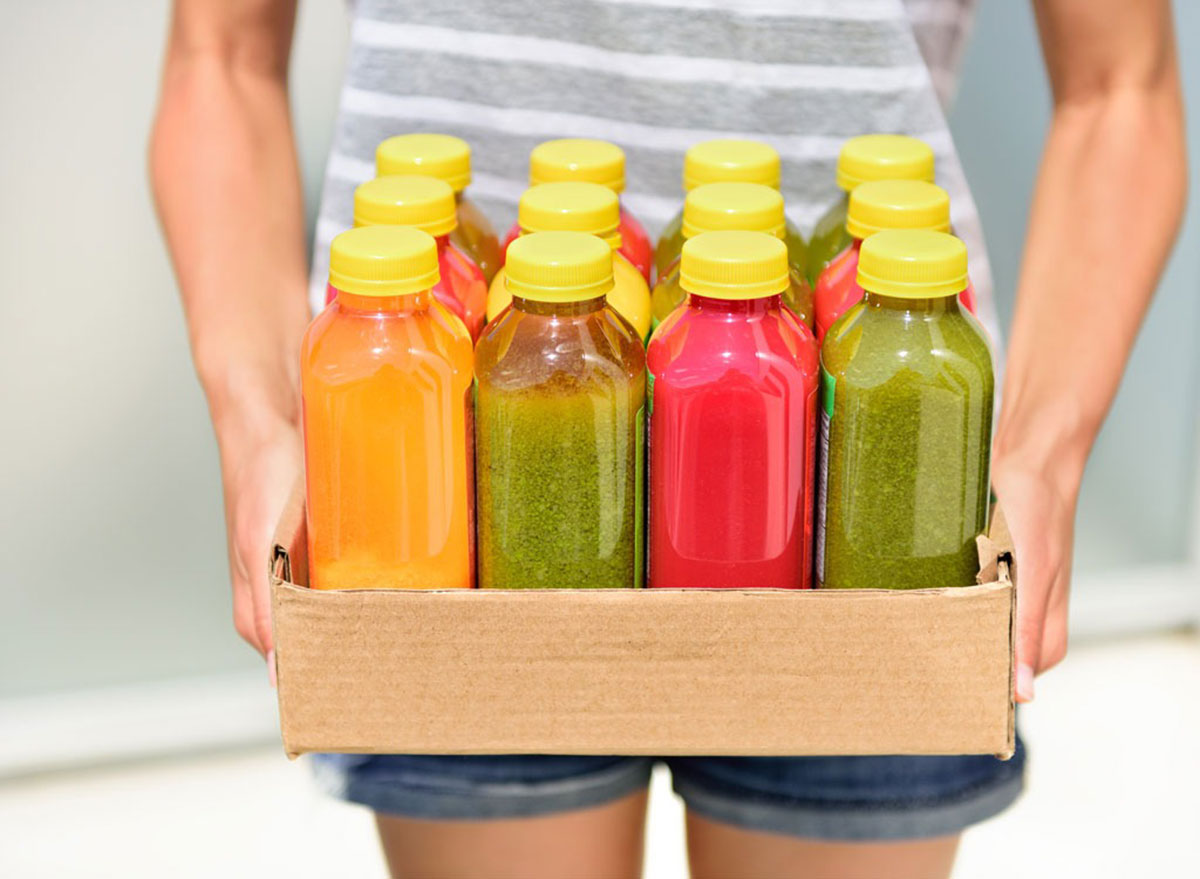 Mariko Amekodommo, a celebrity chef and Ayurvedic food coach, says that morning fruit smoothie or glass of juice isn't as healthy as you may think it is. "When you 'drink' fruits or vegetables, the saliva isn't produced and the smoothie can't get digested," she says. "This leads to the fruits fermenting (like alcohol) and can cause immediate bloating and discomfort."
How to fix it: Make sure your breakfast includes fruits and vegetables that you actually chew, because the saliva contains the enzymes to properly break them down. Plus, smoothies are often super-high in sugar, which isn't the best way to start your day.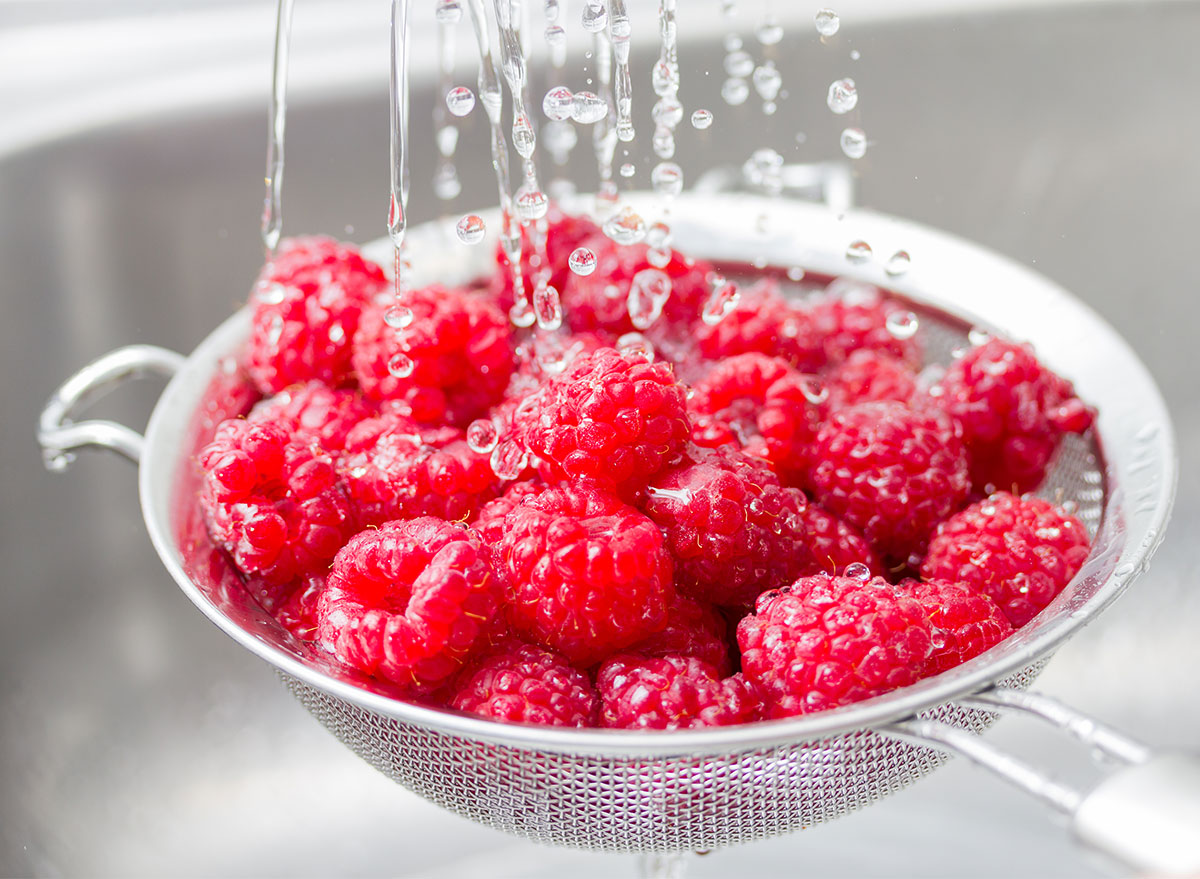 Whether you're juicing an orange or adding fresh berries to your yogurt, you'll want to wash the fruit off with water before you eat it, to get rid of any bacteria.
How to fix it: Give all of your produce a quick rinse! Here are 13 Foods You're Not Washing But Should Be.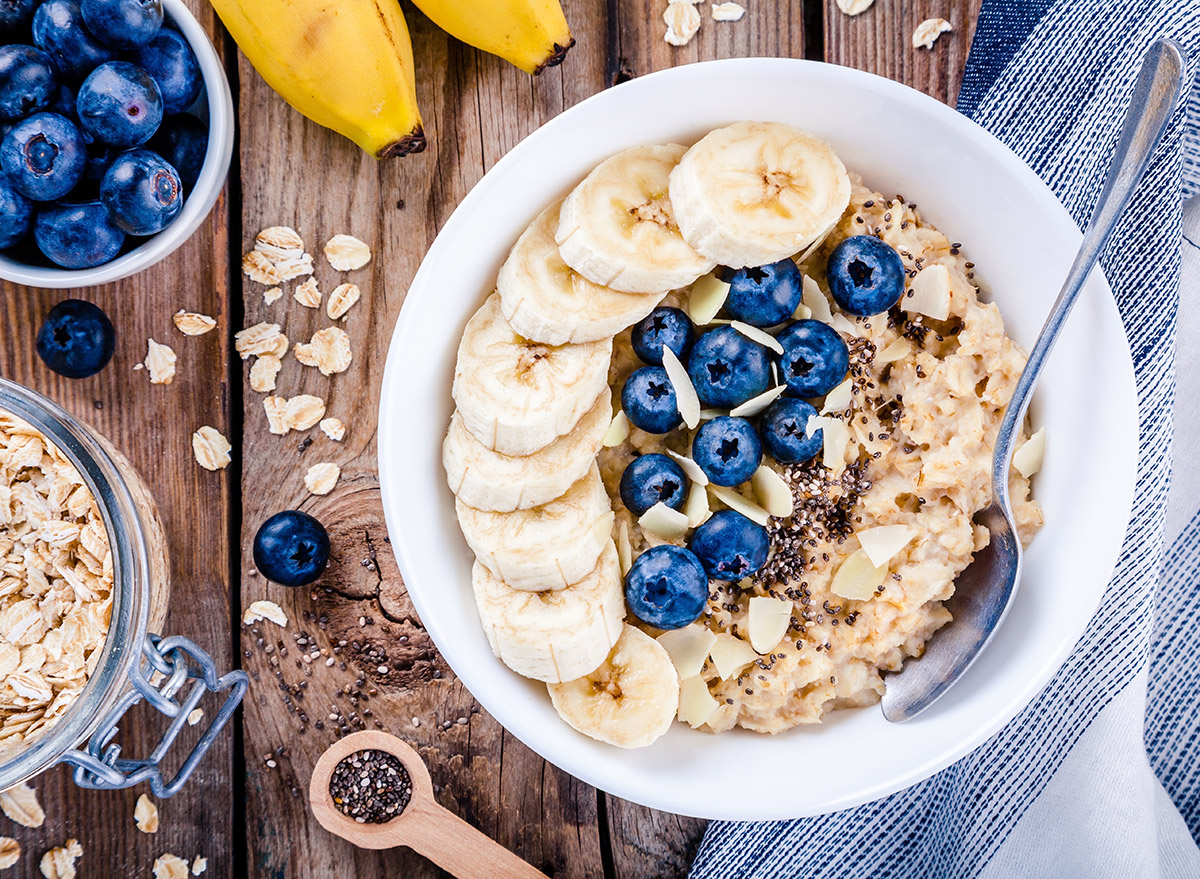 Hugh Acheson, a chef who has partnered with Maple Canada, says a common mistake is grabbing whatever is easiest or skipping breakfast altogether. "'Breakfast is the most important meal of the day' is a cliché for a reason. It's important to eat a balanced breakfast that fuels your body and your brain," says Acheson.
How to fix it: Make sure that your breakfast contains both protein and carbs. Pure maple syrup, which is made primarily of carbohydrates, is an easy way to add carbs to your breakfast. Acheson recommends drizzling it on Greek yogurt or adding it to oatmeal.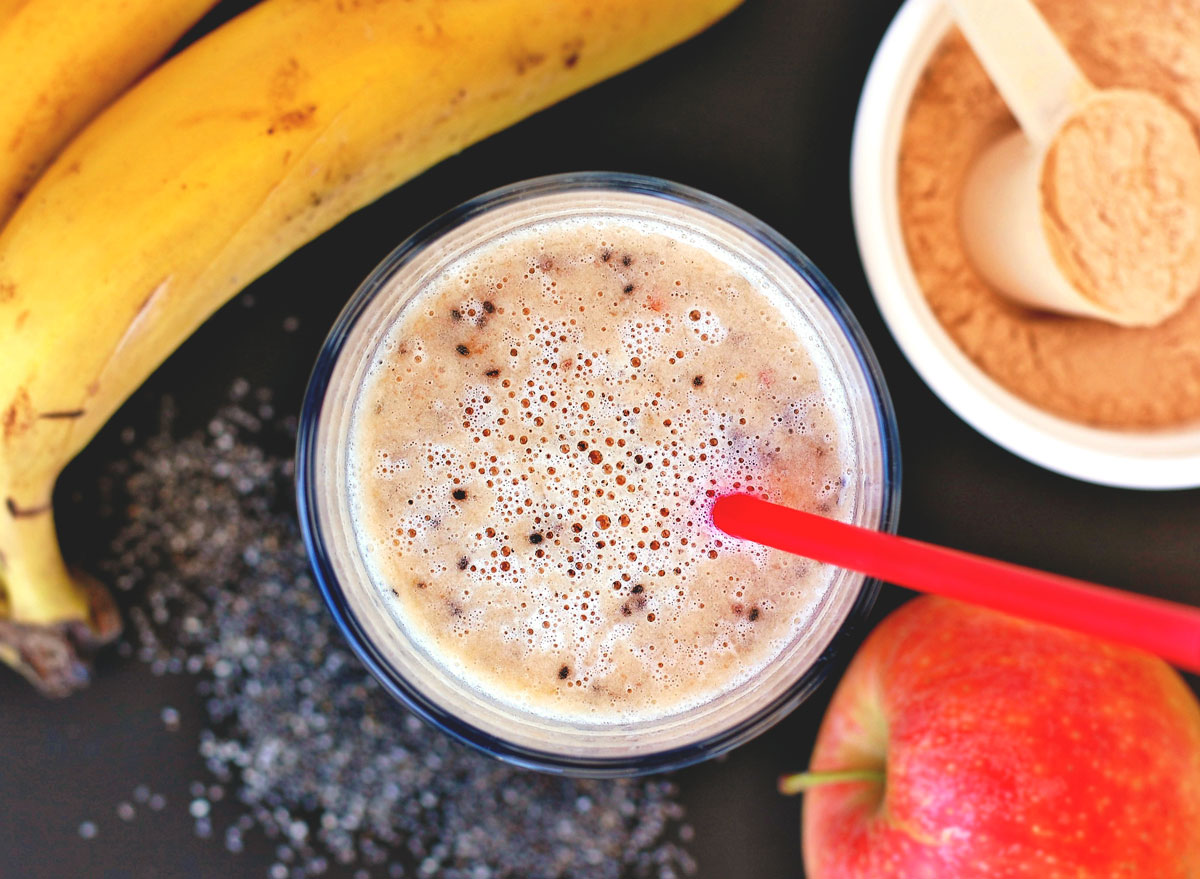 A common reason for skipping breakfast is convenience. If you're rushing to start work or a workout, you might not have time to make yourself a healthy meal.
How to fix it: "Smoothies and parfaits are easy breakfasts that you can prepare the night before and take with you on your way to work," says Acheson. He recommends the Banana Bread Smoothie from Maple from Canada. Here's how to make it:
Ingredients
2 bananas, peeled and cut in pieces
1 cup almond milk
1/2 cup plain Greek yogurt
1/4 cup rolled oats
2 Tbsp pure maple syrup
1 tsp vanilla extract
1/8 tsp ground cinnamon
1/2 cup ice
Method
Combine bananas, almond milk, yogurt, oats, maple syrup, vanilla, and cinnamon in a blender and puree until smooth.
Add ice and puree until smooth.
Chef Cary Taylor of RealGood Farm Box says that a common mistake when poaching eggs is not cracking them into a fine-mesh strainer first.
How to fix it: Taylor explains that by cracking the eggs into a strainer, it gets rid of the thin, watery part of the white and leaves nothing but the good part that surrounds the yolk.
"After that, make sure you control the temperature and—believe it or not—that's the easy part!" says Taylor. "Just bring a pot of water to a boil and then turn it off. This will be a perfect temperature to gently drop the drained eggs into one at a time."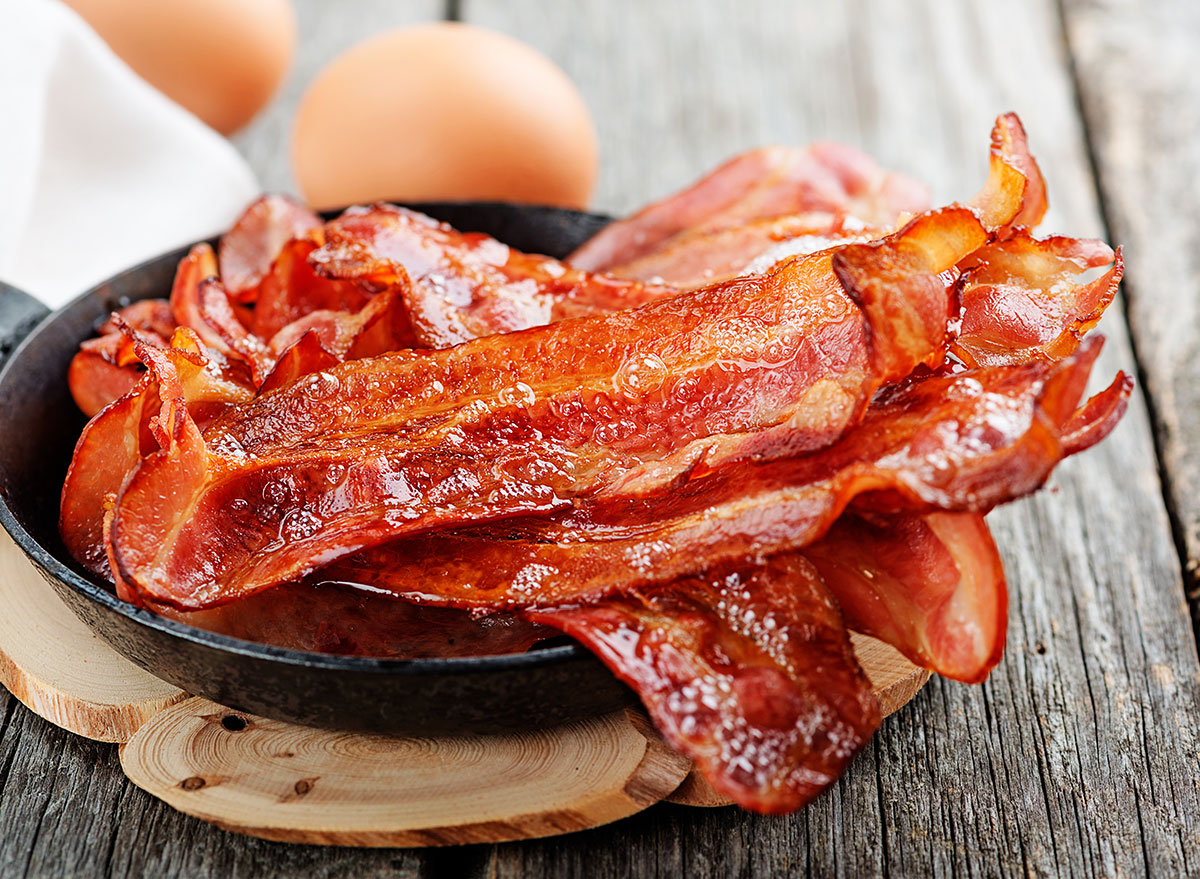 Chris Royster, executive chef and partner at Flagstaff House Restaurant in Boulder, Colorado, says to always buy thick-cut bacon, which will cook better than its thinner counterparts.
How to fix it: Splurge for the thick-cut bacon! "That way, you'll get that crisp outside, and nice, chewy, meaty inside," Royster previously said to Eat This, Not That.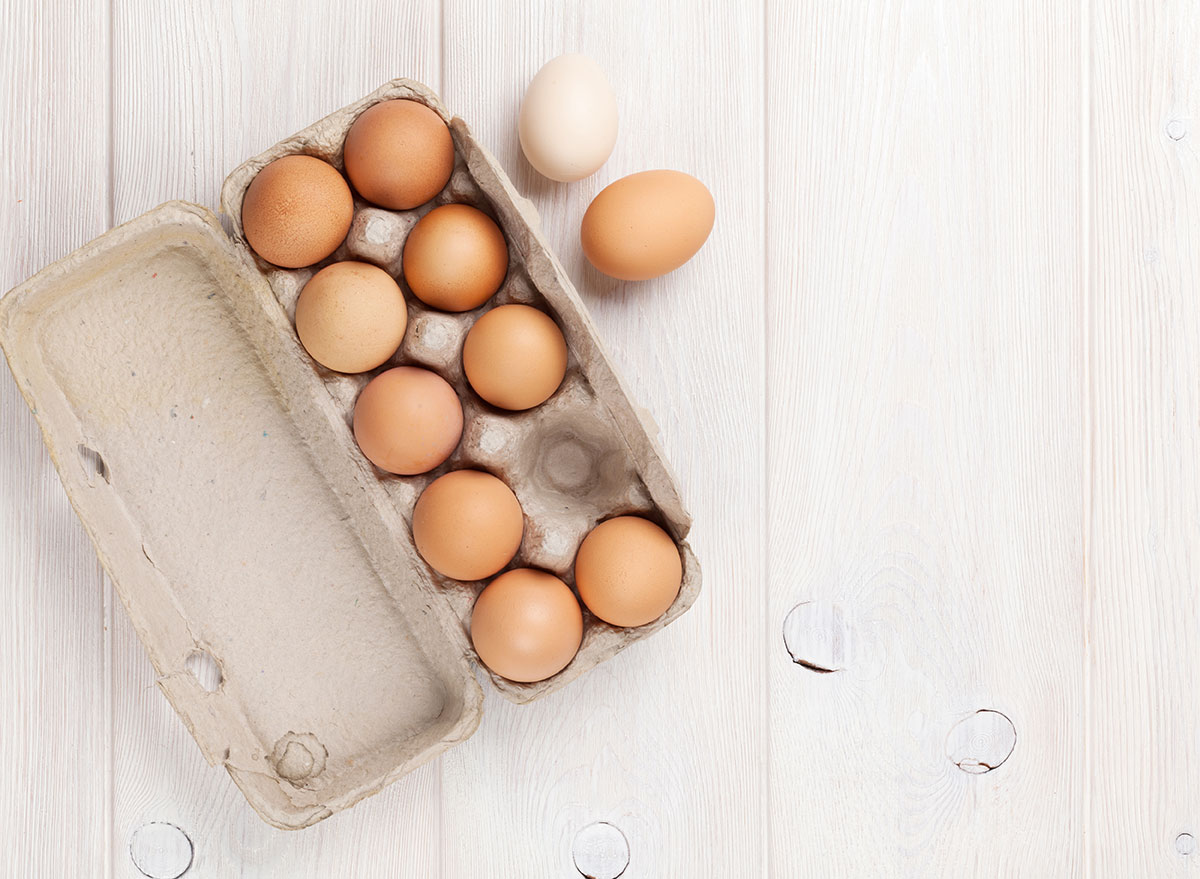 A common mistake is storing eggs wrong by removing them from their cartons. Even if you're getting your eggs from a local farm, they should still be stored in an egg carton.
How to fix it: Use an egg carton, no matter what! "Eggs can actually absorb odors via their shells from other foods. So if you're not storing them in an egg carton, you'll want to keep them away from strong-smelling foods like seafood," Brent Hudson, executive chef of Hole in the Wall NYC, previously told Eat This, Not That.
Now that you know how to store them, try using those eggs in one of our 72 Healthy Egg Recipes.
Eggs and bacon are both made better with seasoning. You spent all that money on thick-cut bacon—you might as well season it!
How to fix it: Spices like coriander and paprika are great for bacon and eggs, or you can use brown sugar to make candied bacon.
You're missing out on a lot of nutrients (and deliciousness) if you don't eat egg yolks! Egg yolks contain choline, vitamin D, and omega-3 fatty acids.
How to fix it: Enjoy those eggs for breakfast, yolk and all.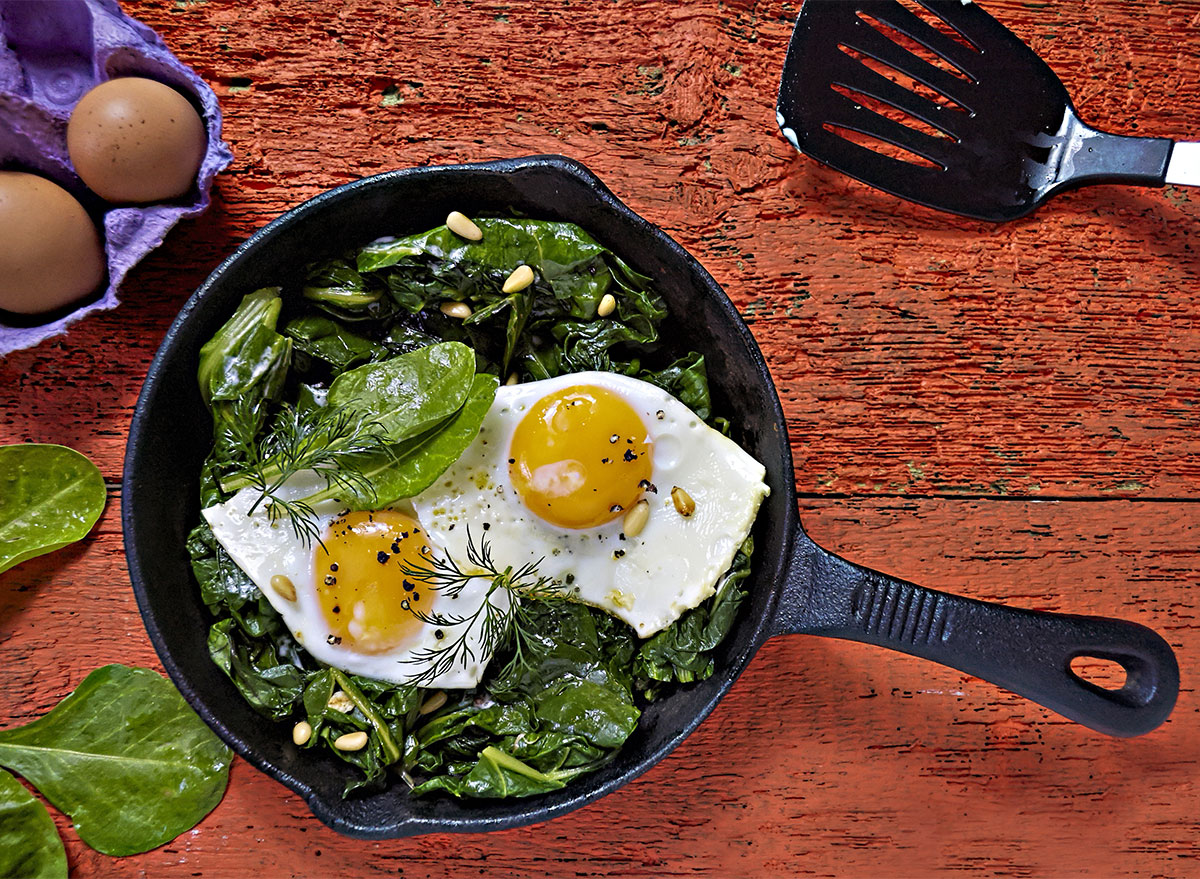 Yes, fruit is more traditional when it comes to breakfast. But do you really want to deprive yourself of the chance to jump-start your day with a nutrient-rich meal? There are plenty of delicious ways to add veggies into your breakfast, from putting them into an egg scramble to enjoying them roasted as a side dish.
How to fix it: Get creative and find ways to make your breakfast plate a bit more comfortable. Your body will thank you!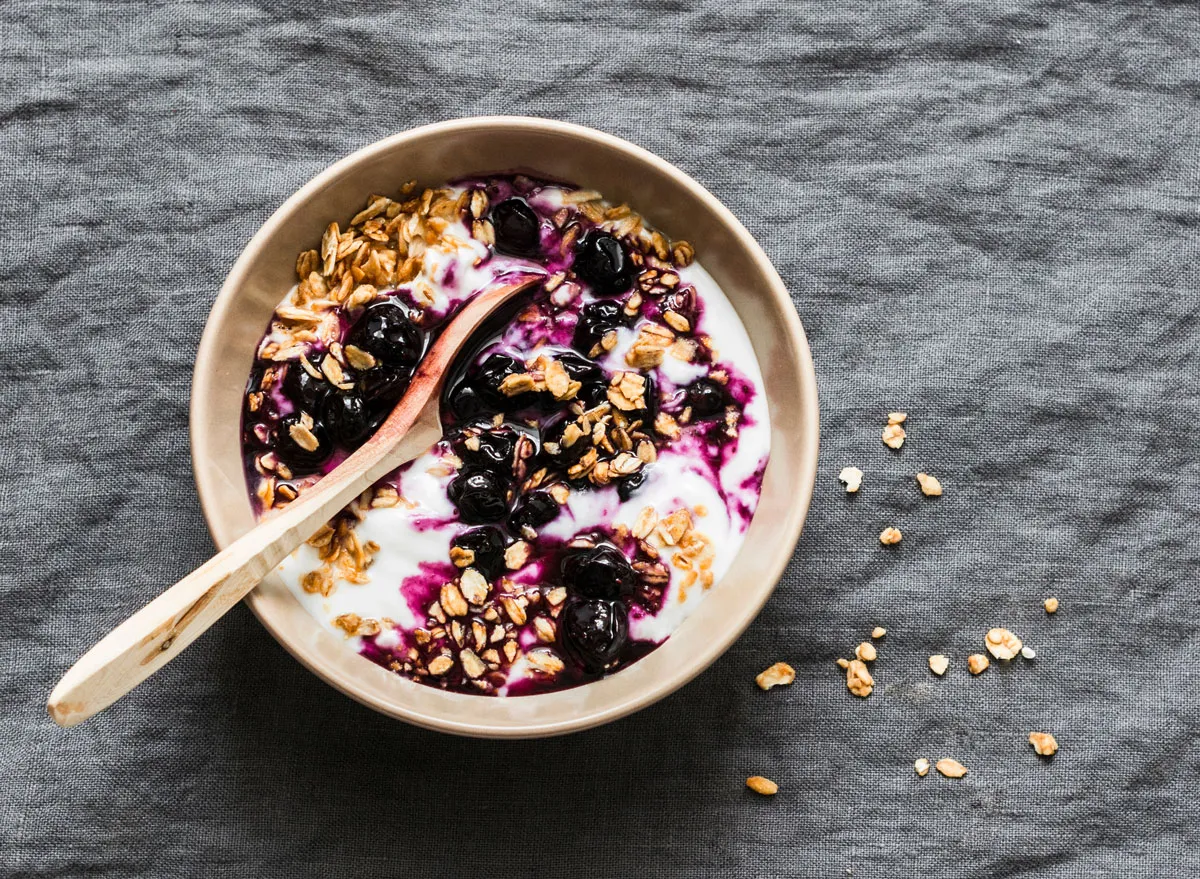 Granola may have a "health halo," but that doesn't mean it's always good for you. Many store-bought versions are loaded with added sugar.
How to fix it: Stick with one of The World's 10 Healthiest Granolas.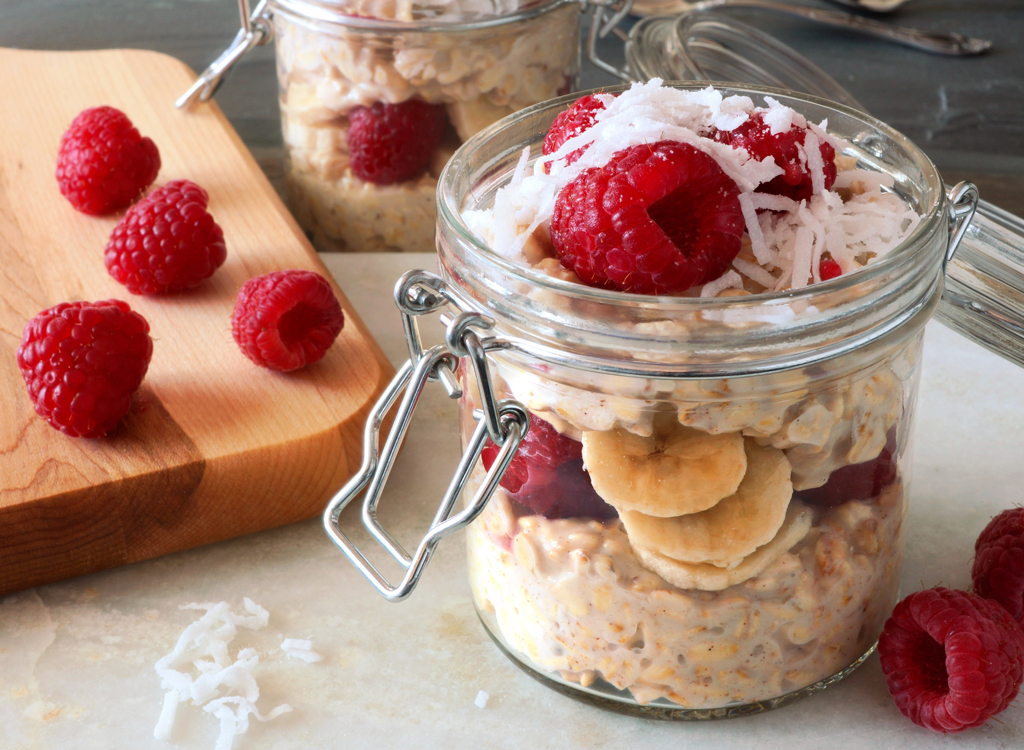 Overnight oats are safe to make up to four days in advance, but you shouldn't leave them in the fridge for longer than that. Any leftovers shouldn't be kept in the fridge for more than four days, and the oats will only get soggier as each day passes.
How to fix it: They're called overnight oats for a reason—make them the night before, not the weekend before you plan to eat them.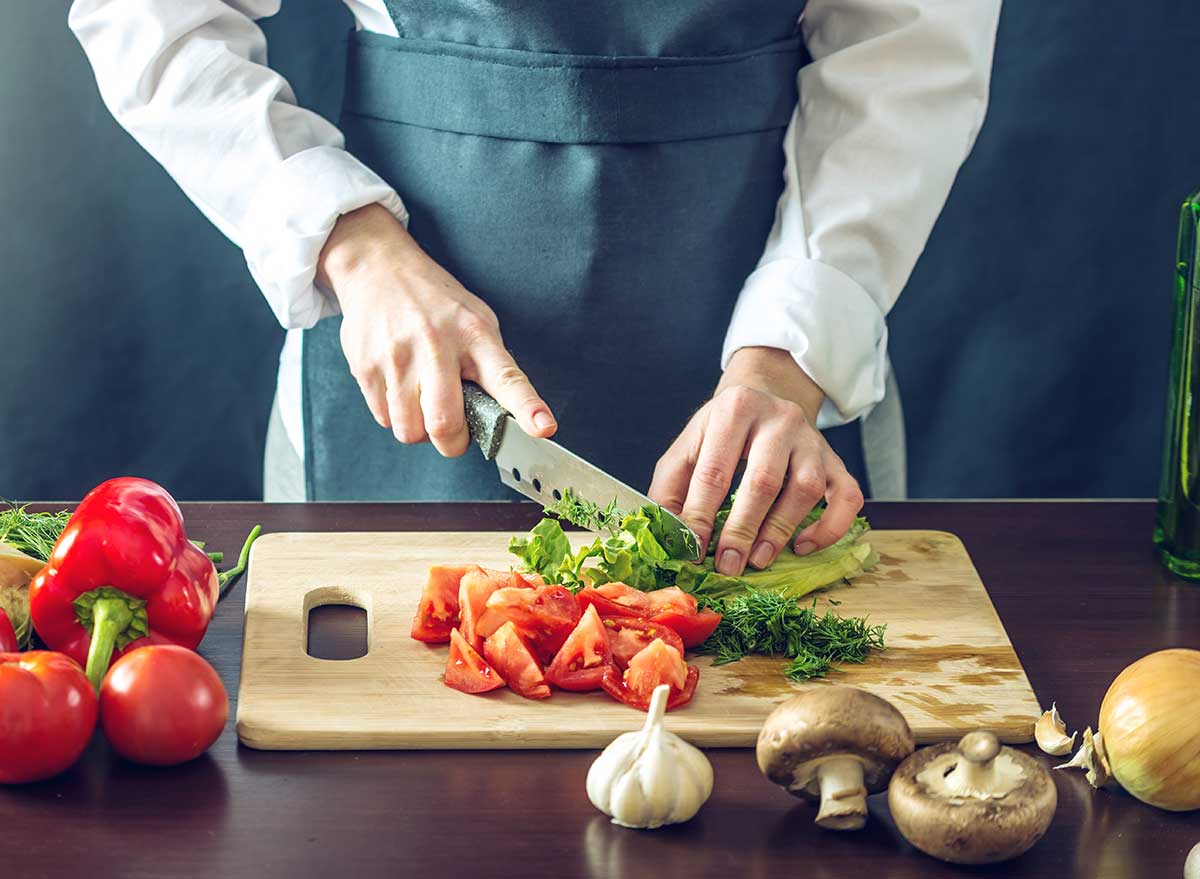 As we've said, time is a huge factor when it comes to not eating a healthy breakfast. But you can make things easier by prepping your food ahead of time!
How to fix it: Chop up some fresh veggies for scrambled eggs, assemble overnight oats, or make frozen oatmeal cups. You'll never be pressed for time in the mornings again!
Yes, you'll want to season your scrambled eggs. But don't add salt before they're cooked! "Adding salt in before the cooking process will break down the eggs and result in a watery scramble," Hudson previously said to Eat This, Not That.
How to fix it: Add salt and pepper to your scrambled eggs after they're cooked.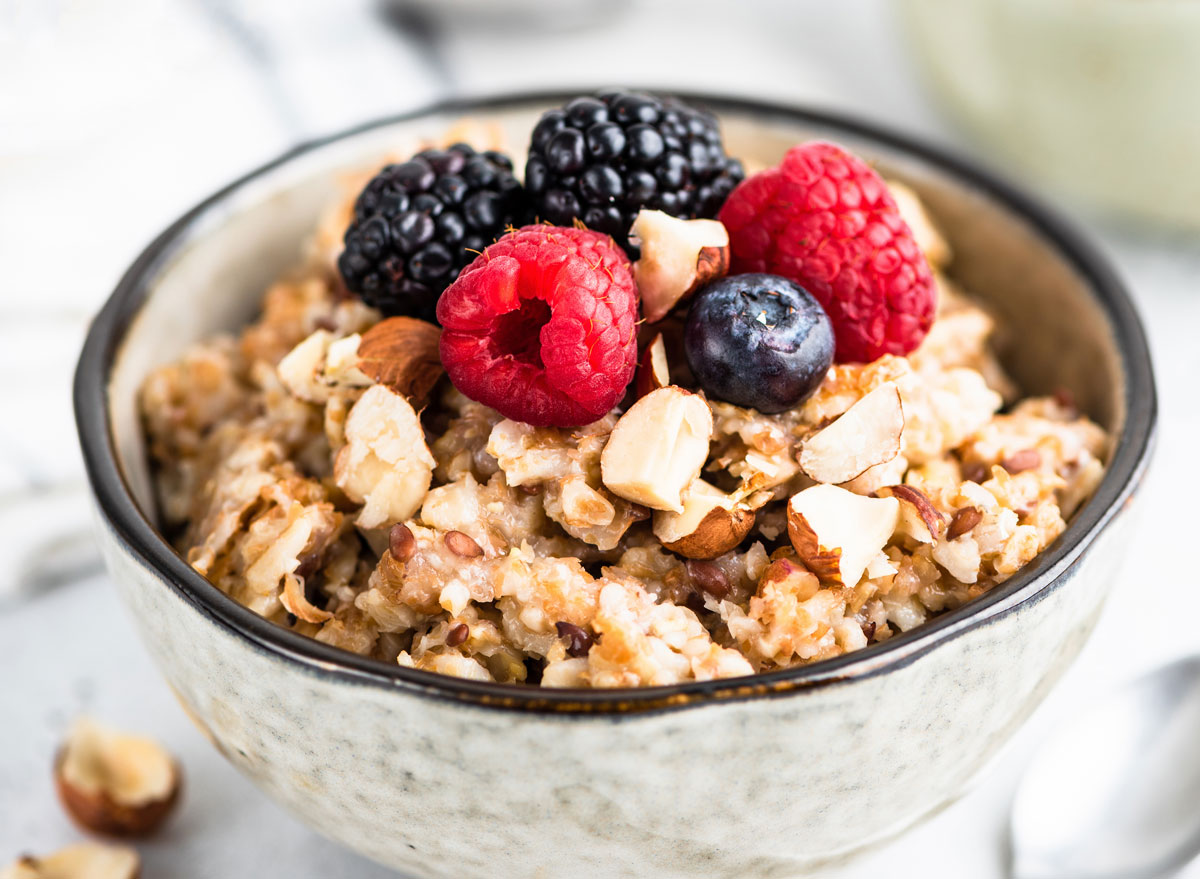 Yes, oatmeal can be a healthy way to start your day. But it can be a carb-heavy meal if you don't add protein or fat to it.
How to fix it: Try adding protein powder or peanut butter to your oatmeal to make sure you're getting all the necessary macronutrients.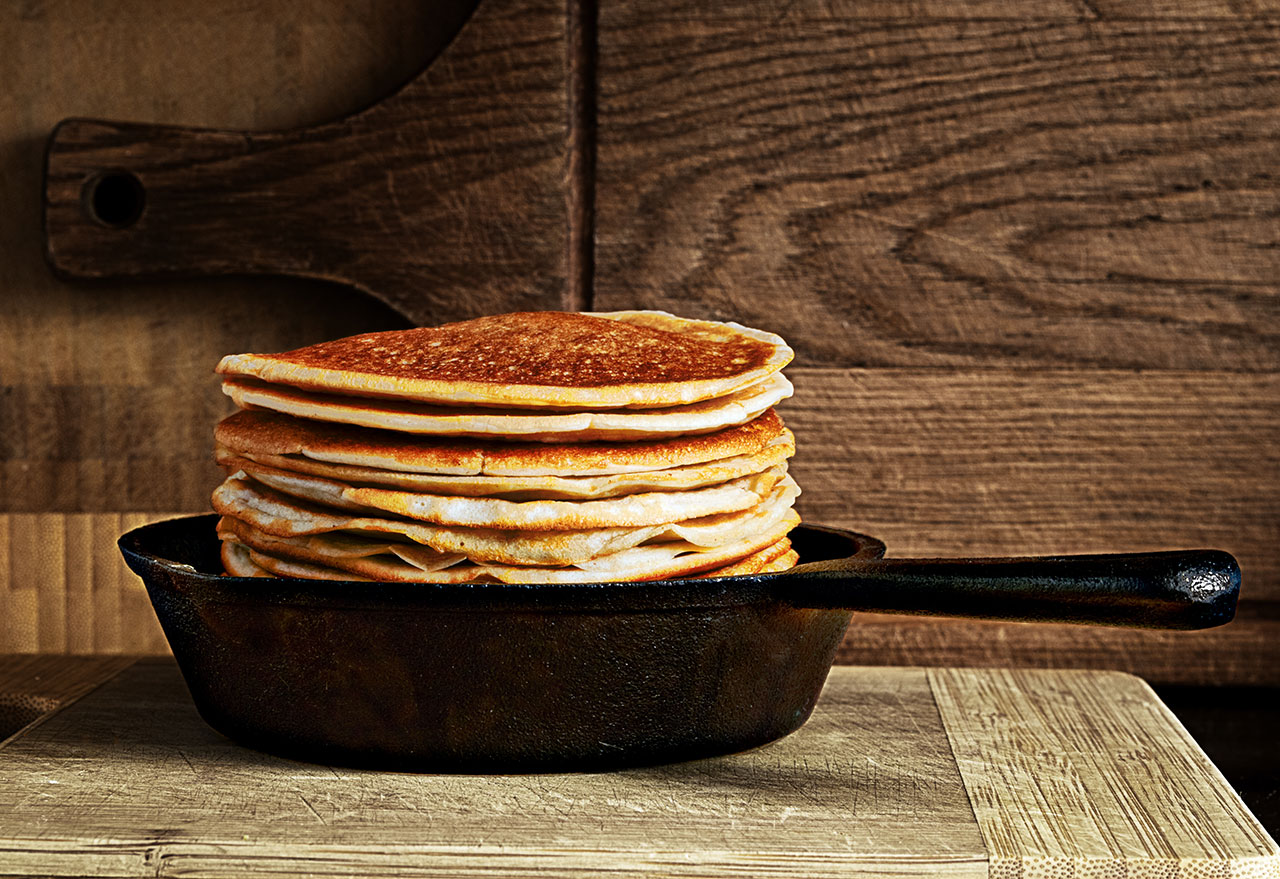 You don't want to put your griddle on too high or too low when you're making flapjacks. If the heat is too high, your pancakes will be burnt on the outside and still raw on the inside.
How to fix it: Use medium heat when you're making pancakes.
RELATED: Learn how to harness the power of tea to lose weight.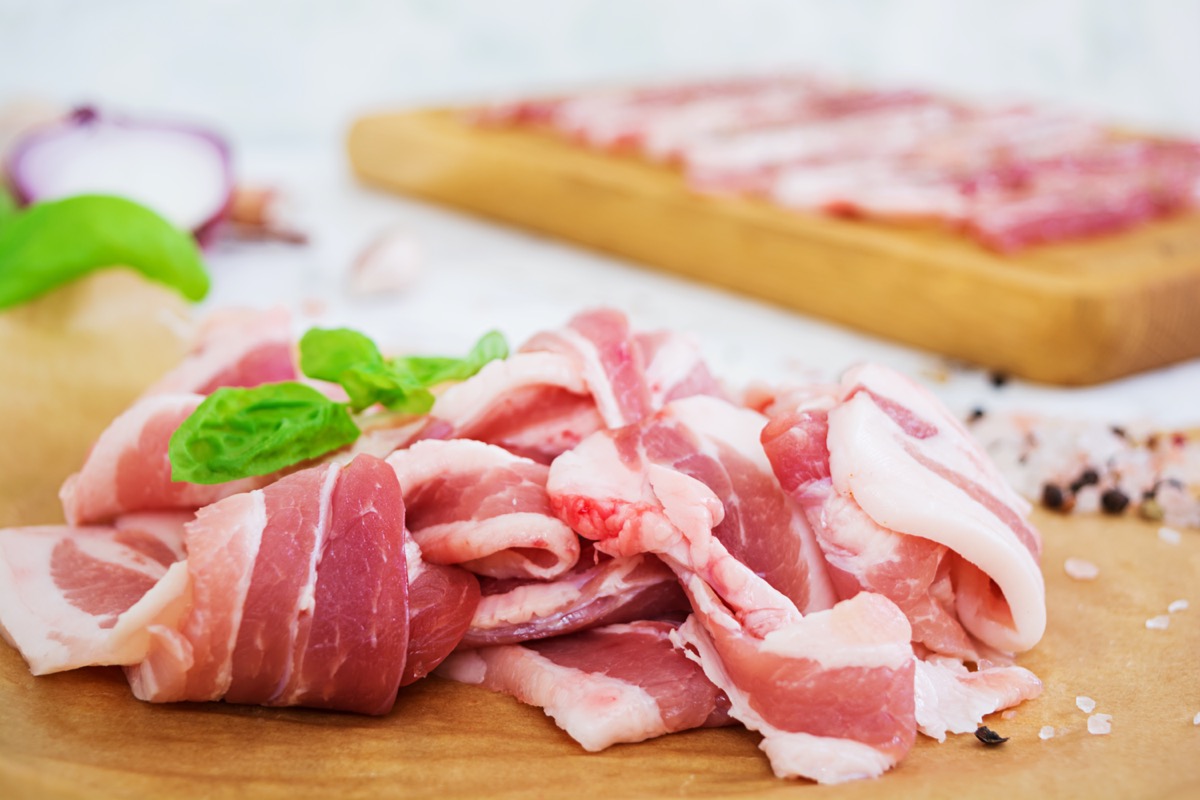 Vegetables like zucchini and asparagus are delicious cooked in bacon grease! That's one delicious way to add some green to your morning plate.
How to fix it: Use your bacon grease to cook vegetables and eggs, or save it in the fridge to use in a later recipe.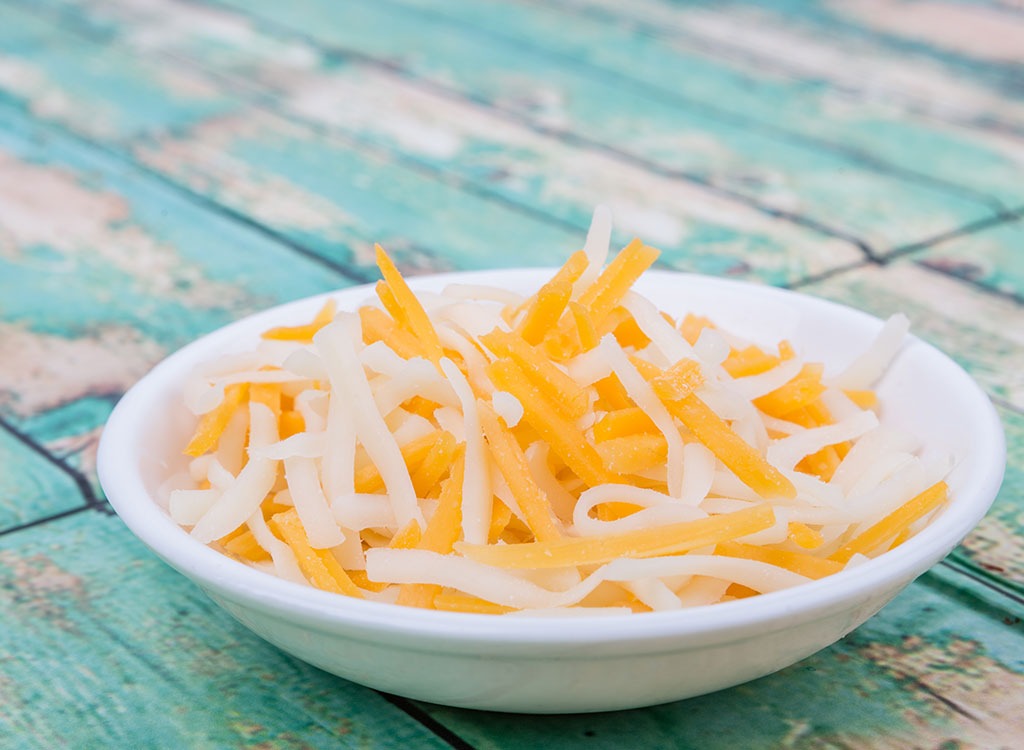 Sure, pre-shredded cheese is convenient. But if you have time to get out the cheese grater and prepare your own shredded cheese for omelets or breakfast casseroles, the result will taste WAY better, we promise.
How to fix it: Buy a block of cheese and shred it.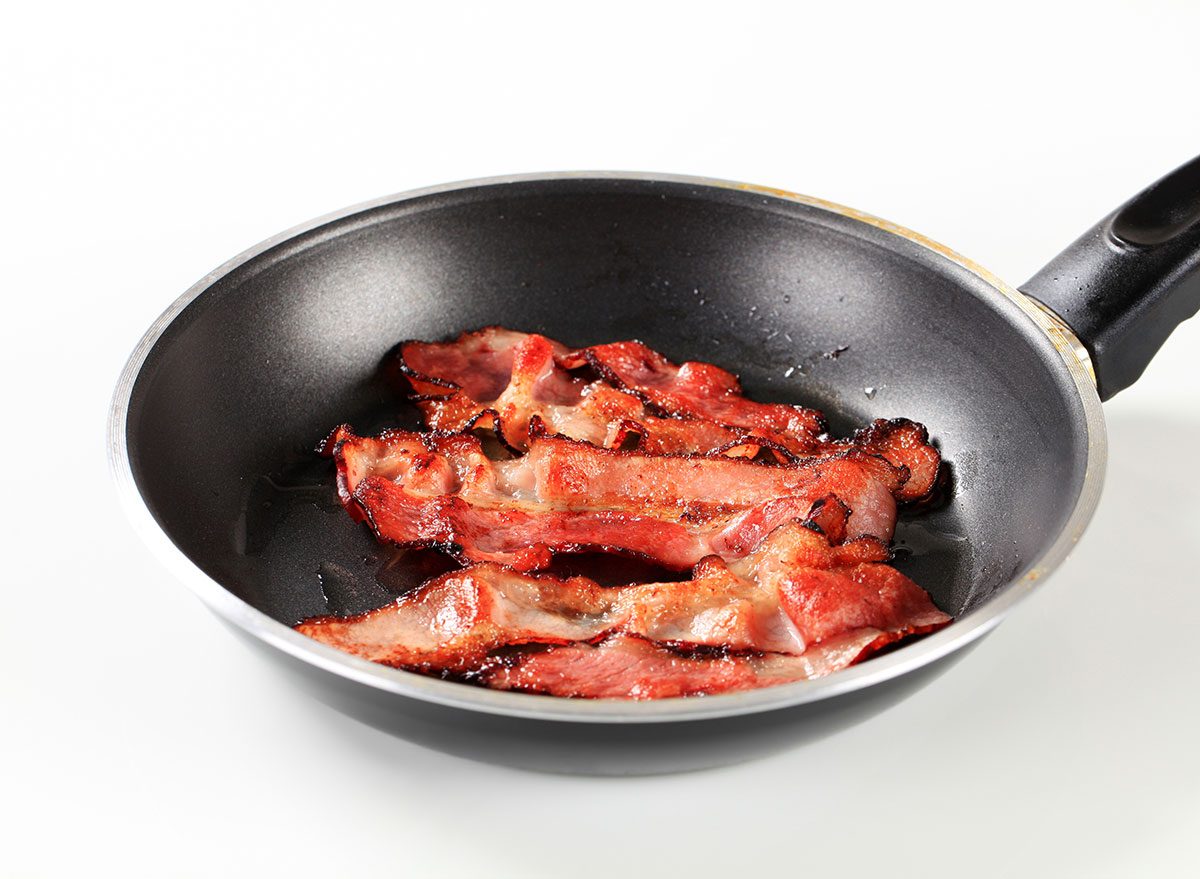 When you're cooking something like bacon, you want there to be a little room to flip the slices and for everything to cook evenly.
How to fix it: Don't crowd your cooking pan, even if that means your breakfast-making process will take a bit longer.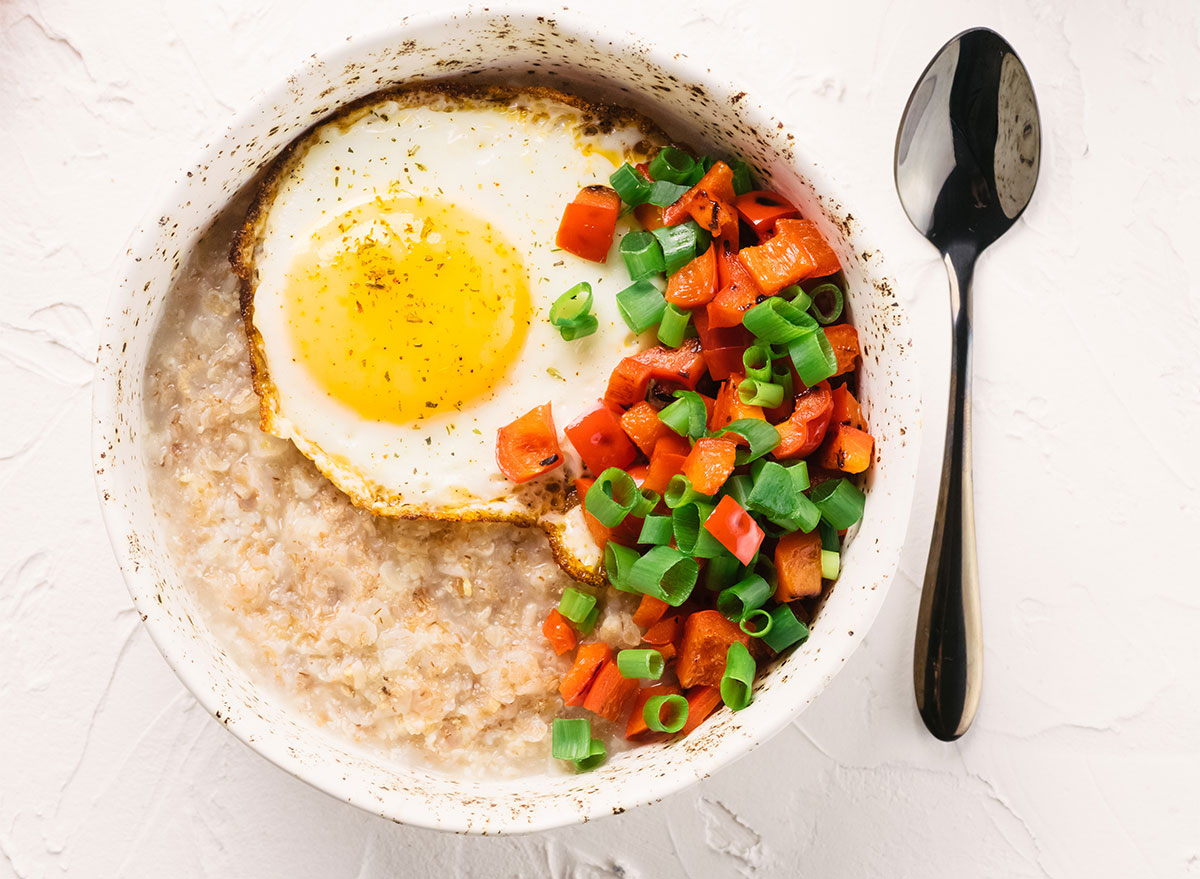 Sure, you could top your oats with berries and peanut butter. But savory oatmeal is a thing, too, and it's just as delicious.
How to fix it: Try adding veggies or even sausage to your oatmeal and topping it off with a fried egg. You can't go wrong with these 20 Savory Oatmeal Recipes.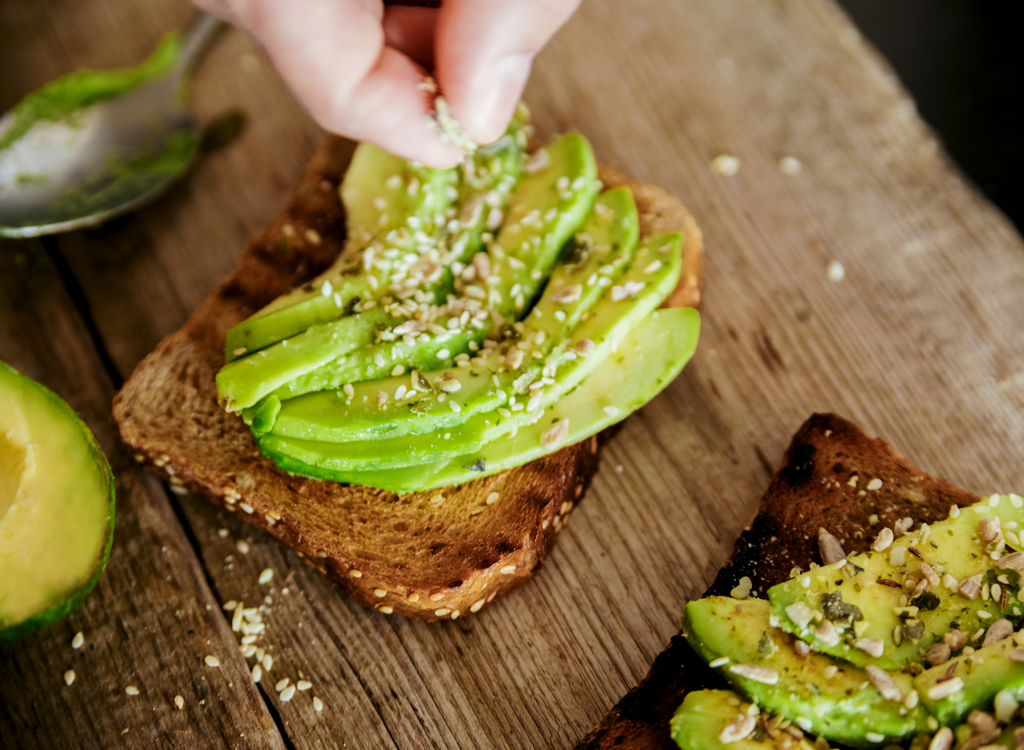 Avocado toast is delicious, especially when topped with a fried egg. But there are so many other ways to enjoy toasted bread!
How to fix it: Try one of these 15 Toast Recipe Ideas That Go Beyond Basic Avocado.
If you're cooking in a nonstick pan, you should use plastic or rubber cooking tools. Metal will scratch the pan, and it won't be the most effective for keeping eggs from sticking, either.
How to fix it: Using a rubber spatula will help you scrape the eggs off the pan with ease.
Yes, we think bacon is better when you cook it in the oven. But if you still prefer to make bacon on the stovetop, you should invest in a splatter screen. The last thing you want is to get burned by hot grease while you're making your morning meal.
How to fix it: Splatter screens are inexpensive and will keep you safe (and keep your kitchen clean).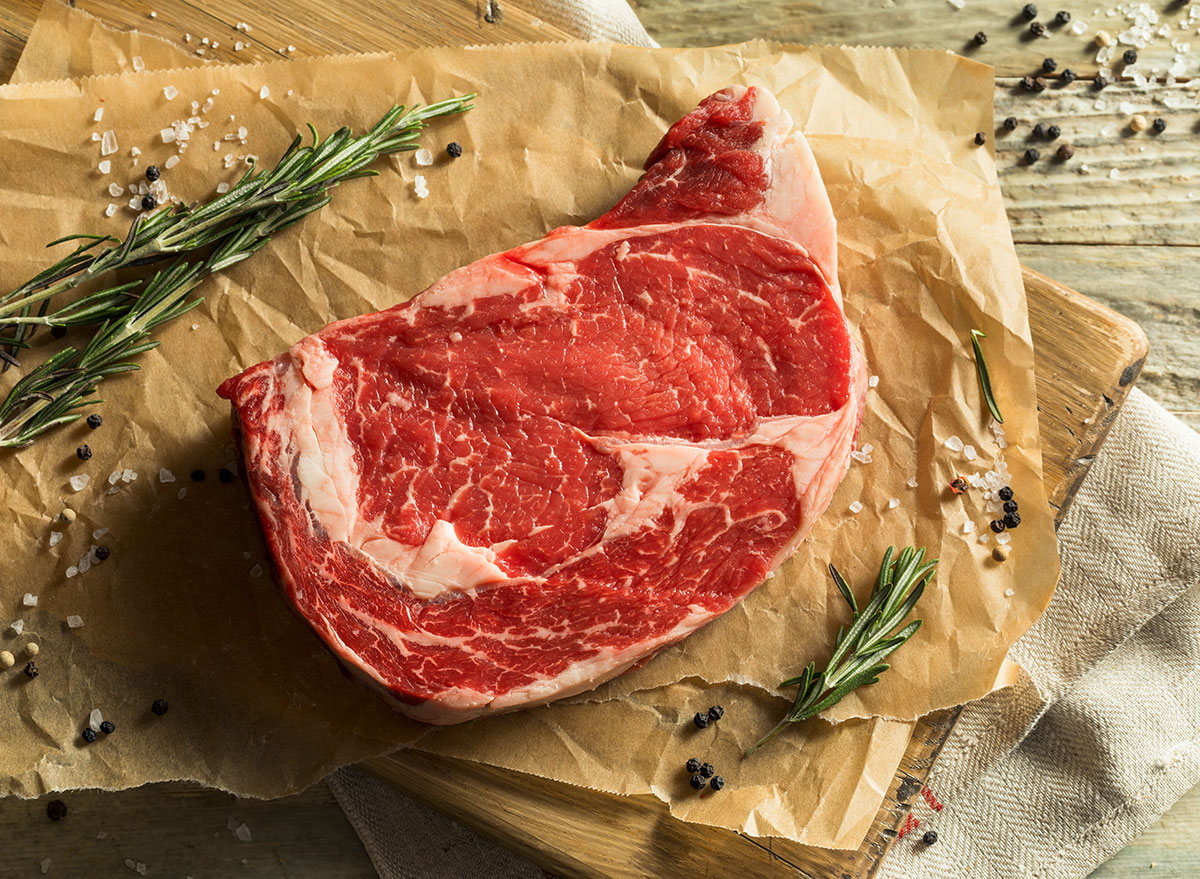 Whether you're frying up some bacon slices or preparing a hearty breakfast of steak and eggs, you'll want the meat to come to room temperature before it hits the pan.
How to fix it: Let your meat rest outside the fridge for about 15 minutes before you cook it.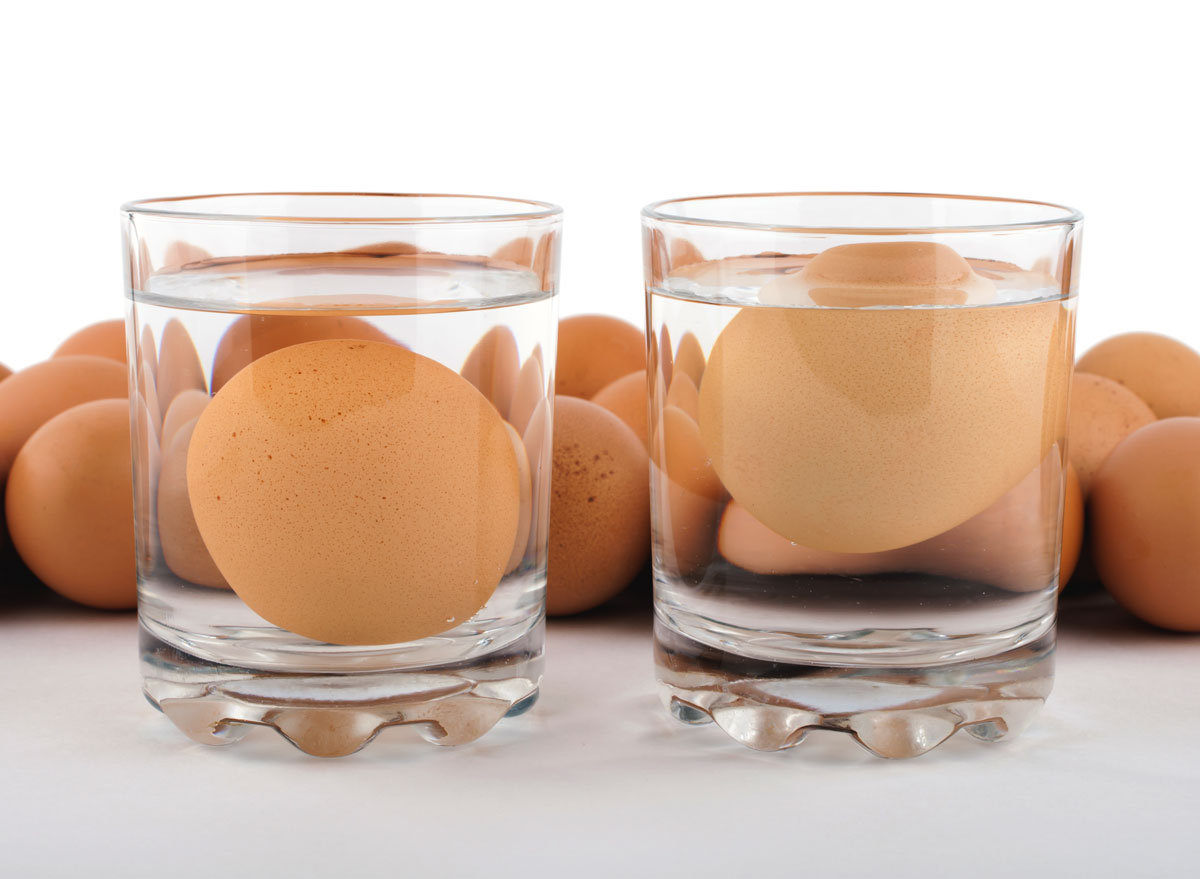 Poaching eggs is a lot easier with fresh eggs! You'll be less likely to get those strings of egg whites floating in the water.
How to fix it: Try the float test to make sure your eggs are fresh. Put your eggs in a bowl of water—the ones that sink to the bottom are the freshest.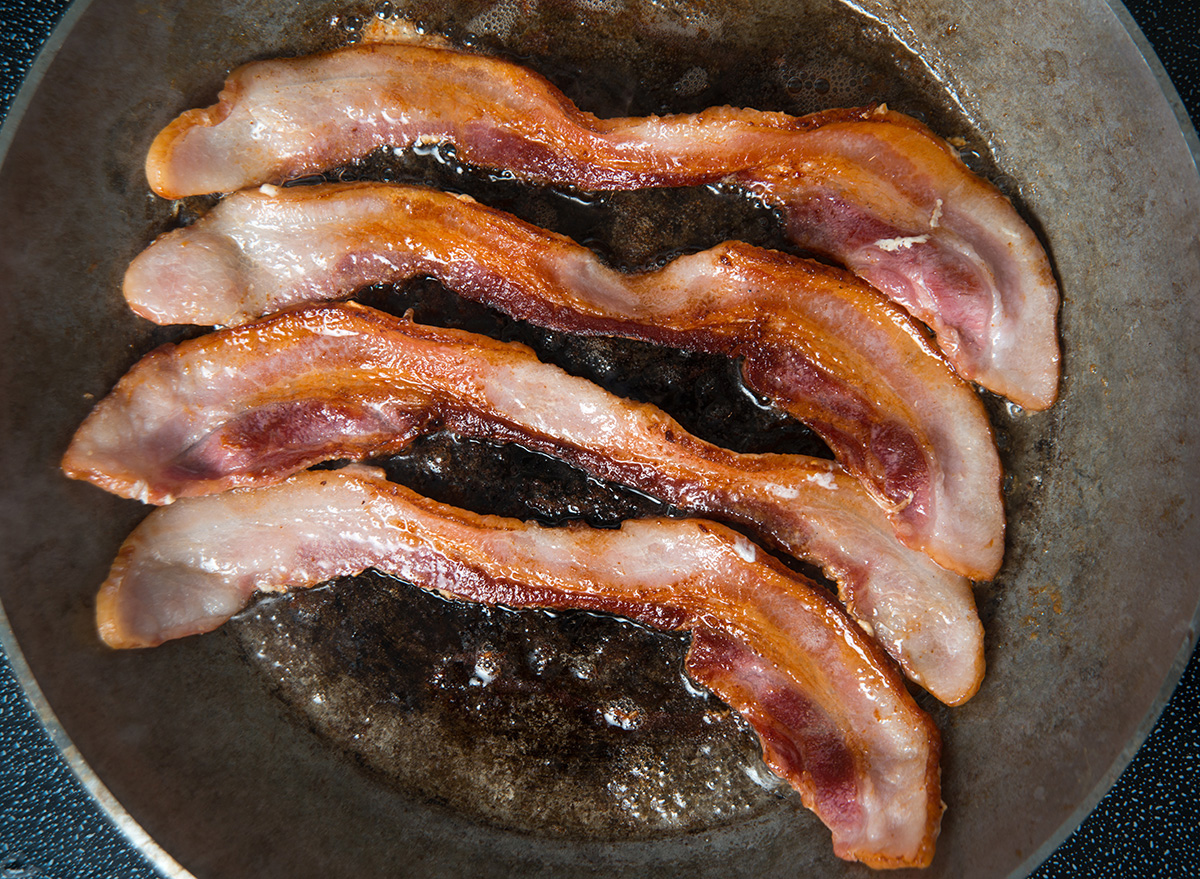 Bacon releases that delicious grease as it cooks, but that doesn't mean you should toss it straight onto the pan.
How to fix it: A little oil will go a long way in keeping your bacon from sticking to the pan.
Get more breakfast tips and recipes:
7 Cozy Breakfast Boards That Won't Derail Your Weight Loss Goals
19 High Protein Breakfasts That Keep You Full
Gordon Ramsay Shares 4 Easy Tips for a Next-Level Weekend Breakfast
Surefire Ways to Protect Your Gut, Say Dietitians
Gut health has become an increasingly hot topic in recent years—and with good reason. Over the last few decades, emerging research has discovered links between gut health and the immune system, mood and mental health, and has suggested it may play a role in autoimmune diseases, skin conditions, and even cancer. In other words, you might be able to prevent—and resolve—a number of physical and mental issues by simply taking care of your microbiome.
According to Katie Krejci, MS, RD, LD, IFNCP, 70% of your body's lymphocytes—white blood cells that play a key role in immune function—are in your gut. Not only that, but 75% of the feel-good neurotransmitters—like serotonin and dopamine—are also produced there.
"While the science of the microbiome is still in its infancy, studies suggest that it is one of the most important regulators of overall health with a potential effect on digestion, weight, skin, allergies, hormones, and more," says Mia Syn, RD, MS.
What you eat has a significant impact on gut health. While certain foods can help support a healthy, balanced microbiome, others can promote an imbalance that has been linked to gastrointestinal conditions such as irritable bowel syndrome, as well as other chronic conditions and diseases like obesity, asthma, colitis, type 2 diabetes, and cardiovascular disease.
With all that in mind, experts strongly advise heeding the following tips for protecting your gut. Then, be sure to read The #1 Best Juice to Drink Every Day, Says Science.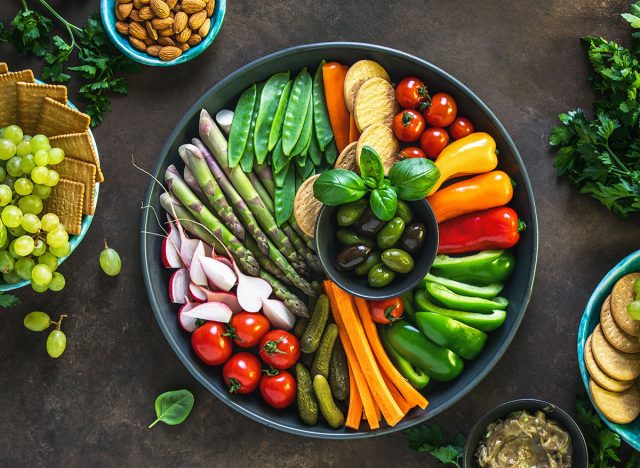 Next time you go grocery shopping, make it a point to fill your cart with a range of veggies, fruits, whole grains, beans, legumes, nuts, and seeds. According to Cassie Madsen, Ms, RD, The American Gut Project has found that those who eat 30 or more plant foods per week have more diversity of gut bacteria than those who eat fewer than 10 plants per week. But that's not all.
"Plants are high in fiber," says Amy Adams, RD, LDN. "Fiber feeds our gut and increases our good microbes. If the microbes are fed well, they will multiply, which strengthens our gut health. When fiber is fermented, it produces short-chain fatty acids, which help to thicken the mucus walls in our gastrointestinal tract, creating a barrier and halting bad bacteria from migrating. And different plants provide different nutrients, prebiotics, and polyphenols, which leads to a more diverse gut."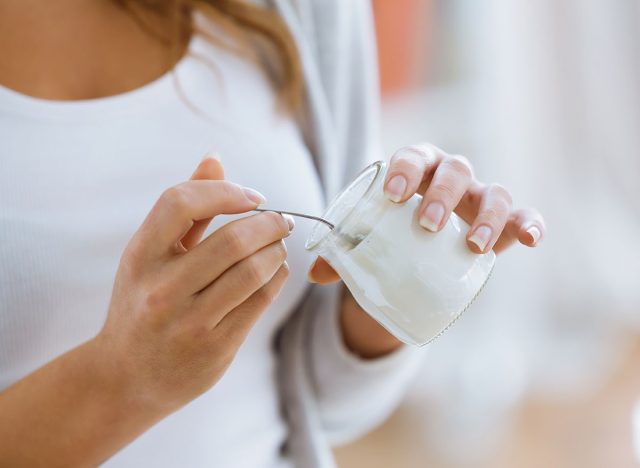 "Consuming probiotics is one of the best things you can do to re-balance your gut," says Krejci. "Probiotics have potent antimicrobial activity, they improve how the intestinal wall's function and they have a positive impact on the gut immune cells."
Krejci's favorite way to get probiotics is through a variety of foods rich in this friendly bacteria, such as yogurt, kefir, kombucha, kimchi, and fermented vegetables. She advises consuming these several times per day and from a variety of sources for maximum benefits. But if you aren't getting enough probiotics through your diet alone, Syn recommends seeking out a high-quality probiotic supplement, like TruBiotics.
"I like this one because it's comprised of the two most clinically studied types of good bacteria—Bifidobacterium and lactobacillus," she explains. "Additionally, the strains used have one of the best survivability rates in the gastrointestinal track among all probiotic strains."
In addition to probiotics, experts say you should prioritize prebiotics as well. These indigestible fibers feed the good bacteria in your gut so they can flourish.
"The microbiome ferments the prebiotics into short-chain fatty acids," says Krejci. "Short-chain fatty acids have potent anti-inflammatory effects and strengthen the intestinal barrier to keep pathogens from getting into the bloodstream."
According to Krejci and Syn, the best food sources of prebiotics are artichokes, green bananas, avocado, garlic, onions, leeks, and root vegetables.
RELATED: No, Probiotics and Prebiotics Aren't the Same Thing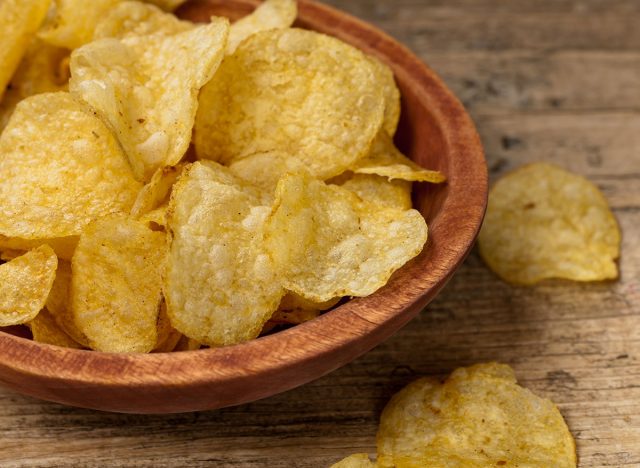 Adams points out that ultra-processed foods like cereals with added sugar, cookies, and chips usually contain little to no fiber—especially when made with refined flours rather than whole grains.
"Fiber helps to bulk up our stool and relieve constipation," she continues. "Having regular bowel movements reduces the time that waste hangs around in your colon. Chronically constipated individuals are found to have higher levels of methane-producing bacteria in their intestines. Methane not only slows down your gastrointestinal tract even more, but it can also migrate from the colon to the small intestine, and cause a condition known as small intestinal bacterial overgrowth (SIBO), which, in severe cases can lead to malabsorption and micronutrient deficiencies."
In case you needed further incentive to ditch the packaged, preservative-laden snacks—a 2021 study published in the journal Gut found that people who consumed a diet high in processed foods, fast food, and sugar had greater levels of destructive bacteria that produce toxins harmful to the gut.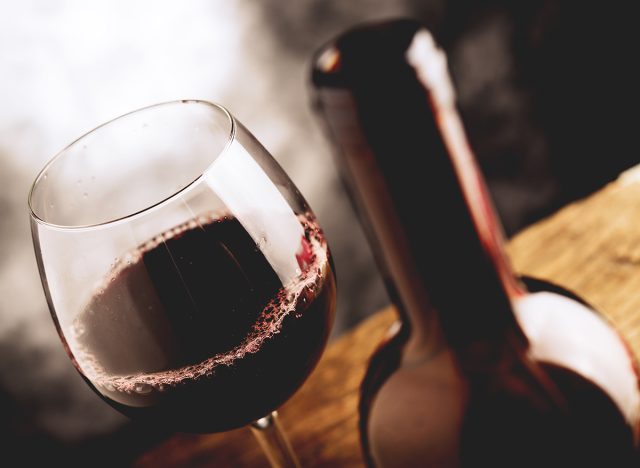 Experts advise thinking twice before pouring that second glass of wine—the more alcohol you drink, the more damage you're likely doing to your gut.
"Research suggests that chronic alcohol consumption can induce gut inflammation and negatively alter intestinal microbiota composition and function," says Syn.
Susan Kelly, RDN with Pacific Analytics, adds that the consistent gut inflammation caused by alcohol can also lead to heartburn, bacterial infections, and even ulcers.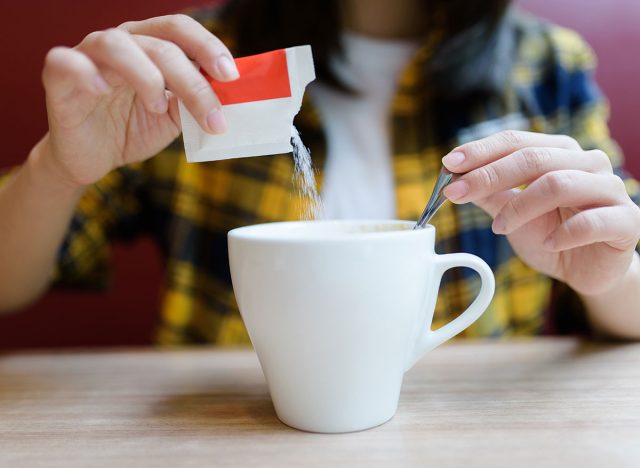 Particularly if you're trying to lose weight, it may be tempting to opt for artificial sweeteners—but before you do so, consider this: a slew of studies have shown that these zero-calorie alternatives can wreak some major havoc on your gut. Specifically, a 2019 review published in the journal Advanced Nutrition revealed that sucralose and stevia can negatively impact bacteria in the gut.
In fact, some research has suggested that consuming artificial sweeteners can lead to glucose intolerance. What's worse, a 2021 study in the International Journal of Molecular Sciences found artificial sweeteners can make normal and healthy gut bacteria become pathogenic.
"These sweeteners create an imbalance in your microbiome, which increases the risk of metabolic diseases—including diabetes and heart disease," says Kelly.
11 Secrets Oatmeal Companies Don't Want You to Know
Oatmeal is properly recognized as a healthy food. It boasts many admirable nutritional qualities, such as being rich in needed vitamins and minerals including vitamins B1 and B5, manganese, copper, iron, and more, according to HealthLine. It's rich in protein and fiber and low in fat. It's nutrient-dense for its per-serving calorie count. Oatmeal is delicious, too, especially when it's paired with fresh fruit, nuts, yogurt, and other healthy additions.
The problem with oatmeal is that often the stuff you buy is laden with not-so-healthy additions, primarily sweeteners. In order to ensure all those health benefits just mentioned are not offset by unwanted ingredients, you have to be discerning and selective when it comes to the oatmeal you eat. And even then it's actually not a good idea for most people to eat oatmeal every day.
Here are 11 secrets oatmeal companies would rather you not know about these globally-popular hulled grains. Plus, don't miss these 22 Meals to Melt Belly Fat in 2022.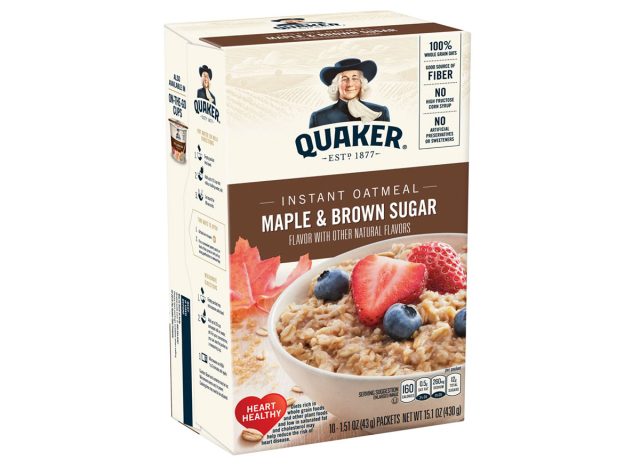 Most mainstream brands of flavored instant oatmeal, such as those from the heavy-hitter in the category, Quaker Oats, are so sugary they just shouldn't be eaten. You'll often find between 10 and 12 grams of sugar per a serving size well under 200 calories. This means you'll be eating nearly a quarter of the total sugars experts recommend in a portion that provides less than a 10th of your average daily needed calories.
Your best bet is to make unflavored oatmeal and to add your own fresh fruit and light sweetener of choice.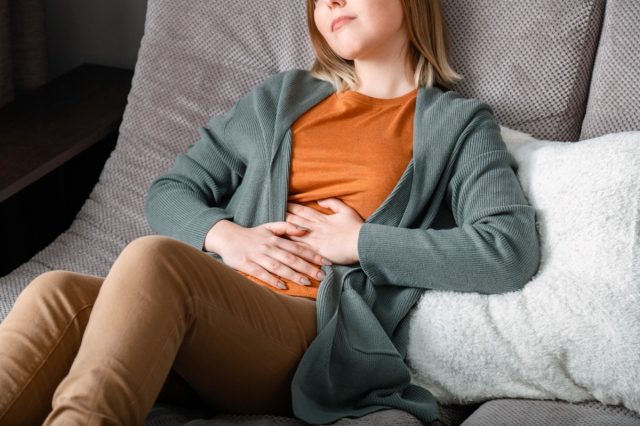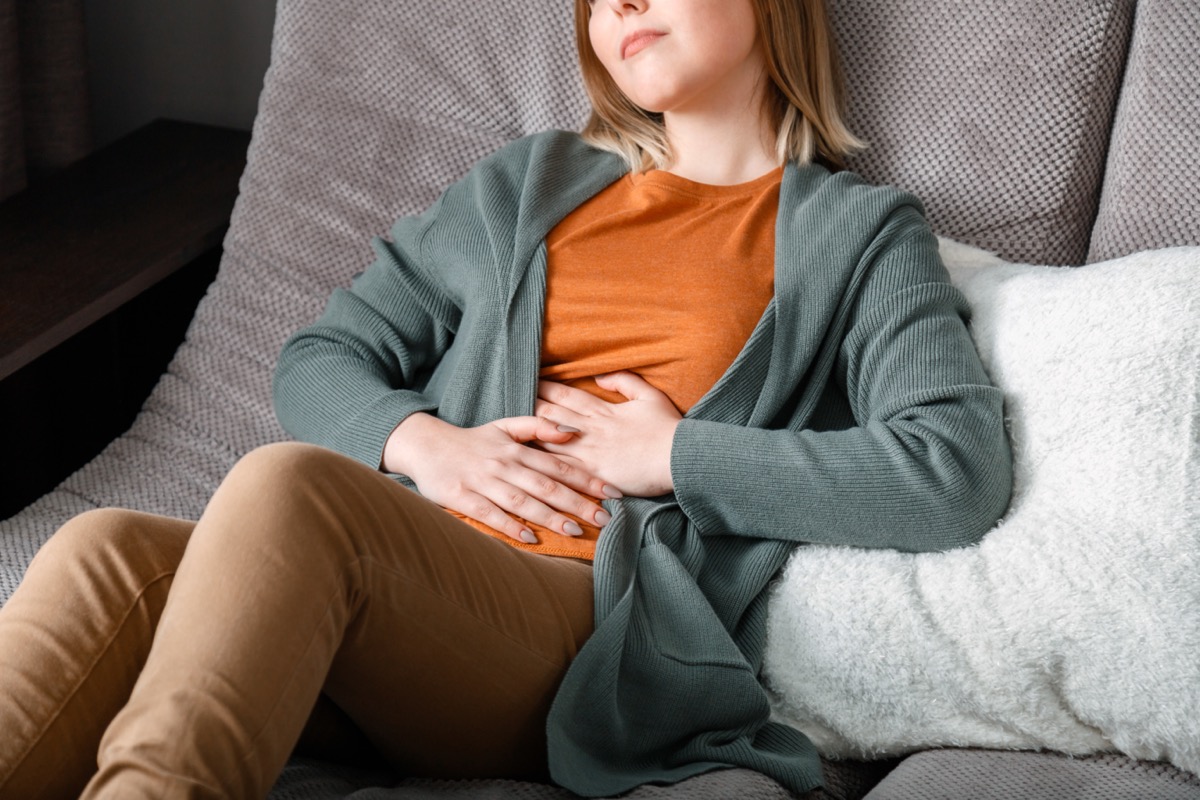 Starches, glucose, and fiber, all of which are naturally occurring in oats (and some of which may be in even higher concentrations in more highly processed oatmeals) are all on the menu for gut bacteria. And when the bacteria in your system consumes these substances, one byproduct can be gas that leaves you in discomfort or outright pain, and can make your body look and feel swollen.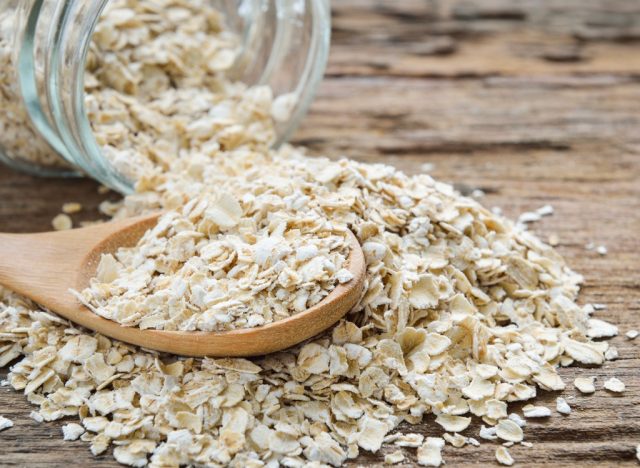 Oatmeal might seem like the ultimate shelf-stable food, and provided you store it properly, it can remain safe and tasty for a number of years. But according to My Recipes, store-bought oatmeal can and will turn rancid, and often in a matter of a year, if you leave it in its original packaging. That's because oatmeal is often packed in paper baggies and/or cardboard packaging, both of which allow humidity, bacteria, and yeast to denigrate the quality of the food.
RELATED: 51 Healthy Overnight Oats Recipes for Weight Loss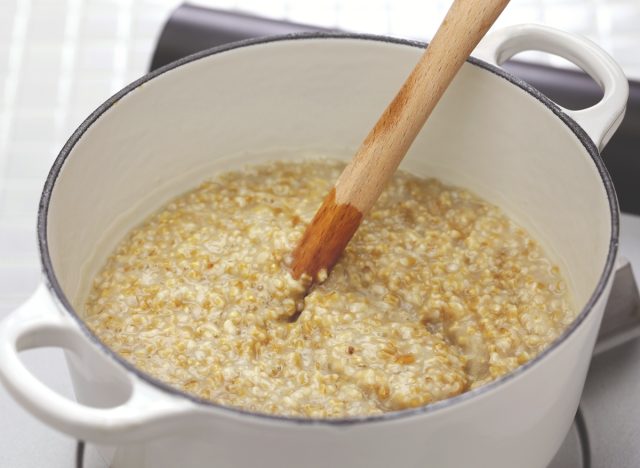 You know how foods that are technically free of a given ingredient often still list that they were processed in a facility that may have caused exposure to said food? Often that's just an abundance of caution for legal protection, but in the case of oatmeal and gluten, the issue is often real. According to HealthLine: "Oats are often contaminated with gluten because they may be processed in the same facilities as gluten-containing grains like wheat, rye, and barley."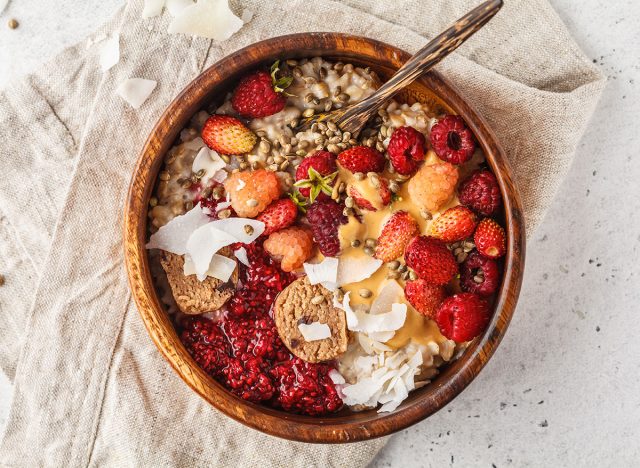 To be clear, a high-quality, low-sugar oatmeal eaten in proper portion sizes is a perfectly fine occasional food choice for someone with diabetes. However, even a low-sugar oatmeal can cause a blood sugar spike if too large a portion is eaten, according to HealthLine. And because oatmeal can cause slow stomach emptying, it can affect the timing and way in which other nutrients are absorbed, which can also be an issue for diabetics.
RELATED: The Worst Drinking Habits if You Have Diabetes, Say Dietitians
There are three common types of oatmeal you'll find for sale: steel-cut oats, rolled oats, and quick/instant oats. All of these types of oats have the inedible hull removed and all have health benefits to a varying degree, but they are not created equal. Steel-cut oats are the least processed thus take the longest time to cook yet have the most nutritional value. Quick oats are steamed, crushed, and toasted, so they cook fast but have less fiber and rank higher on the glycemic index. Rolled oats are in the middle ground in terms of processing and health.
RELATED: Are Rolled Oats Just as Healthy as Steel Cut?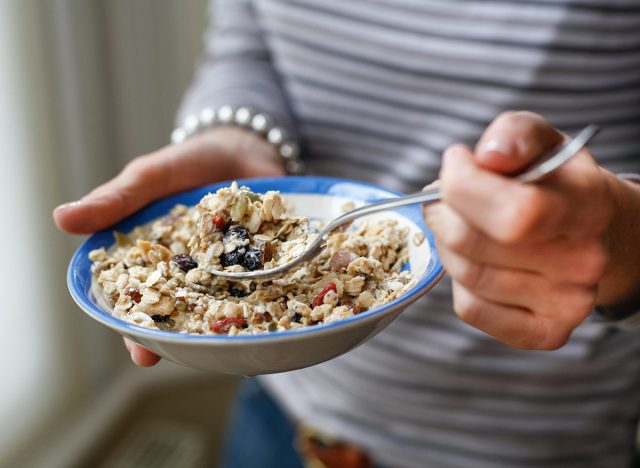 You might think of a food that keeps you full for a long time as a good thing, but there can be too much of a good thing in the case of oatmeal. Because eating oatmeal can leave you without hunger for so long, your body may end up shedding muscle mass as it doesn't have the needed nutrients to maintain muscle tissue, not to mention to grow more of it.
Glyphosate is a chemical compound commonly used to kill off weeds and grasses, according to the EPA. The herbicide is used in proximity to the production of food crops like soybeans, corn, fruits, and, as you likely surmised, oats. Thus the stuff occasionally turns up in oatmeal. Choose a certified organic brand whenever you can to help avoid this compound.
RELATED: The #1 Best Oatmeal Topping for Weight Loss, Says Dietitian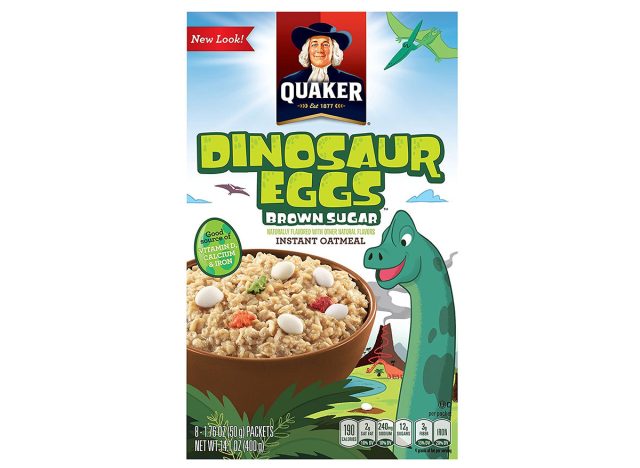 Many parents choose oatmeal as a healthy breakfast choice for their kids, and if the right brand and product is served, it can be. On the other hand, many oatmeal products are high in sugars, as noted, and they can even be high in other unwanted things, like saturated fat. One serving of Quaker Instant Oatmeal Dinosaur Eggs, for example, has 11% of the daily recommended limit for these fats, and in a food genuinely considered low fat.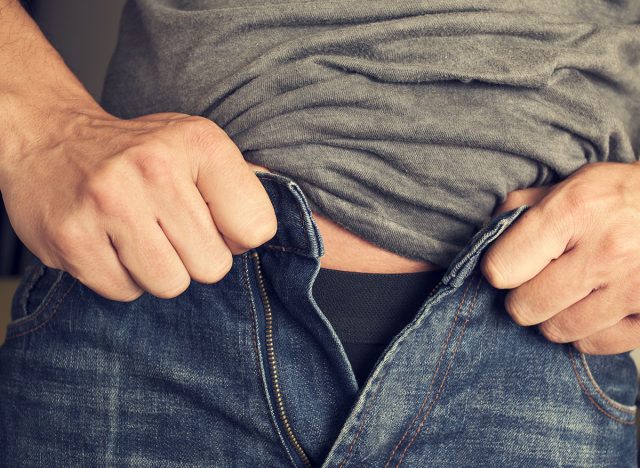 According to Prevention.com, eating oatmeal can lead to weight gain in several insidious ways. First and foremost, unless you are using pre-packaged oatmeal or you are carefully measuring out a portion, you may be eating too much of the stuff and getting many more calories than you need. Second, the blandness of many types of oatmeal can cause you to add to many other ingredients–and unhealthy ones like syrup or sugar at that. And finally, as noted earlier, because oatmeal can leave you feeling too full for too long, it may throw off a regulated eating schedule, which is a surefire way to cause weight gain issues.
Read more about the best ways to eat oatmeal for good health: