9 Hacks for the Best Tacos Ever
Putting together a taco seems pretty basic. You grab a tortilla and throw in your meat, cheese, and extra toppings, and call it day. But when it comes to making really tasty tacos, there are a few taco hacks to know about. From making your tortillas stay intact to adding the perfect melty cheese, here are a few of our favorite taco hacks to try next time you make them for a weeknight dinner. Plus, don't miss our 22 Meals to Melt Belly Fat in 2022.
Most taco seasoning packets tell you to sprinkle on the seasoning after the meat cooks. But if you take the time to marinate the meat before even cooking it, you'll have a stronger burst of flavor in that taco. Try our fajita marinade for steak or chicken, or this easy marinade with homemade taco seasoning for fish and shrimp.
Or try one of our 12 Best Healthy Taco Recipes!
Do you also hate how corn tortillas fall apart when you fold them? The trick is to actually fry them in a little oil. Heat up some oil (vegetable, canola, coconut) in a small frying pan. Once warm, add the corn tortilla and let it fry for about 30 seconds on each side—flipping with a pair of tongs. The tortilla is now crispy and will stay intact when you eat your taco.
Or learn how to make tortillas at home!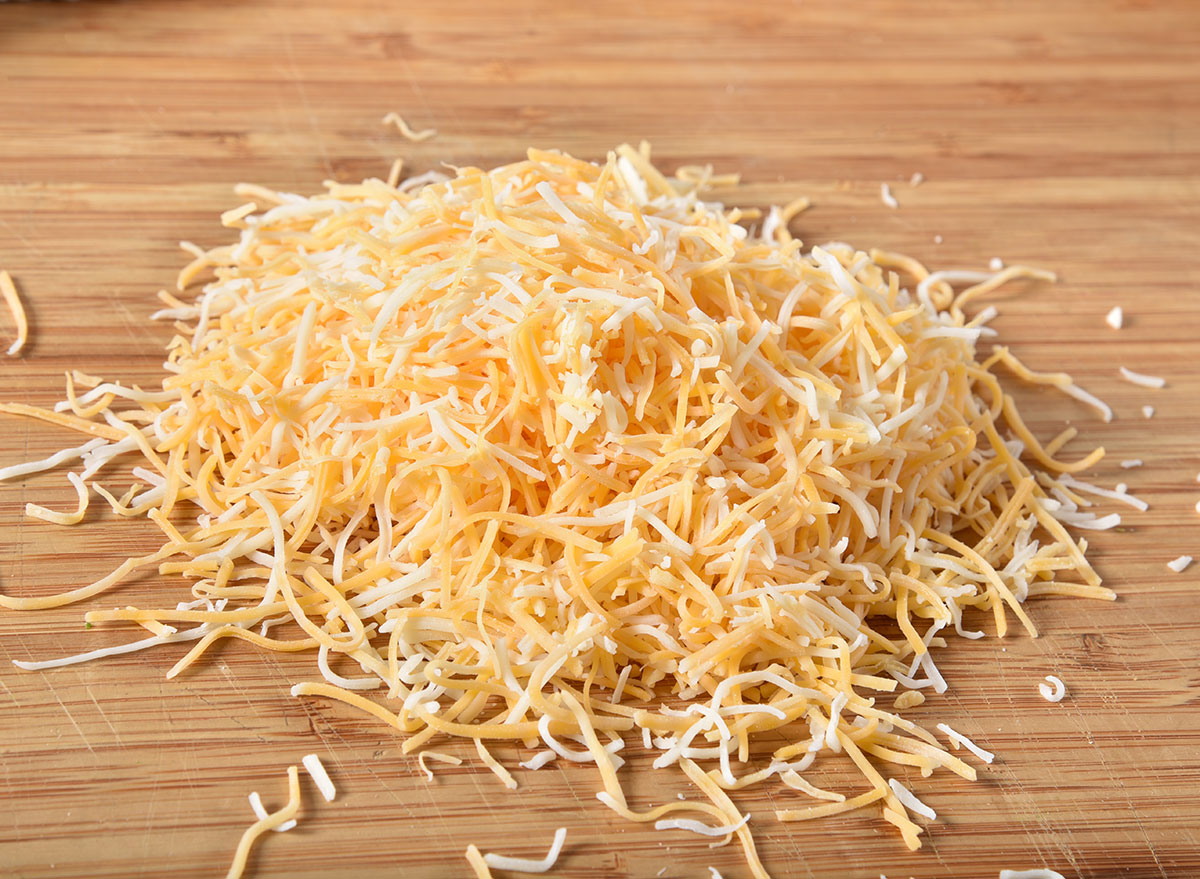 Did you know that shredded taco cheese has a cellulose casing on it to prevent it from sticking? It's true! This means that when the cheese melts, it won't be able to stick together. Instead, shred your own taco cheese so you can get a truly melty cheese taco experience.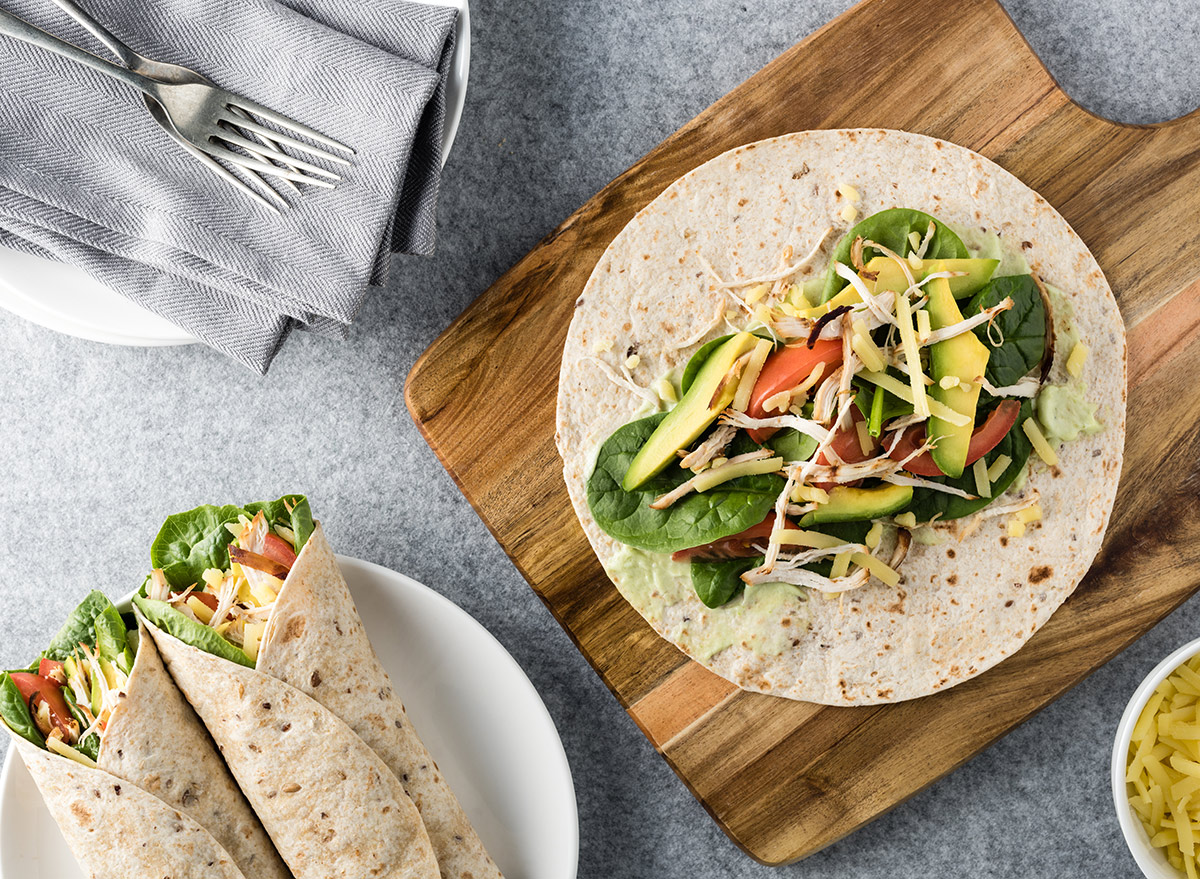 Speaking of cheese, another easy way to make sure your taco doesn't get super juicy and fall apart is to coat the bottom with cheese. If you place it near the warm meat it will get melty, instead of eating cold cheese sprinkled on top of cold toppings.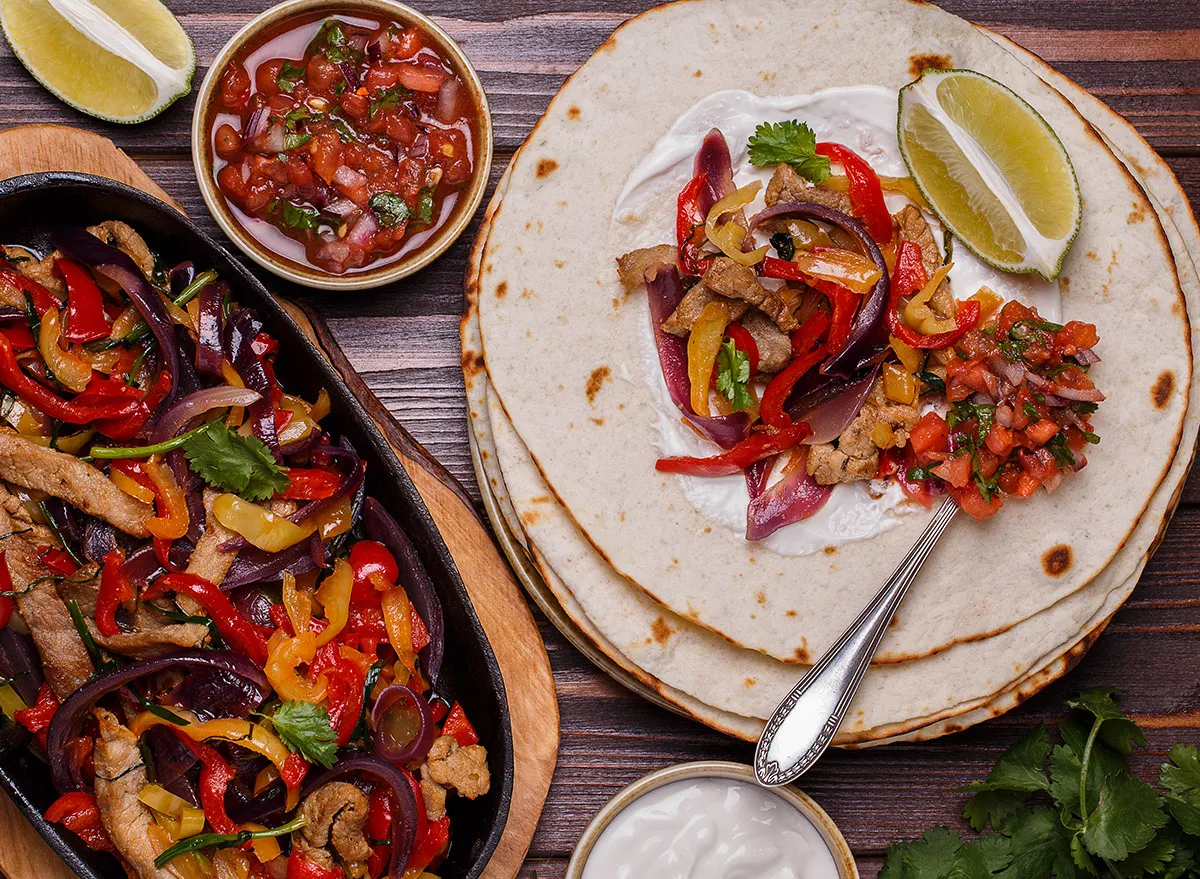 Tacos are great with a dollop of sour cream (or Greek yogurt), but it's not like you want to eat a mouthful of it if you add it at the top of your taco. Instead, spread it out on the bottom of the shell so you get an even amount with every bite.
RELATED: Your ultimate restaurant and supermarket survival guide is here!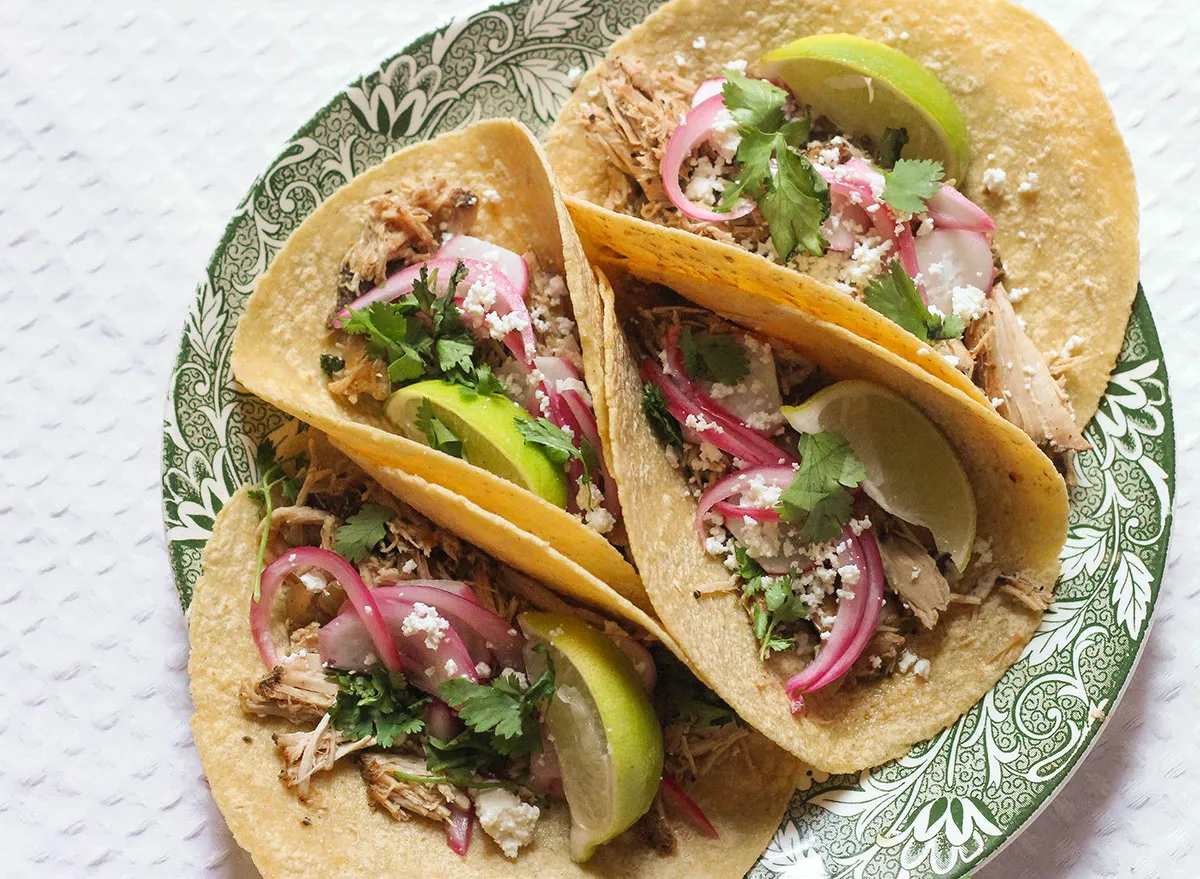 Shredded lettuce and diced tomatoes are typical toppings for tacos, but have you tried pickled red onions? They give the salty tacos a sweet tang that rounds out the flavor nicely. With our quick-pickled onion recipe, you can have pickled red onions in 15 minutes.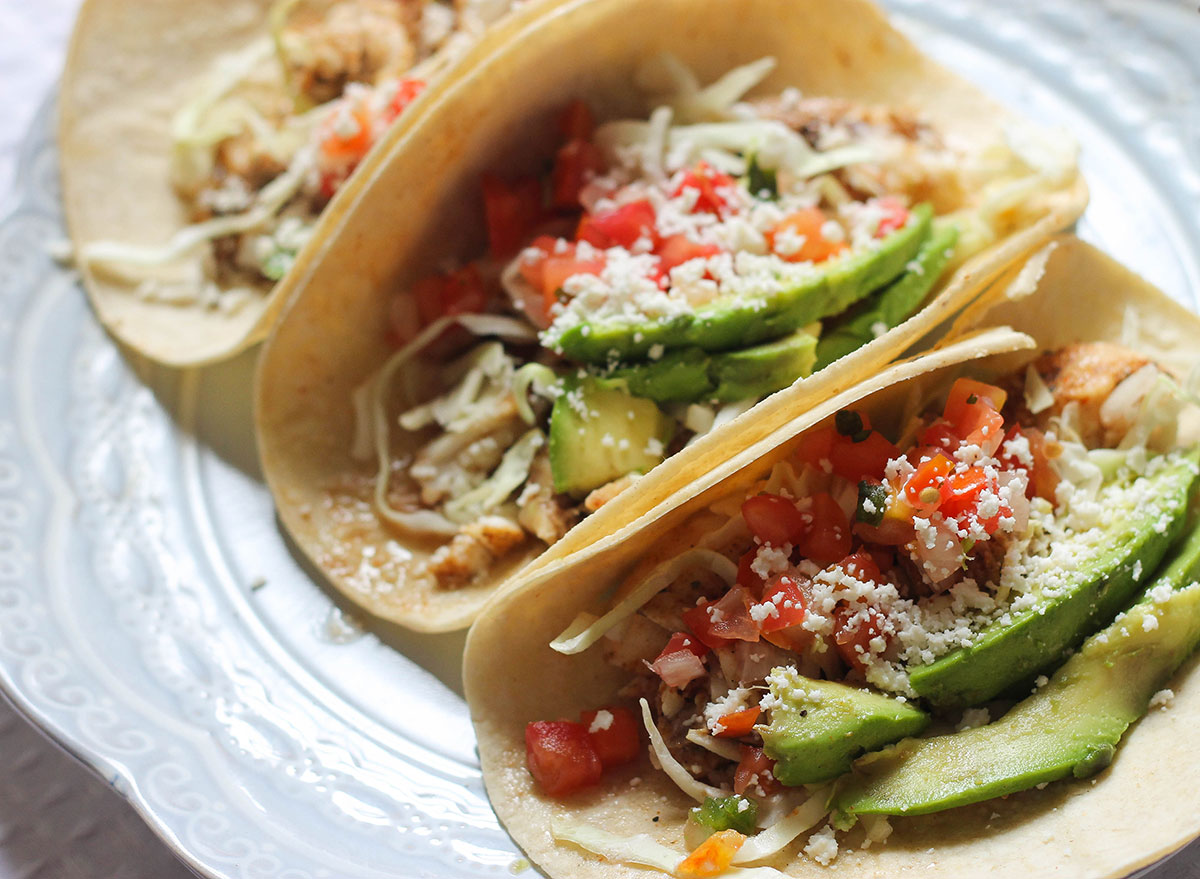 Don't have time to whip up some guacamole? Simply adding sliced avocado will do the trick! It adds a boost of monounsaturated fat and dietary fiber to your taco, without all the effort of making guacamole.
For even more cooking hacks, be sure to sign up for our newsletter.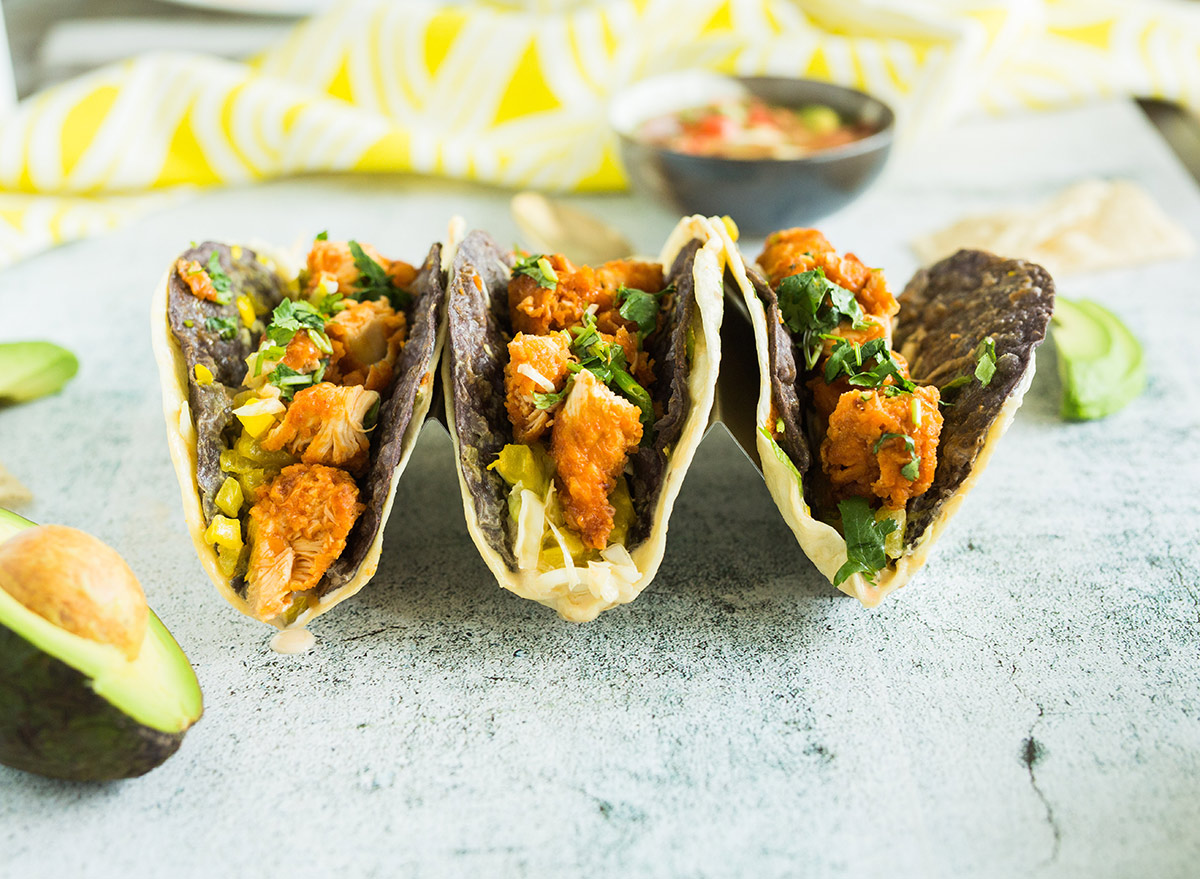 Can't decide between a hard shell or a softshell taco? Have both! Take a softshell taco and melt some cheese on it in the microwave for a few seconds. Place a hardshell taco on the cheese and fold up the softshell taco, letting the cheese mold to the hardshell!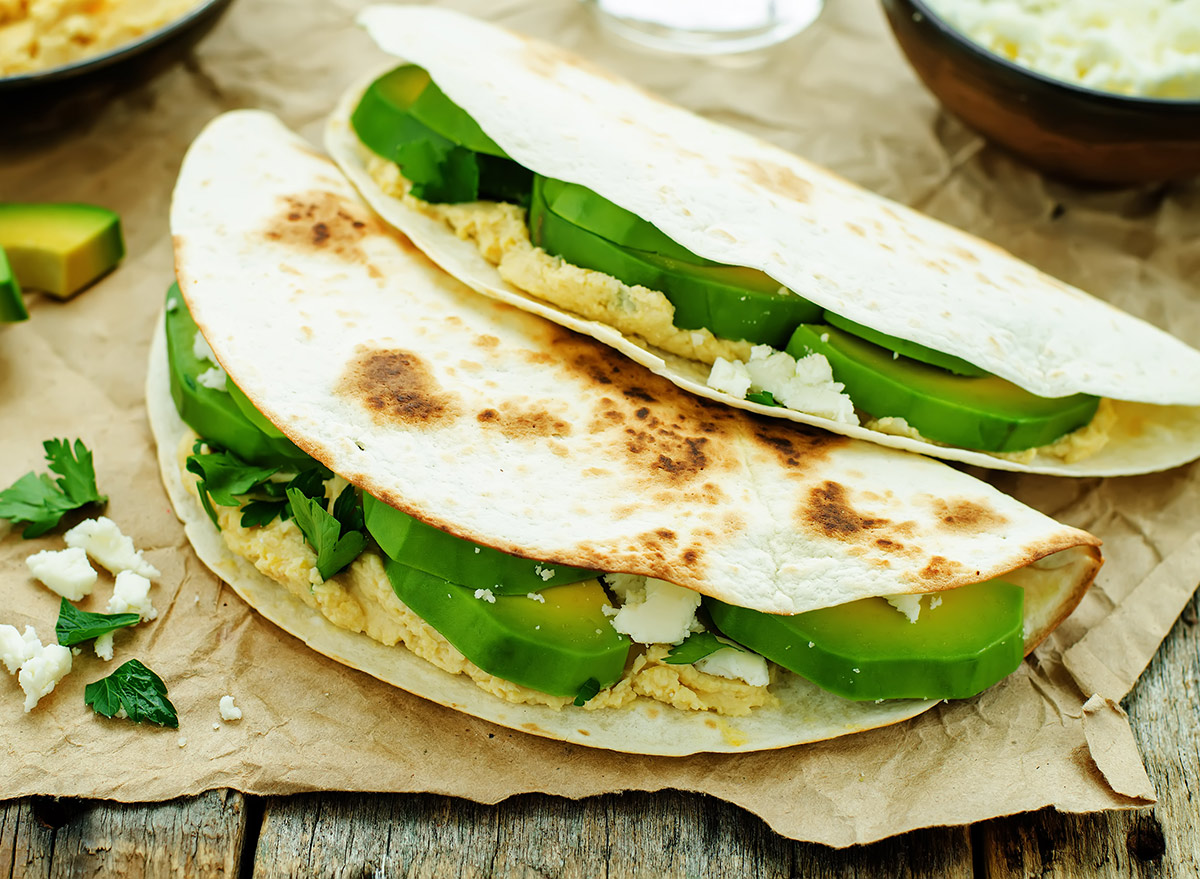 If you hate the effort of having to fold a taco yourself, you can try to seal it. Just like you would with a quesadilla, add your taco meat, toppings, and cheese to a softshell tortilla. Place it on a warm pan, pressing it down with a spatula. Let the melted cheese seal the taco so you don't have to worry about folding it—and toppings falling out!6254a4d1642c605c54bf1cab17d50f1e
Read more: The Best Tacos in Every State, According to Yelp
The #1 Eating Habit to Avoid to Keep Your Brain Sharp, Says Dietitian
There are so many lifestyle factors that play roles in your brain health. Socializing, sleep, physical exercise, and nutrition are just some of the pillars that can keep you sharp. When it comes to nutrition, there are certain foods we know can aid in brain health, like those high in omega-3, fruit, vegetables, and items rich in antioxidants.
While these are the foods you should be enjoying frequently, there is one eating habit you should avoid to keep your brain sharp… consuming high amounts of refined sugar. Read on to learn more about how processed sugar can negatively impact your brain.
It is important to first differentiate between the sugar naturally found in foods like milk and fruit from the processed sugar often added to food and drinks. When talking about refined sugar, think about what you use in baking, what might add to your coffee, the type of sugar in soda and juice, and the form found in an array of candy, pastries, and even savory sauces.
The American Heart Association estimates that adults consume about 77 grams of sugar per day, about three times the recommended intake for women. For reference, the AHA recommends women consume fewer than 25 grams daily, while men should have no more than 36 grams.6254a4d1642c605c54bf1cab17d50f1e
A diet high in refined sugar is thought to increase risk of developing type 2 diabetes, and research suggests a type 2 diabetes diagnosis increases one's risk of developing Alzheimer's disease. Another study documented a correlation between blood glucose levels and dementia, where higher glucose levels in individuals with and without diabetes were related to increased risk of dementia.
While there are genetic factors that likely play a role in brain health and risk of memory-related disease, current research indicates that your food and drink choices have an impact, too. In fact, another study completed in rats found that a high-sugar diet, especially in the form of high-fructose corn syrup, can increase brain inflammation and lead to impaired memory.
A modest amount of sugar likely will not impact your health negatively, and if you find yourself consuming multiple sources of sugar daily, try cutting back to meet the AHA's recommendations for sugar intake. Swap regular soda for diet or unsweetened sparkling water, use a zero-calorie sugar substitute in place of sugar, swap candy for fruit, and load up on protein and fiber-dense foods to keep you full and satisfied, and less likely to overeat sugary items.
Many of the current studies analyzing the impact of sugar on the brain have been conducted on animals. While this is helpful is providing us preliminary information and serves as a template for how to conduct similar studies in humans, more research is needed to build conclusive guidelines around sugar intake for brain health.
However, what we currently know points to limiting your intake of refined sugar to reduce your risk of many diseases, like type 2 diabetes, Alzheimer's, dementia, and even obesity and heart disease.
One Major Side Effect of Skipping Dinner, says Dietitian
Skipping dinner is an easy habit to slide into, and there are many ways to get into the routine of doing so. For example, you may have heard of the antiquated punishment of having no dinner and going straight to bed from when you were a child. Or, flash forward to now, maybe you just are too full from a big lunch, or perhaps just too busy to eat dinner.
Although it seems like a minor setback with no actual repercussions, it turns out that skipping dinner is more harmful to your body than you might have thought. According to medical board expert Lisa Moskovitz, RD, CEO of NY Nutrition Group and author of The Core 3 Healthy Eating Plan, skipping dinner can affect your sleep and overall health.
"Whether it's intentional or not, regularly skipping dinner may backfire and lead to poor sleep quality which can cause a myriad of health issues over time," says Moskovitz.
Moskovitz suggests that without taking the time to eat a balanced dinner, your body may miss out on essential nutrients and enter a state of calorie deprivation– the damaging lack of calories your body needs.
"A mild calorie deficit is one thing, but if it's too extreme, hunger can wake you up throughout the night or make it harder to feel relaxed enough to enter deep sleep," says Moskovitz. "Furthermore, adequate nutrition is necessary to produce our sleep-regulating hormones serotonin and melatonin."
According to the Nutrients Journal, a lack of nutrients causes insufficient sleep as well as sleeping disorders. Specifically, a lack of vitamin D is associated with a higher risk of sleep disorders.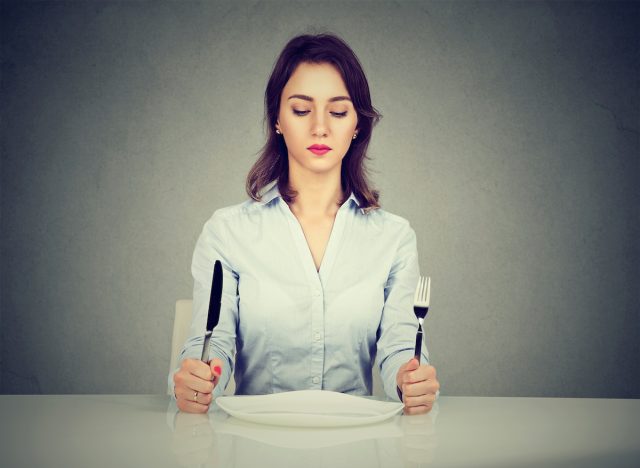 Moskovitz also says that mood, energy, immunity, and metabolism will be impacted by lack of rest due to under-eating and/or eating inconsistently.6254a4d1642c605c54bf1cab17d50f1e
According to the Sleep Foundation, sleep is a necessity and an essential function that allows your body and mind to recharge, which leaves you refreshed and alert when you wake up. Proper sleep also helps the body remain healthy and stave off diseases. The brain cannot function properly without an adequate amount of sleep. This impairs your abilities to concentrate, think clearly, and remember things.
A study published in the Neuropsychiatric Disease and Treatment Journal also indicated that acute total sleep deprivation– no sleep or a reduction in the usual total sleep time– affects attention and working memory. Chronic partial sleep deprivation– chronic patterns of insufficient sleep– does the same. Total sleep deprivation also impairs many cognitive functions.
Kayla Garritano
Kayla Garritano is a Staff Writer for Eat This, Not That! She graduated from Hofstra University, where she majored in Journalism and double minored in Marketing and Creative Writing. Read more