Cooking with Olive Oil Decreases Risk of Deadly Diseases, Says New Study
If you love to cook with olive oil, or even drizzle it on a bed of leafy greens for a side salad, then you're in luck. According to a new study published by the Journal of American College of Cardiology, olive oil consumption has been linked to a lower risk of cause-specific mortality including cardiovascular disease, cancer, neurodegenerative disease, and respiratory disease.
The study used two cohorts of over 92,000 men and women in the United States who were free of cardiovascular disease or cancer over a 28-year period. After factoring in some of the deaths that occurred from these cohorts, the study concluded from the current participants with high olive oil consumption (at least half a tablespoons a day, or up to 7 grams) was associated with a lower all-cause mortality risk when compared to those who rarely consumed olive oil.
This study also compares the use of other fatty substitutes used in kitchens like margarine, butter, mayonnaise, and other dairy-fat equivalents, and concluded that when replacing these items with olive oil, there was a lower risk of mortality for participants.
In particular, higher olive oil intake was associated with a 19% lower risk of cardiovascular disease mortality, 17% lower risk of cancer mortality, 29% lower risk of neurodegenerative disease mortality, and 18% lower risk of respiratory disease mortality.
RELATED: Get even more healthy news in your inbox by signing up for our newsletter!
This may not come as much of a shock, given the numerous ways olive oil has been proven to nutritionally benefit the human body. Previous studies have shown that not only can olive oil reduce your risk of stroke and heart disease, but is also linked to decreased risk of rheumatoid arthritis, diabetes, and even causes better bone density for women.
Compared to the other fatty cooking substances high in saturated fats, olive oil is a healthy source of unsaturated fat, which can help improve blood cholesterol levels and ease inflammation.
Lastly, olive oil is a main source of fat in the Mediterranean Diet, which is continually rated the overall healthiest way to eat. This type of diet is followed by residents of the Mediterranean, which consists of the densest population of people who live to be over 100. A study in Foods was even able to prove that consumption of olive oil is linked to successful aging for individuals over 70 years of age.
With numerous research backing up the claim, it seems the recently published study regarding olive oil consumption is only further proof that this ingredient provides major benefits to one's body when regularly consumed.
For more nutrition news, read these next:
Herbal Treatment for Ulcer
Herbal Treatment for Ulcer
If you are here searching for how to cure ulcer fast, herbs for ulcers, how to cure stomach ulcer permanently, stomach ulcer pain relief and other things about getting rid of Ulcer, you should read this to the end.
They occur when the thick layer of mucus that protects your stomach from digestive juices is reduced, thus enabling the digestive acids to eat away at the lining tissues of the stomach. This could be an extremely painful process.
Just as there are medications for the treatments of Ulcer, there are also powerful herbs that are good for its treatment and eradication. Below are 10 of those herbs and how they should be used.
Herbal Treatment for Ulcer
1. Moringa Leaves
This can be used to treat digestive tract disorder. Moringa leaves contain healing properties digestive system disorder. Tannins and flavonoids, the plant based antioxidant cures inflammation, irritation and stops all problems related to ulcer.
You are going to need Moringa leaves, Yogurt and Water.
Instructions
Take one cup of fresh Moringa (drumstick) leaves
Clean the leaves and add to a blender
Add little water
Blend well
Take 2 teaspoons of yogurt in a bowl
Add 2 teaspoons of Moringa leaves paste to it
Mix it well
Done
Consume this recipe every day to reduce heart burn and to cure stomach ulcer in a natural way.
2. Bananas
Unripe bananas increase mucus in the digestive tract, which provides a strong protective coating to help prevent and heal ulcers.
Instructions
Peel the bananas and cut them into thin slices
Put them in the sun, an oven, or a food dehydrator, and dry them slowly
When dry, grind them into a fine powder
Mix 2 tablespoons of the powder with 1 tablespoon of honey
Take this mixture three times a day: mid-morning, mid-afternoon, and at bedtime.
3. Honey
Honey possesses a number of curative powers and has been shown, in particular, to be an effective ulcer treatment.
Instruction
Two tablespoons a day should be about right for most types of honey. When the problem has eased, 1 tablespoon daily will probably be enough.
4. Cabbage and Carrot
Cabbage is a great remedy for a stomach ulcer. Being a lactic acid food, cabbage helps produce an amino acid that stimulates blood flow to the stomach lining. This in turn helps strengthen the stomach lining and heal the ulcer.
Instruction
Cut one half of a raw head of cabbage and two carrots into small pieces and put them in a blender to extract the juice
Drink one-half cup of this juice before each meal and at bedtime.
Repeat daily for a few weeks. Be sure to use fresh juice each time.
5. Cayenne Pepper
Cayenne pepper is another very effective remedy for treating stomach ulcers. There is a compound capsaicin present in cayenne pepper that inhibits the secretion of stomach acids, boosts the production of alkali, and stimulates mucus secretions and gastric mucosal blood flow, thereby preventing and healing ulcers.
Instructions
Mix one-eighth teaspoon of cayenne pepper in a glass of warm water
Drink it twice a day for the first two to three days
Gradually increase the amount of cayenne pepper up to one-quarter-teaspoon twice daily for the rest of the week.
You can also add a pinch of cayenne pepper to soups, meats and other savory dishes.
6. Coconut
Coconut is very good for people suffering from stomach ulcers because of its antibacterial qualities. It kills the bacteria that cause ulcers. Moreover, coconut milk and coconut water have anti-ulcer properties.
Instructions
Method 1
Drink a few cups of fresh coconut milk or tender coconut water daily. Also, eat the kernel of the tender coconut. Follow this treatment for at least one week to get positive results.
ALSO SEE : HERBAL CURE FOR MOUTH ULCER
Method 2
Take one tablespoon of coconut oil in the morning and another at night for one week. As coconut oil is mainly composed of medium-chain fatty acids, it can be easily digested.
Herbal Treatment for Ulcer
Take home: It can take some time and determination to get rid of your ulcers, but don't give up hope. Ulcers can be cured. In addition to a treatment plan agreed upon by you and your doctor, you can incorporate natural approaches that can give you some relief and accelerate healing. Adding plenty of fresh fruits and vegetables to your diet and reducing alcohol intake will almost certainly get you on the road to health.
5 Specific Steps to Stop Sugar Cravings, According to a Brain Doctor
We're all guilty of it at some point: sneaking an extra cookie from the box or another spoonful of ice cream from the tub after you've told yourself you've had enough. While sugar plays a role in giving your body the energy you need to live, when you eat too much of it, it can lead to some serious side effects—and constant sugar cravings.
"Sugar is associated with fatigue, weight gain, cardiovascular disease, type 2 diabetes, Alzheimer's and other dementias, inflammation, and general malaise," explains Susan Peirce Thompson, PhD, a brain and cognitive scientist specializing in the psychology of eating, founder of Bright Line Eating, and author of Rezoom: The Powerful Reframe to End the Crash-and-Burn Cycle of Food Addiction. "And the biggest trouble with sugar is that it's as addictive as cocaine—so scratching the itch just makes it itchier," says Dr. Thompson.
If food freedom and true flourishing is your goal for this year, consider letting go of sugar and kicking those cravings to the curb to live a longer, healthier life.
To do so, you can either cut out all added sugar from your diet for good (keep reading for Dr. Thompson's tips) or consider a short detox period.
"If you have a long history of sugar cravings, consider letting go of sugar altogether. It really is true that, for some people, with some substances, none is easier than some. But if you're aiming for a detox period followed by a re-introduction, give yourself eight weeks to recalibrate your system. Your taste buds will adjust after two weeks, and the addiction centers of the brain will follow suit with significant healing after eight weeks," says Dr. Thompson.
Read on for brain doctor Dr. Thompson's science-backed and result-oriented tips that anyone can implement, and for more on how to eat healthy, don't miss The Best Foods to Crush Sugar Cravings and Lose Weight Fast.
Sorry, but you have to go cold turkey if you want to curb sugar cravings for good. "Just like a new non-smoker gets re-addicted with the first puff, when it comes to sugar, none is actually easier than some," says Dr. Thompson.
She recommends creating a "bright line" for sugar: "a 'bright line' is a clear boundary that you just don't cross. If you're firm with your bright line, it won't take long for the cravings to recede," she explains.
Don't worry, you won't have to swear off all things sweet to curb sugar cravings. Dr. Thompson is talking about added sugars here, not natural sugar: "Natural sugar in whole, fresh fruit is fine—the fiber slows down digestion and protects the system from the spike and crash you get from fruit juice, smoothies, or dried fruit."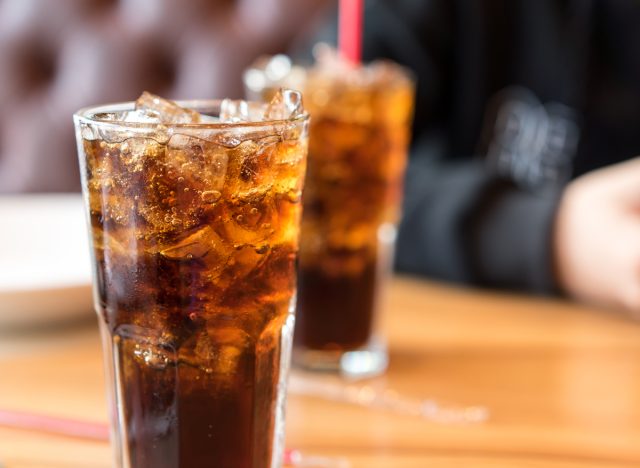 Curbing sugar cravings involves more than just cutting out added sugars. Dr. Thompson says that you also need to cut out sugar replacements, like artificial sweeteners.
"Our taste buds have direct connections to the addictive centers in the brain, so triggering them with artificial sweeteners (some of which are 600 times sweeter than sugar) just keeps the cravings alive. Plus, artificial sweeteners dysregulate our gut microbiome, leading to poor glucose and insulin regulation," says Dr. Thompson.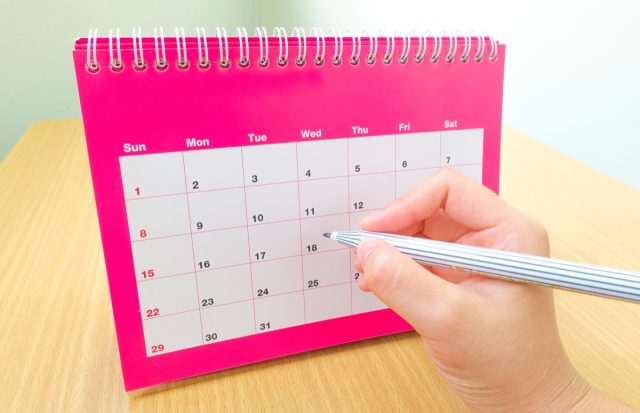 Yes, it's possible to accomplish your goal in just 14 days! "The good news is that every single taste bud cell in our tongue will be dead and gone and replaced with a brand-new cell in just two weeks. So after you quit sugar and stop assaulting your taste buds with fake sweetness, within just two weeks everything you eat will taste sweeter!" says Dr. Thompson.
RELATED: The #1 Best Supplement to Crush Sugar Cravings, Says Science
…Especially adequate protein and large quantities of vegetables. "The need for fuel can tip over into cravings; when the tank is full, you're less likely to fall prey to the combination of hunger, stress, and a cue for a sugar-laden snack," says Dr. Thompson.
Here's a tip: "If people aren't commenting on how much you're eating (veggies in particular), you're not eating enough!"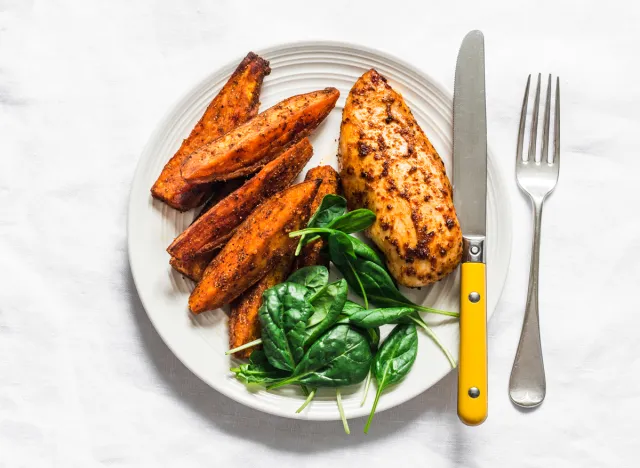 While you're cutting out sugar for two weeks, don't go overboard with lengthy, in-depth recipes. Try to keep your meals as simple and easy as possible.
"[Eating simple meals] will keep your cravings low, even as you lose weight and get healthier," she says. "Simple food is proven to cue the brain to lower the adiposity set point so that it won't fight you with a hormonal barrage as your excess weight drops off. In fact, when researchers simplified people's diets to the extreme, feeding them one, tasteless food for all their caloric needs, the weight melted off and both hunger and cravings dropped to zero," Dr. Thompson explains.
"By following these suggestions, research shows that cravings will steadily decrease for eight weeks until they bottom out at little-to-no cravings anymore, ever!" says Dr. Thompson.