Daniel Andrews promises free university degrees for Victorian nurses, midwives & More News
"All the roles in our health system are critically important, but giving people a pathway and giving people that sense of progression is critically important as well," he said. "We do know that cost can be a barrier to people undertaking that further study.
Loading
"Year 11 and 12 students who are thinking about what they might like to do as a career, they can choose nursing, free of charge, a full scholarship covering every dollar of their HECS."
Speaking on Sunday morning, opposition health spokeswoman Georgie Crozier said Victoria had "a health crisis that is worsening by the day". She said the premier was making Sunday's announcement after years of seeing the system deteriorate.
"Daniel Andrews has had eight years" to address problems in the health sector, she said, and was making Sunday's announcement on the eve of a state election campaign.
If Liberal leader Matthew Guy won November's election, Crozier said, "we'd match this announcement".
And she said the money from cancelling the Suburban Rail Loop's first stage of railway line from Cheltenham to Box Hill – which Andrews said on Sunday would cost about $34 billion to build – would be redirected to the health system.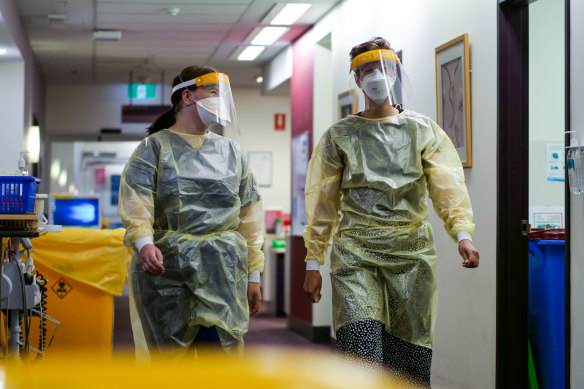 "We'll be putting every cent of that money into the health system, whether it's recruiting nurses, whether it's rebuilding crumbling hospitals around the state, whether it's building new hospitals," she said.
The announcement of the plan was made at the Elizabeth Street offices of the Australian Nursing and Midwifery Federation, strong Labor Party supporters.
The union's state secretary, Lisa Fitzpatrick, said the funding would make it easier to access education for existing nurses and midwives who needed refresher training, and for those who had allowed their registration to lapse.
"Next year's students will be tomorrow's emergency and critical care nurses, maternal and child health nurses, school nurses, aged care nurses, theatre nurses, mental health nurses, acute and community nurses and midwives," Fitzpatrick said.
The nursing union and the Coalition went to war last time the latter was in power in Victoria, from 2010 to 2014, over a key issue of minimum compulsory levels of nursing staff in hospitals.
At Sunday's event, the nursing union handed out a leaked 2011 cabinet document from the then-Baillieu government that recommended reducing or removing nurse-patient ratios, despite the Coalition promising while in opposition to retain them.
"Nurses and midwives have difficulty trusting the Victorian opposition because [of this promise]," Fitzpatrick said. "Within six months they broke that promise by trying to replace thousands of nurses and midwives with cheaper unqualified assistants. Two-thirds of those Liberal politicians who fought so hard to get rid of nurses and midwives during our 2011-12 enterprise bargaining negotiations are still there."
The opposition declined to respond to the criticism.
Loading
The Victorian Healthcare Association – which represents hospitals, community health and aged care services – also welcomed the new funding.
"We are particularly pleased with the financial incentives for nurses who choose to work in the public health system for two years, and with the support for 8500 nurses to learn new skills," said the association's deputy chief executive, Juan Paolo Legaspi. "We have a severe shortage of healthcare workers in Victoria right now, so we desperately need a range of strategies to increase our health workforce immediately as well as in the longer term."
He said the federal government also needed to make it easier for qualified healthcare workers to move to Australia to fill immediate gaps. "If we want to keep our public health services afloat, we will need a combination of strategies to train and recruit enough people to meet this goal."
Australasian College for Emergency Medicine Victorian chair Dr Belinda Hibble said the move was an important step in rebuilding the state's nursing workforce after the pandemic's impact.
Hibble said that, as well as supporting people to enter nursing, it was vital more training opportunities were made available to build skills and expertise within emergency departments.
"Providing emergency care, despite our current very significant challenges, is an incredibly rewarding area of healthcare," she said. "This announcement will support nursing staff who may be balancing mortgages, family commitments and the rising cost of living to access these important professional development opportunities."
The Morning Edition newsletter is our guide to the day's most important and interesting stories, analysis and insights. Sign up here.
Naijaonpoint – Media . This Is Not My Content So If You Want To Read Original Content You Can Follow Below Links