How to highlight mouse clicks on Windows 10
A cursor is one of the basic tools that we use to interact with a desktop operating system. Within a particular app, users may prefer to use keyboard shortcuts but even then, they will switch over to the mouse from time to time. Mouse clicks, as an action aren't visually represented in any obvious sort of way. During a presentation or an app tutorial or demo, it may be hard to tell when a user has clicked.
Highlight mouse clicks on Windows 10
Some screen recording tools have a mouse highlight feature built-in while others fail to capture the mouse at all. It really depends on the recording tool that you're using. Unfortunately, free screen recording tools rarely highlight the mouse which is why it's best to use a dedicated tool for.
PowerToys: Highlight mouse clicks
PowerToys is a utility developed by Microsoft which is basically a collection of lots of different but useful tools. PowerToys has a basic key remapper tool, a color picker, and a utility for highlighting mouse clicks.
Download and install the latest version of PowerToys from Github.
Open PowerToys and go to its Setttings.
Select the Mouse utilities tab.
Turn the 'Enable mouse highlighter' switch on.
When you left click, it will highlight the mouse with a yellow circle.
When you right-click, it will highlight the mouse with a blue circle.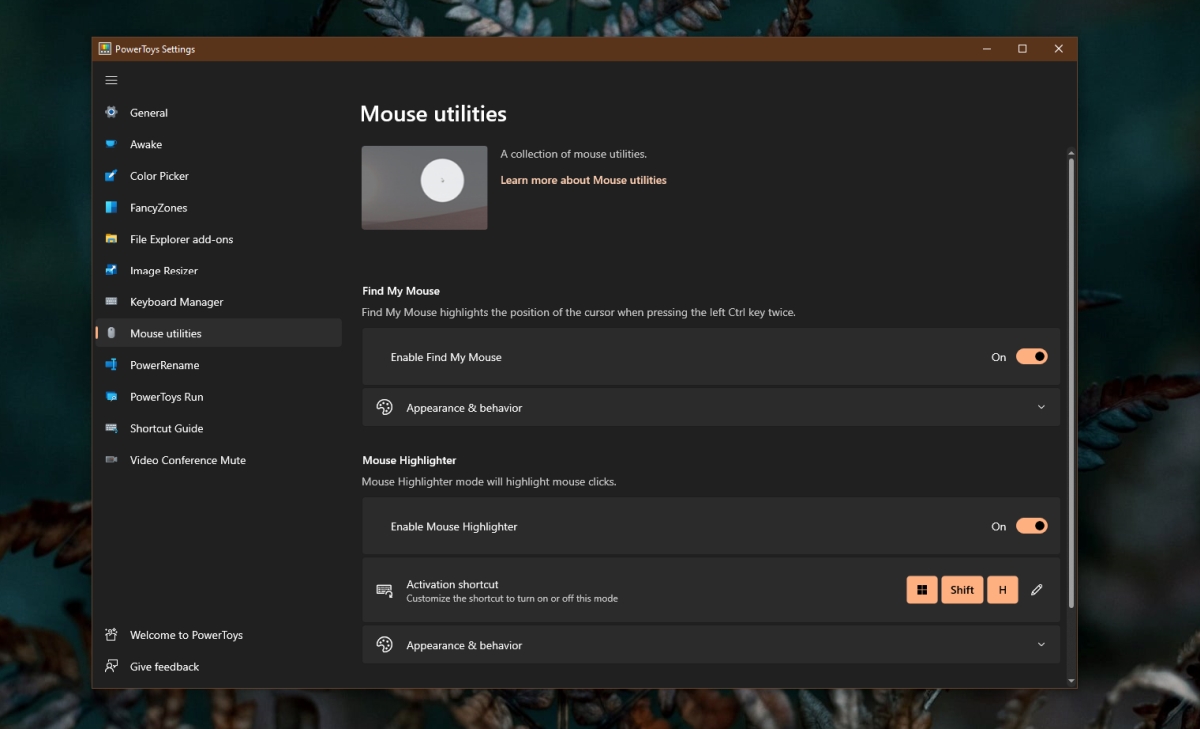 To customize the highlight around the cursor when you click;
Expand Appearance & behavior.
Select a color for the left and right click.
Change the opacity of the color.
To change the size of the highlight, change its radius. 
The fade delay will let you choose how long the highlight remains visible.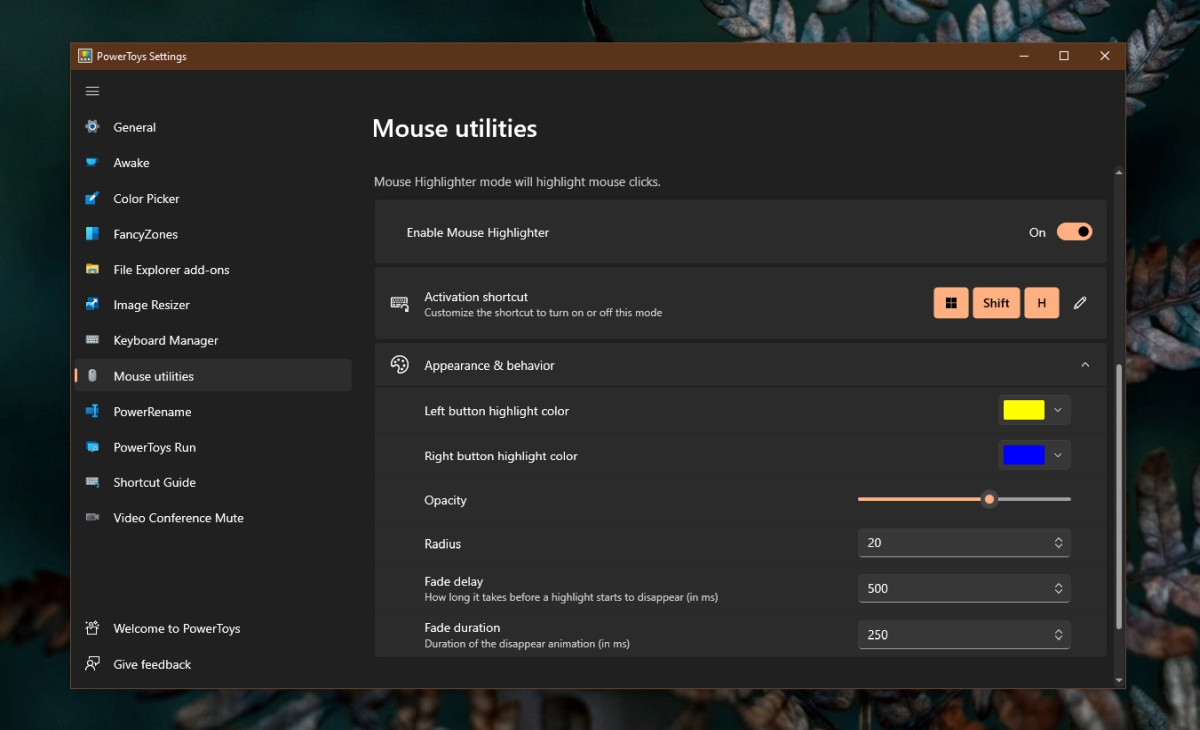 Highlight mouse cursor
If you'd like to highlight the mouse as well during a screen recording or presentation, you can use native Windows 10 settings to do so.
Open the Settings app with the Win+I keyboard shortcut.
Go to Ease of access.
Select the Mouse pointer tab.
Click the Change pointer color option.
Select a color that will be easier to see on the desktop.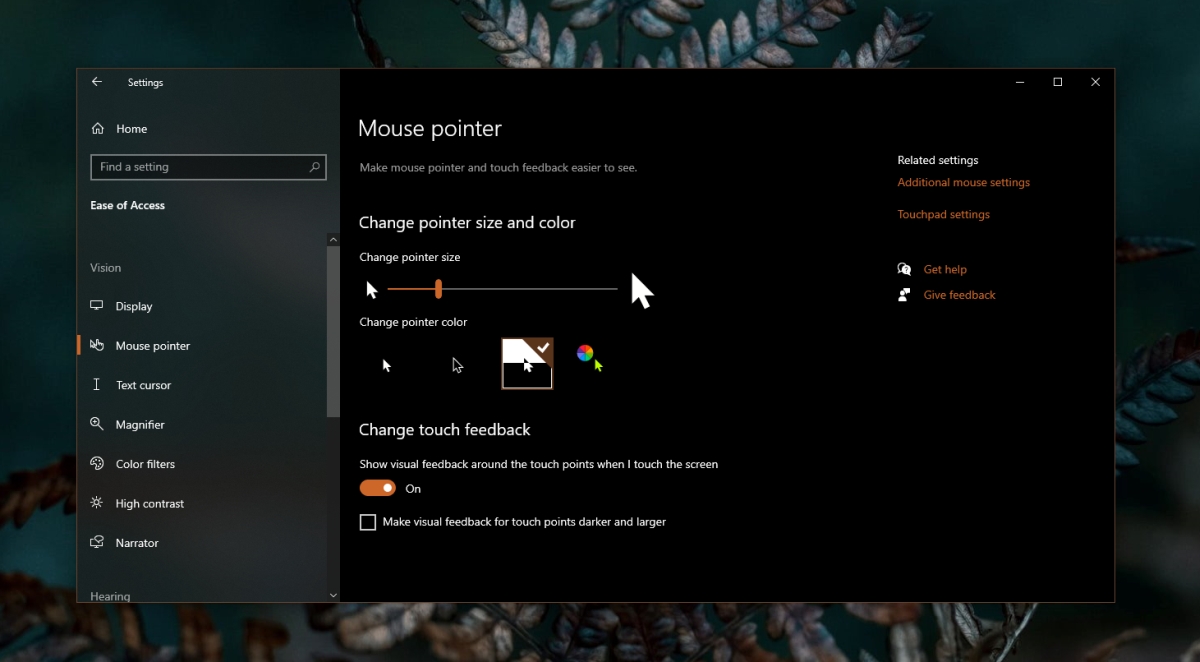 Conclusion
If you're screen recording tool has a similar feature but you do not like how it works or the highlight it adds, make sure you disable it before you start recording. The two apps may not work well when both are trying to highlight the cursor or mouse clicks. You should also check to see if your screen recording tool is able to capture the cursor highlights. In some rare cases, a screen recording app may fail to do so and there is little that can be done other than to get a different, better tool. You can always use OBS with PowerToys to do the job.
How to force restart your iPhone 13 Pro
When the iPhone was first released, it changed how phones were designed. Instead of entire keyboards or multiple hard buttons, the design worked with a single Home button. There were, and continue to be, hard buttons on the side but over the years, the Home button too has been retired. 
Force restart iPhone 13 Pro
The iPhone 13 Pro is the newest iPhone model (at present) and it as such, it has no Home button. In terms of design and the functionality of the buttons, they've changed quite a bit from the first iPhone to the iPhone 8 models. Up until that point, the side button on these iPhones could be used to restart an iPhone. It now activates Siri if it's held down.
How to force restart iPhone 13 Pro
There are two ways to force restart an iPhone 13 Pro; you can go through the Settings app, or you can use the hard buttons on the side of your device.
Method 1: Settings app
The Settings app has a built-in option for restarting your iPhone. If the phone's UI is responsive, this is the easiest method to restart an iPhone.
Open the Settings app.
Go to General.
Scroll all the way down and tap Shut Down.
Use the on-screen slider to power the iPhone off.
Once the phone is off, press and hold the side button/Siri button to turn it on.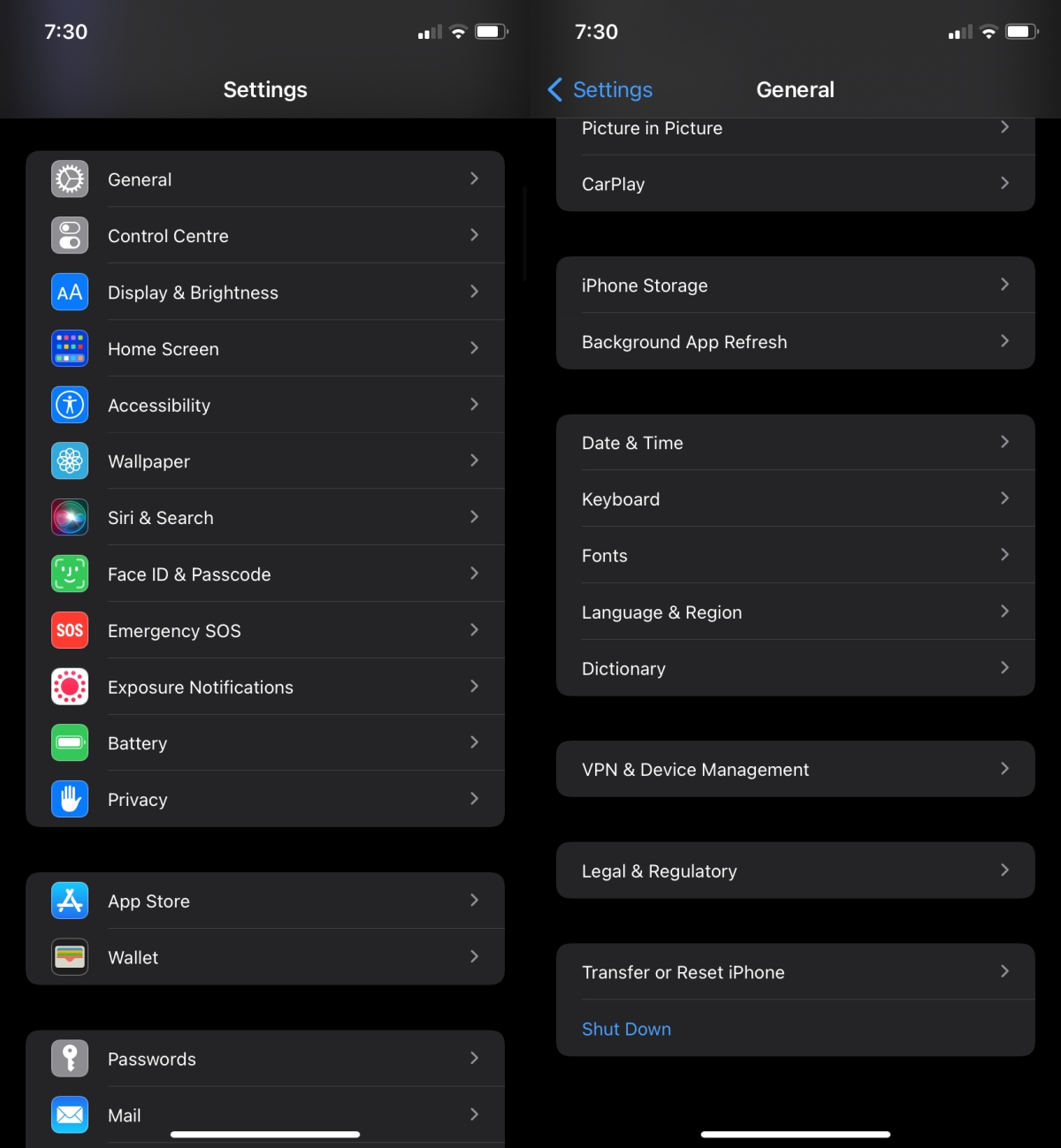 Method 2: Hard buttons
If you're phone UI is not responsive, or it's slowed down for whatever reason, you can use the hard buttons on the side of the device to restart it.
Press the Volume up button and release it.
Press the Volume down button and release it.
Press and hold the side/Siri button until you see the power off slider.
Use the power off slider to turn the phone off.
Once the phone is off, press and hold the side/Siri button to turn it back on.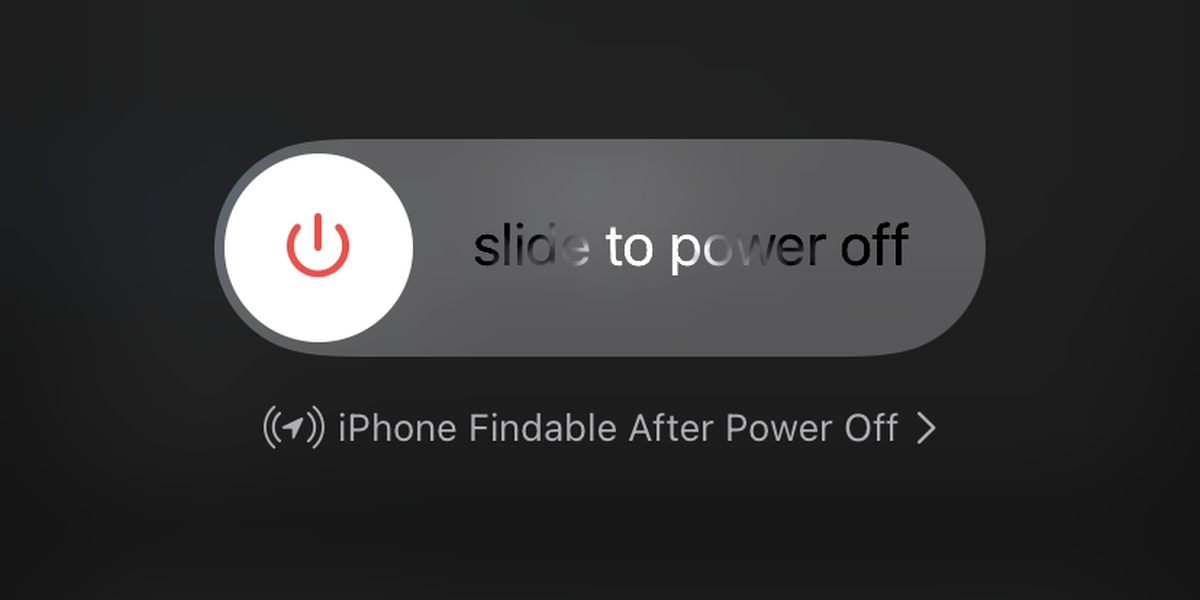 Conclusion
iPhones, or rather iOS  does not have a restart option. You will always turn the iPhone off first, and then turn it on after. If you've been using an Android phone, you may be used to having a Restart option in the power menu but iOS does not follow the same approach. There are no other ways to trigger a phone shut down unless you allow the battery to drain completely. If you're having trouble with your iPhone after taking it in for repairs, you may need to have it checked again. A force restart may be of little help. For now, it's best to always take the device to Apple if you want to have something fixed. 
How do I find my friends on Minecraft?
Minecraft was never big on needing an account to play it. Users needed to create a Mojang account to purchase the game but nothing beyond that. This changed after Microsoft bought Minecraft. You now need a Microsoft Live account to play Minecraft. The good news is, a Microsoft Live account works with Xbox's services and its network of games and players.
Find friends on Minecraft
Minecraft is an open world game that you can play online with multiple players. You have the option to join any online server and there will be other players there. If you'd rather not play with strangers, you can always play with your friends. The trick is finding them and getting them all on the same server.
How to find friends on Minecraft
There are different ways to find your friends on Minecraft. If you'd like to go with the simplest route, you can simply share the server that you're playing on and have them all join it. You won't be 'connected' to your friends but you will all be on the same server where you can play together.
Find gamer tags
Before you can invite your friends to play Minecraft with you, you need to add them. Friends are added via a gamer tag. A gamer tag is obtained from the Xbox app. Anyone that plays Minecraft has a Microsoft Live account and by association, they have a game tag.
Ask your friends for their game tag. Once you have the tag, you can add it directly when you invite friends to play a Minecraft game or you can add them on the Xbox app (you don't need to own an Xbox). You can get the app on your mobile device or on Windows 10.
Once you have the Xbox app, follow these steps.
Open the Xbox app.
Sign in with the same Microsoft account that you use to sign in on Minecraft.
Go to the Social tab.
Enter your friend's gamer tag in the search bar.
Select them from the results and click Follow.
Have your friend follow you back.
Once you're mutually following each other, the other person will appear as a friend.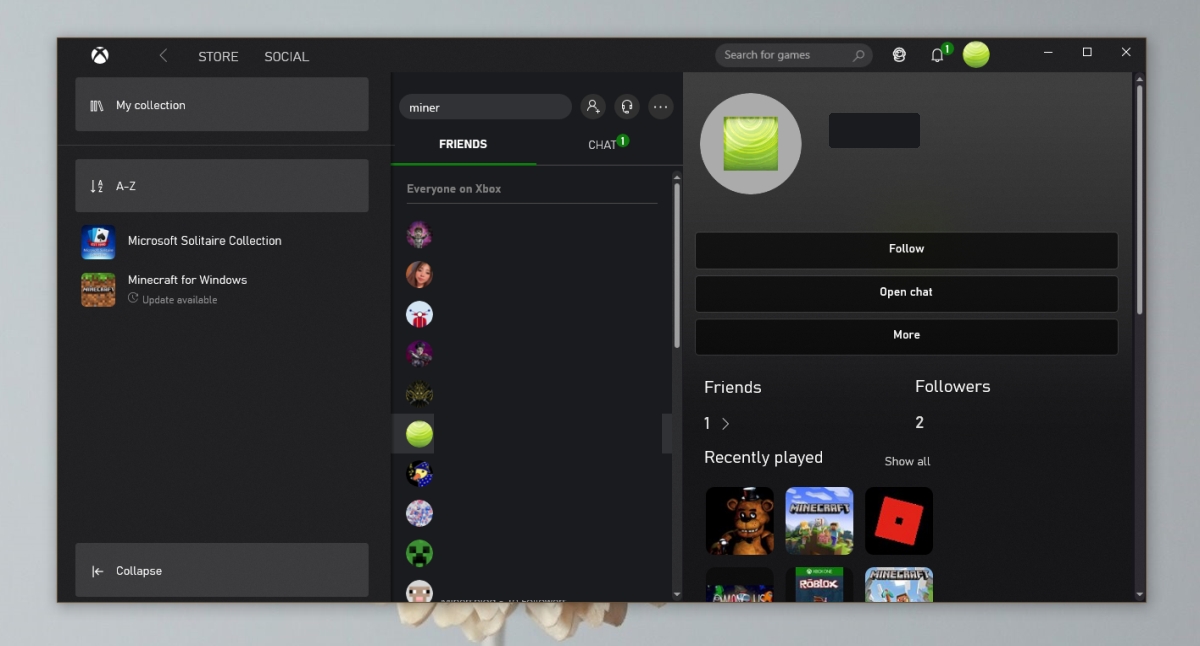 Add friends on Minecraft
Open Minecraft.
Select a world to play in.
Once the world has loaded, go to world's settings.
On the right, click the Invite to game button.
Select a friend from the list and send the invite.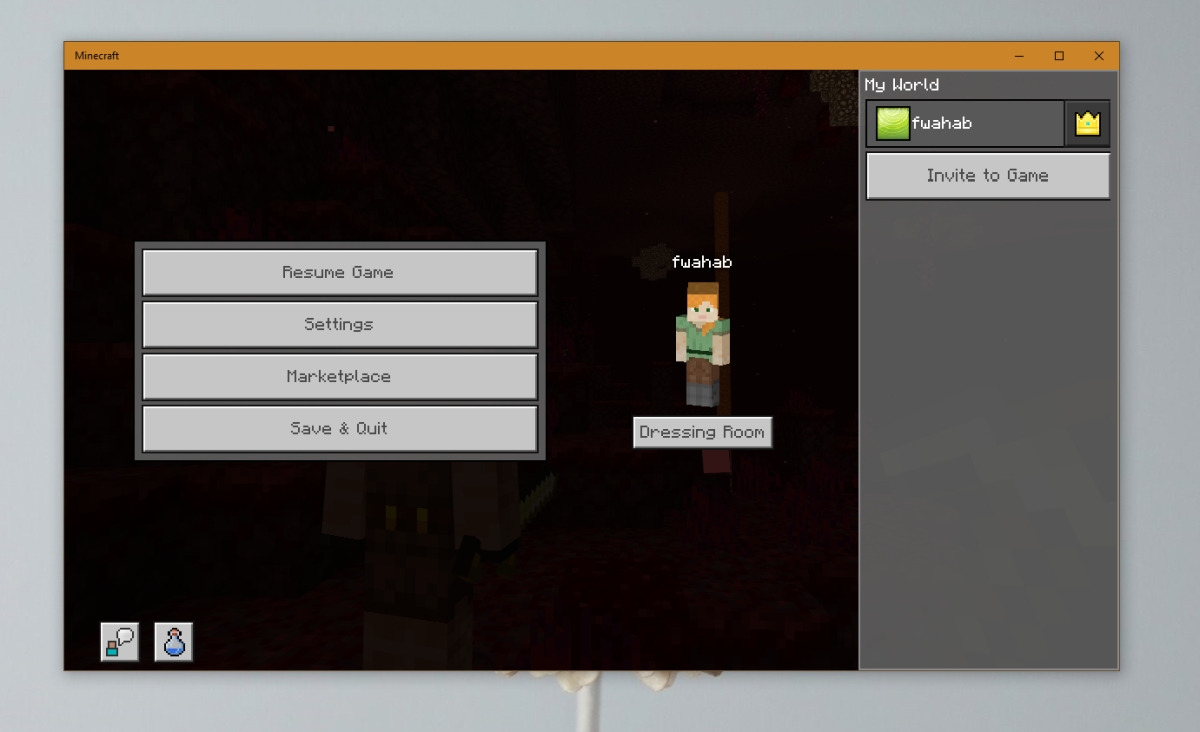 If you haven't added your friends on Xbox, but you have their gamer tag, you can invite them directly in Minecraft.
Open Minecraft.
Select a world to play in.
Once the world has loaded, escape/exit to the game's settings.
Click the Invite to game button.
Click Add friend.
Enter your friend's gamer tag.
Send the invite.
Conclusion
Friends on Minecraft are connected via the Xbox network which you automatically join when you create a Microsoft Account. You will need to generate a gamer tag for yourself but that's all you need. The gamer tag is essential for adding friends on Minecraft. You do not need to purchase Xbox related services.