Migrants protest in Tunisia and call for Evacuation
Dozens of refugees and migrants in Tunisia are demanding evacuation to other countries.
The refugees, mostly survivors of illegal immigration attempts by sea to Europe, have been staging a sit-in in front of the office of the United Nations High Commissioner for Refugees (UNHCR) in the Tunisian capital, Tunis since Saturday.
"We need to be evacuated," reads a banner they have hung at the entrance to the building.
Equipped with blankets, the refugees, many of whom are women and children, spend the night on cardboard boxes spread out on the ground amid suitcases containing their personal belongings.
They denounced the United Nations' inaction.
"The real problem is, the UN commission has abandoned its main role, which is our protection. Instead of doing that, it has left us on the street. We were living in Zarzis, and the UN commission demanded our evacuation from there, cut off all funds and stopped protecting us." Saleh Saeed, Sudanese from Darfur who refused refugee status, told reporters.
19-year-old Mohamed Nour from Chad also claimed there have been 'instances of racism' against them which makes life difficult. "We have been attacked in our homes. We just want to be evacuated from this country," he said.
Migrants and refugees in Tunisia, particularly from sub-Saharan Africa, regularly complain of being subjected to verbal and physical abuse in Tunisia.
The majority of these migrants were rescued off the coast of Tunisia after their boats capsized while they were trying to reach the European continent clandestinely.
According to statistics from the Tunisian Forum for Economic and Social Rights, the Tunisian coastguard intercepted 25,657 migrants attempting to cross the Mediterranean in 2021, almost double the number from the previous year.
AFRICANNEWS/Christopher Ojilere
Decline. Werder Bremen mocked HSV and left
Recession in the Bundesliga
"Werder" mocks HSV for not being able to climb, փոքր refuses rudely a little later
SV Werder Bremen reacted maliciously to the promotion of rival Hamburger SV in the first division. The Weser club regretted it a little later.
HSV has to spend a year in the second Bundesliga. The former Bundesliga dinosaur missed out on a 4-2 home defeat (first game 1-0) in the second game against Hertha Berlin from the fourth attempt to reach the top group.
For Werder Bremen, the opponent's sporting failure is obviously a cause for joy, not just behind closed doors.
Verdi's tweet becomes an own goal
After the last whistle of the game at the Volksparkstadion in Hamburg, the Green-White social media team wrote in tweets: Waking up with a smile, the Bremen team tweeted a short video showing the joy at Weser Stadium a week after their own promotion.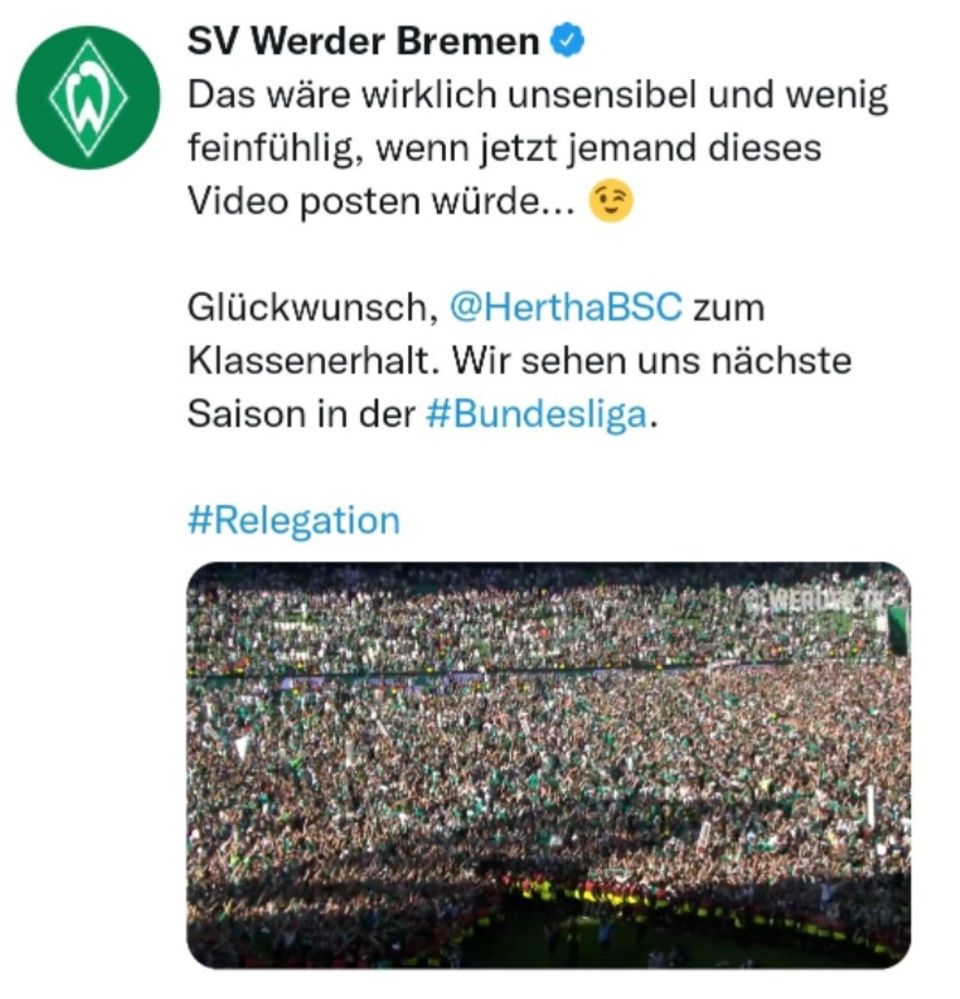 Evil was usually not well received by either their fans or neutral observers, certainly not by HSV supporters. "Style is not the end in sight," NDR "Bundesliga show" host Martin Roczitz wrote in tweets. Other users wrote, "My God, Werder, it's awkward," "Disrespectful," or "Shame on us for presenting this way."
A little later, "Werder" deleted the tweet and said with regret. "Sorry, HSV, our tweet about the outcome of the game was completely inappropriate, unsportsmanlike. We know from our own experience what emotions are associated with falling. "We hope there will be northern derbies again in the Bundesliga soon."
In the 2019/2020 season, "Werder" only secured a drop against 1. FC Heidenheim, a year later Bremen then dropped to the top of the table. Last Sunday, the team of coach Ole Werner was able to celebrate a direct renaissance, at least in terms of sports, the green and whites are again first class.
Source: Twitter account SV Werder Bremen:DPA news agency
alas
Five things to know about the former 'City of Rhythm' star
Here's what we knew about legendary actor Jamie Bartlett who passed away on Monday, May 23 at the age of 55.
Rest in Peace Jamie Bartlett
Actor Jamie Bartlett's family confirmed his death to eNCA on Monday, May 23. Barrett's cause of death has not been released. He was 55 when he died.
So, what do we know about actors?
Also read: 'Your soul touched us all': Mzansi mourns death of Jamie Bartlett
1. He is best known for his role as David Genaro in "City of Rhythm"
Bartlett is best known for his role as villain David Genaro on e.tv City of Rhythm. He played for over a decade before quitting Genaro in February 2020.
The actor is also known for his role on SABC's Mike O'Riley. Isidingo. He was also one of the judges for the seventh and eighth seasons of e.tv SA's Got Talent.
2. Bartlett attended the University of Cape Town (UCT)
former city ​​of rhythm Stars study speech and drama at UCT.
3. He is in a relationship
Bartlett was in a relationship with Rosa Onius, 28. The pair have been together for some time, and Rosa accompanied Jamie to the 2021 Royal Soap Awards, which he hosts with Zola Nombona. Take a look…
He was previously married to actress Camilla Waldman, with whom he shares a son. Camilla as Anne De Villiers on SABC 1 generations.
Also read: Wow! Rhythm City's Jamie Bartlett shows off his baby Rosa Onius [photos]
4. Bartlett was an award-winning actor
The actor has won many awards, including the South African Film and Television Award and the Fleur Du Cap Drama Award.
5. He was born in England
Barlett was born in Maidenhead, England, to a South African mother and an English father.
Also read: 'Last night will be the last night': Somizi shares Jamie Bartlett's final moments