One Major Effect Oatmeal Has On Your Cholesterol, Says Dietitian
Oatmeal is one of the most popular breakfast choices in the United States, and it's for good reason. Not only is it delicious, but the health benefits of oatmeal are through the roof. Oats have been known to help manage blood sugar, improve your gut microbiome and gut health, help you manage your weight, and even help you lower your cholesterol.
According to our medical expert Lauren Manaker, MS, RDN, author of The First Time Mom's Pregnancy Cookbook and Fueling Male Fertility, oatmeal can help you lower or manage your LDL cholesterol because of its unique fiber content.
"Oatmeal has a fiber called beta-glucans, and this fiber is a superstar addition to a diet when people are trying to lower their cholesterol, as this fiber essentially 'binds' LDL cholesterol, allowing it to be removed from the body before it is absorbed," says Manaker.
Continue reading to learn more about how oatmeal can lower cholesterol, and for more healthy heart tips, check out The Best Foods That Can Lower Your Risk of Heart Disease.
Oats are full of both soluble fiber and insoluble fiber, which is what gives them many health benefits. Soluble fiber turns into a gelatinous substance in your body and has been known to help specifically with cholesterol, blood sugar, and healthy digestion.6254a4d1642c605c54bf1cab17d50f1e
Insoluble fiber does not dissolve and instead helps you stay regular and softens your stool. Both types are important in maintaining a healthy diet.
Foods like oats, wheat, and barley contain a very specific type of fiber called beta-glucans, which falls under the category of soluble fiber.
"The evidence surrounding the benefit of oat beta-glucans on cholesterol is so strong that the FDA authorized the use of a heart-health claim whenever oats are used in a food," says Manaker.
According to a report published in The International Journal of Molecular Sciences, beta-glucans can help you manage your cholesterol levels by altering how much cholesterol is absorbed into your body when you digest food.
Another study published in Nutrients found that those who consumed 3 grams of beta-glucans every day for eight weeks were able to lower their LDL cholesterol (the "bad" cholesterol) by almost 15%.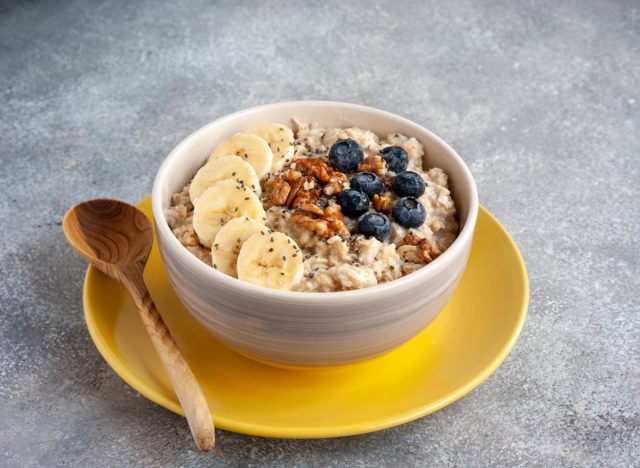 The unique fiber content of oatmeal, especially its beta-glucans, is one of the main reasons it is so heart-healthy and effective in lowering your cholesterol.
But oatmeal is just one part of the equation. Lowering your cholesterol oftentimes requires multiple lifestyle changes, such as limiting your consumption of alcohol, saturated fats, and trans fats, while increasing your amount of healthy fats, fiber, and daily exercise. So grab a bowl of your favorite oatmeal, and enjoy a heart-healthy start to your day!
The #1 Worst Breakfast Habit for High Cholesterol, Says Dietitian
Almost 40% of American adults have high cholesterol, putting them at risk for conditions like heart disease and stroke. And while many of us have been told that breakfast is the most important meal of the day to avoid mid-morning tummy rumbling, eating a morning meal may also have a positive effect on cholesterol levels among certain populations.
But eating just anything for breakfast won't cut it when you are trying to support healthy cholesterol levels. Sure, we can all assume that grabbing a donut and a cup of coffee or a bacon-covered croissant sandwich isn't your best bet when you are running out the door when you are focused on your cholesterol levels. But among the brekkie choices out there, there is one breakfast habit that tops the list as one to limit if you have high cholesterol—and that is frequently eating a fast-food first meal.
Why eating fast food is the worst breakfast habit for high cholesterol
Over 35% of Americans eat fast food on a daily basis. And while snagging a McMuffin or a chicken biscuit is both convenient and satisfying, frequent consumption of fast-food items is linked to many unsavory health outcomes—many of which are related to heart health.6254a4d1642c605c54bf1cab17d50f1e
In fact, experts have stated that fast food consumption is a main risk factor for lower diet quality and higher calorie and fat intake. And frequent consumption of fast foods is linked to lipid and lipoprotein disorders, like elevated LDL cholesterol levels when compared with those who do not lean on fast food meals on a regular basis. Higher fast food consumption also increases the risk of cardiovascular disease. Data also shows that fast food eaters have lower HDL "good" cholesterol concentrations than those who do not frequent fast-food establishments.
Fast-food breakfast items are typically rich in saturated fat, refined carbohydrates, and ultra-processed meats—options that are not recommended on a cholesterol-lowering diet. Additionally, fast food generally has a high-energy-density large portion sizes, and, in some cases, unacceptably high levels of industrially-produced trans-fatty acids. Since eating too many trans-fatty acids may result in a rise in low-density lipoprotein (LDL) cholesterol levels, limiting fast food, and thus these fatty acids are recommended.
Understandably, people want quick and convenient breakfast options, thanks to many of us living busy lifestyles and having limited time to cook a full breakfast. And while leaning on fast food in a pinch (like on a long road trip) will likely not wreak havoc on your cholesterol levels, making a habit of hitting the drive-through every day can cause some serious harm on your healthy cholesterol level goals.
Having some grab-and-go breakfast options that support healthy cholesterol levels can help you avoid fast food if you are a frequent visitor. Overnight oats, a fruit and yogurt parfait, and even a yummy smoothie made with pre-cut fruit and veggies can all be made in a jiffy and can actually help support healthy cholesterol levels. Bonus? You will likely feel more energized when you lean on these good-for-you foods too.
Lauren Manaker MS, RDN, LD, CLEC
Lauren Manaker is an award-winning registered dietitian, book author, and recipe developer who has been in practice for almost 20 years. Read more
The #1 Eating Habit to Avoid to Keep Your Brain Sharp, Says Dietitian
There are so many lifestyle factors that play roles in your brain health. Socializing, sleep, physical exercise, and nutrition are just some of the pillars that can keep you sharp. When it comes to nutrition, there are certain foods we know can aid in brain health, like those high in omega-3, fruit, vegetables, and items rich in antioxidants.
While these are the foods you should be enjoying frequently, there is one eating habit you should avoid to keep your brain sharp… consuming high amounts of refined sugar. Read on to learn more about how processed sugar can negatively impact your brain.
It is important to first differentiate between the sugar naturally found in foods like milk and fruit from the processed sugar often added to food and drinks. When talking about refined sugar, think about what you use in baking, what might add to your coffee, the type of sugar in soda and juice, and the form found in an array of candy, pastries, and even savory sauces.
The American Heart Association estimates that adults consume about 77 grams of sugar per day, about three times the recommended intake for women. For reference, the AHA recommends women consume fewer than 25 grams daily, while men should have no more than 36 grams.6254a4d1642c605c54bf1cab17d50f1e
A diet high in refined sugar is thought to increase risk of developing type 2 diabetes, and research suggests a type 2 diabetes diagnosis increases one's risk of developing Alzheimer's disease. Another study documented a correlation between blood glucose levels and dementia, where higher glucose levels in individuals with and without diabetes were related to increased risk of dementia.
While there are genetic factors that likely play a role in brain health and risk of memory-related disease, current research indicates that your food and drink choices have an impact, too. In fact, another study completed in rats found that a high-sugar diet, especially in the form of high-fructose corn syrup, can increase brain inflammation and lead to impaired memory.
A modest amount of sugar likely will not impact your health negatively, and if you find yourself consuming multiple sources of sugar daily, try cutting back to meet the AHA's recommendations for sugar intake. Swap regular soda for diet or unsweetened sparkling water, use a zero-calorie sugar substitute in place of sugar, swap candy for fruit, and load up on protein and fiber-dense foods to keep you full and satisfied, and less likely to overeat sugary items.
Many of the current studies analyzing the impact of sugar on the brain have been conducted on animals. While this is helpful is providing us preliminary information and serves as a template for how to conduct similar studies in humans, more research is needed to build conclusive guidelines around sugar intake for brain health.
However, what we currently know points to limiting your intake of refined sugar to reduce your risk of many diseases, like type 2 diabetes, Alzheimer's, dementia, and even obesity and heart disease.