Rebel Wilson Reveals She Has Weight Loss Haters On Her Own Team
Rebel Wilson has undeniably had an incredible year for herself. Not only is she the star of a new film being released in 2022 and a first-time children's book author, but she is also entering into the new year with an entirely new mindset on living a healthy life.
Back in 2020, the Australian star set out to lose weight and change her life around. Now, over 75 pounds down, the actress is continually wowing her Instagram followers with her new look. But for Wilson, her transformation was more about her health than her outward appearance.
Wilson recently said (via the Daily Telegraph) that, "it's not about being a certain size or body weight or anything…it's just about loving yourself and loving the journey that you're on."
And even though fans have shown their love and support for Wilson's life change, she's had unexpected pushback as well.
In a recent interview with CNN, Wilson shared about those who weren't as understanding of her decision to get healthy.
"I got a lot of pushback from people on my own team, actually, here in Hollywood," she said in the interview.
When Wilson initially shared her plans with her management team, they expressed confusion behind her decision.
"When I said 'okay I'm gonna do this year of health…I feel like I'm really gonna physically transform and change my life,'" said Wilson. "They were like, 'why? Why would you wanna do that?'"
Her management team's pushback is most likely due to the fact that she built her career on playing larger characters.
"I was earning millions of dollars being, you know, the funny fat girl," she said.
In the end, Wilson knew that her health was on the line, so she chose to set out on her weight loss journey.
"I knew deep down inside some of the emotional eating behaviors I was doing were not healthy," she told CNN.
For more celebrity weight loss news, read these next:
Eating Habits You Must Follow If Your Have Arthritis, Say Dietitians
Arthritis can be extremely painful, inconvenient, and frustrating. Regardless of where your arthritis flare-ups happen on your body, the pain and swelling can be devastating to experience.
Two of the most common types of arthritis that people experience are rheumatoid arthritis, which involves the immune system, and osteoarthritis, which involves the breaking down of your cartilage.
While there are different medications your doctor can prescribe you to help alleviate your arthritis symptoms, there are also certain foods you can incorporate to help as well.
To find out more, we talked with a few dietitians to get their advice on the best eating habits you can adopt if you are currently living with arthritis.
Trista Best, MPH, RD, LD at Balance One Supplements, who lives with rheumatoid arthritis herself, says that following an anti-inflammatory diet is ideal if you have arthritis.
"There are three primary food-types that should be avoided or reduced in the RA patient's diet, which are refined carbs and sugar, gluten, and preservatives," says Best. "Refined carbs and gluten are both highly inflammatory and can both trigger an arthritis flare or exacerbate the pain of a current flare-up."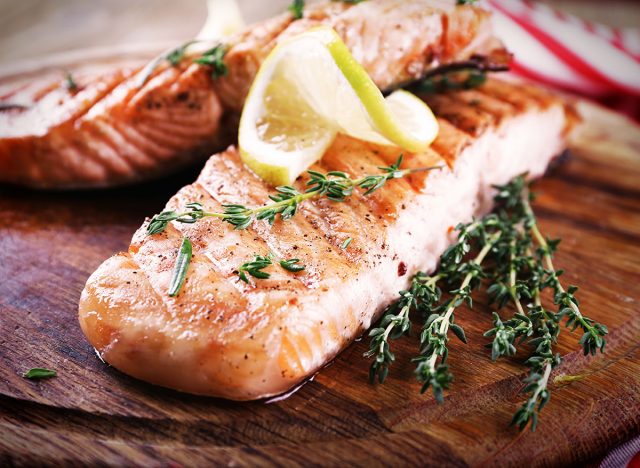 If you're a lover of seafood, you'll be relieved to know that eating fish can help ease the pain that arthritis brings.
"Fish is an excellent source of anti-inflammatory omega-3 fatty acids, and regular consumption of omega-3 rich fish has been linked to reduced joint swelling in people with arthritis," says Paula Doebrich, RDN, MPH, and owner of Happea Nutrition.
Doebrich says that the best fish sources of omega-3s are fatty fish such as tuna, salmon, sardines, or mackerel. If you're not a seafood lover, you can always talk with your doctor about implementing an omega-3 supplement instead.
Here are 26 Best Omega-3 Foods to Fight Inflammation and Support Heart Health.
Just like fish, "nuts and seeds are also a great source of omega-3 fatty acids, that are known to reduce inflammation," says Doebrich.
But that's not the only thing that makes them a great choice for those with arthritis. According to Doebrich, "nuts and seeds are also a good source of selenium and vitamin E, which act as antioxidants in the body."
The Cleveland Clinic notes that nuts not only contain healthy nutrients, but they're high in protein and low in saturated fat, which makes them a good replacement for foods like red meat, which can cause flare-ups for those with arthritis.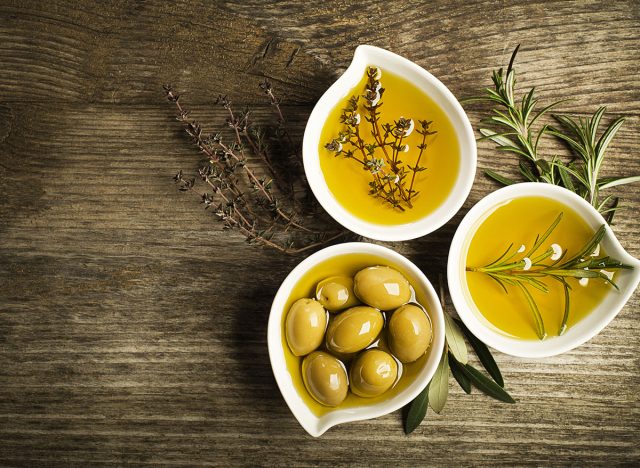 Lastly, using olive oil as a replacement for butter or vegetable oil can help reduce swelling and pain that so often comes with arthritis.
"This is because olive oil is an excellent source of healthy, monounsaturated fats, and EVOO is also rich in antioxidants, which are known to be anti-inflammatory," says Doebrich.
According to Cleveland Clinic, there is a compound in olive oil called oleocanthal that naturally helps reduce inflammation and can also be helpful for your heart health as well. 
Did you know This Surprising Juice Blend May Reduce Arthritis Pain?
The #1 Worst Food For Your Child's Brain, Says Study
Making the right food choices for your children can be difficult, especially if you're not sure what is healthy or unhealthy for their development.
This can be especially intimidating when you think about the importance of their developmental stages and the role that diet can play in these periods of growth, not only with physical development but mental and behavioral as well.
According to a 2020 report published in The Lancet: Child & Adolescent Health, the absolute worst type of food for your child's brain is junk food.
Continue reading to learn more about the report's findings, and for more healthy eating tips, make sure to check out 68 "Healthy" Foods That Are Terrible For You.
Three brain and nutrition researchers from Western University in London, Ontario reviewed over 100 different studies for this report. The studies, which included some of the researchers' own previous work, investigated how poor diet choices can affect children and the adolescent brain.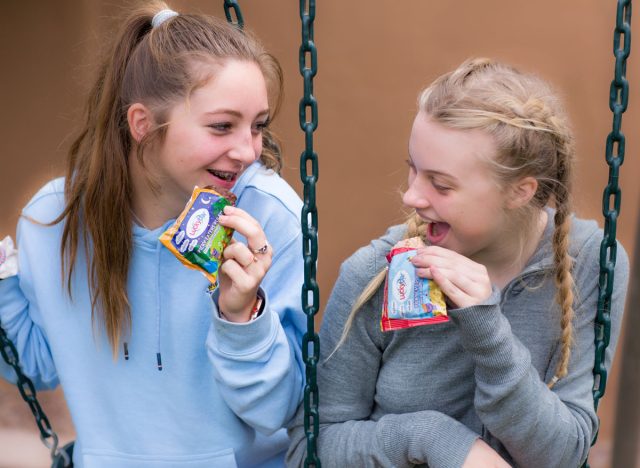 The report found that children and teens consume extremely large amounts of calorie-dense junk food, which negatively impacts their brain development.
This is largely because the adolescent brain is still developing its pre-frontal cortex, the part of your brain that is responsible for memory, attention, and impulse control.
According to the study, junk food's effect on a developing pre-frontal cortex can negatively impact your child's ability to "self-regulate" their food choices.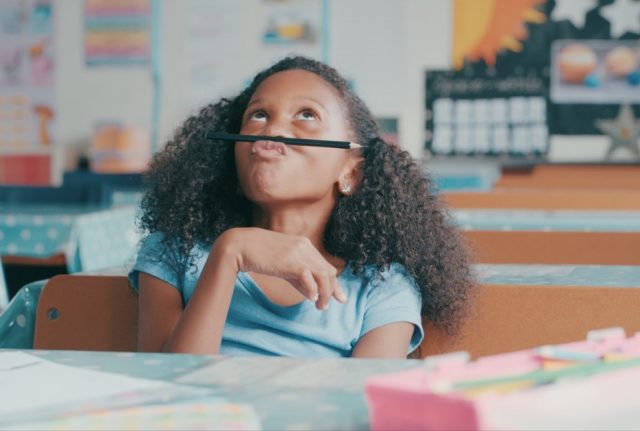 This report also emphasizes that because of the way junk food might impair a child's ability to control their eating, higher consumption of this food is known to lead to unhealthier eating choices into adulthood, which may contribute to obesity later on.
Not only can it have consequences on impulse control, but a separate cohort study from Social Psychiatry and Psychiatric Epidemiology found that poor diet quality in adolescents was also linked to higher instances of depression.
And a new study from the University of Georgia found that added sugar in childhood may possibly lead to memory impairment in adulthood. However, this study was performed on mice, so more research still needs to be done.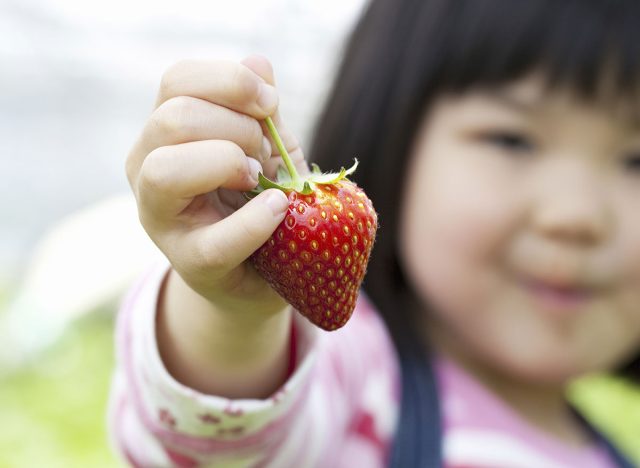 So with all of this information, how can you make the necessary changes to your child's diet to ensure their brains are in good hands?
A review from 2017 states that a healthy diet for a child's development includes plenty of nutrients such as protein, carbohydrates (not refined carbs), healthy fats, iron, vitamins A, C, and D, and B vitamins.
Medical News Today suggests foods such as leafy greens, Greek yogurt, fatty fish, and eggs as a part of a healthy diet for your child's brain.