The #1 Best Oatmeal to Manage Blood Sugar, Says Dietitian
The body is constantly performing functions to keep us healthy without us even noticing. For example, every time you eat food, your body breaks the food down into nutrients. When your body breaks down carbohydrates, it turns them into glucose.
This is a good and necessary function, but unfortunately, if too much sugar is consumed at once, it can cause a spike in blood sugar. And for those who are diabetic or pre-diabetic, this is especially problematic because their bodies can't use the glucose properly.
Thankfully, there are foods people can eat to help them manage their blood glucose levels. One food in particular is oatmeal.
According to medical expert Laura Burak, MS, RD, author of Slimdown with Smoothies, and founder of Laura Burak Nutrition, the best way to make oatmeal to manage your blood sugar is making you sure you have enough protein and fiber-heavy ingredients to add to it.
"A combo of protein and fiber is key to balancing blood sugar and keeping you full," says Burak. "You can make a blood-sugar-friendly bowl of oatmeal by adding enough protein and sweetening the mixture with natural fiber-containing sugar sources like fresh or frozen fruit, instead of just sprinkling good ol' brown sugar on top."
Oatmeal and managing blood sugar
Carbohydrates, especially those with heavy amounts of sugar, can sometimes cause a spike in your blood sugar. This is because when you eat carbs, your body breaks them down into glucose at a rapid rate.
You may be thinking, oats are a carbohydrate, so how could they be good for managing blood sugar?
Fortunately, although oats are a carb, they are also extremely high in soluble fiber. According to the CDC, foods high in fiber are an excellent choice for controlling blood sugar because your body doesn't break down the fiber in the same way it does for other carbohydrates.
How our dietitian makes her oatmeal
While oats alone can be great for those trying to manage their blood glucose levels, Burak has her very own recipe for oatmeal that can give you even more of a health boost.6254a4d1642c605c54bf1cab17d50f1e
"My go-to creation is called 'power oats' because once the oats are cooked, I stir in two to three raw egg whites for protein, which instantly cook into the hot oats and make it taste even better," says Burak. "Then I add berries and peanut butter for more protein and fiber, and a hit of cinnamon for natural sweetness. There is even research suggesting that cinnamon may improve blood sugar management, so it is more reason to add this spice to your oats."
Try whipping up a bowl of oatmeal using these tips, and for more healthy tips, check out the Best Breakfast Habits to Lower Your Blood Sugar.
5 Best Habits to Lose Belly Fat and Actually Keep it Off, Says Science
When it comes to your weight loss goals, losing weight is only half the battle. The other half is in keeping the weight off long term, which can be a frustrating process for many. So what are the key steps in not only losing weight in a healthy way, but also keeping it off sustainably?
Recent research has confirmed that eating healthy foods and living an active lifestyle are still greatly important in healthy weight loss. However, some experts are looking into the reasons behind why some people struggle to keep off their weight loss after all their hard work. And what they've found is that your mindset may play a larger role than you would think!
After, for more healthy weight loss tips check out 9 High-Protein Breakfast Ideas to Help You Lose Weight.
This one may seem fairly obvious, but it's important to remember that weight loss and management do involve a balance of calories you take in and calories you burn.
According to Harvard Health, this is an important part of the weight loss journey. They have found that in order to truly lose weight and keep it off, you'll need to focus on spending more energy than what you take in. And while losing weight and managing your weight loss usually requires more than just this, science still points to this as a foundational tool.
Making sure you get enough fruits and vegetables in your diet is important for multiple aspects of your health. For example, the nutrients, minerals, and fiber found in produce can help you maintain a healthy gut, improve your heart health, and help you lose weight and maintain weight loss.
According to an article published in Nutrients, there is a relationship between increased vegetable intake and a reduced risk of gaining weight or obesity.
According to Harvard Health, research confirms that some of the most effective weight loss and management strategies are related to your mindset. For example, things like self-regulation, self-moderation, and self-efficacy have high value in your weight loss journey.6254a4d1642c605c54bf1cab17d50f1e
According to a study published in Obesity Reviews, while things like healthy eating and exercise obviously play a role in weight loss and keeping weight off, focusing on your goals and staying internally motivated are crucial to a sustainable, long-term experience.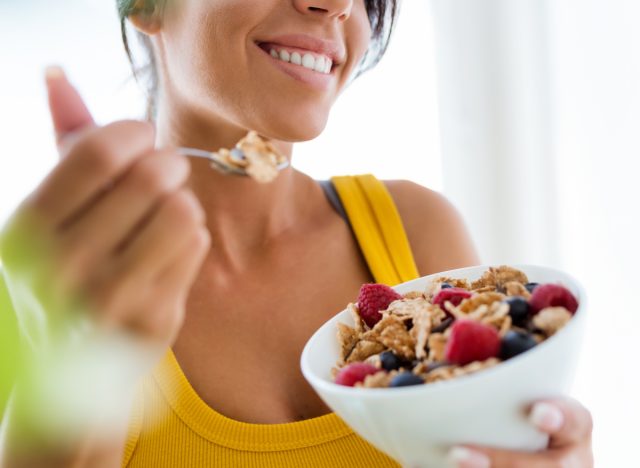 The process of losing weight or dieting can oftentimes bring shame or guilt to many of us, especially if it's a strict diet or eating plan with heavy restrictions. Because these diets are often not sustainable, we can feel guilty or ashamed if we break them or gain the weight back.
Working to shift our mindset toward more kindness toward ourselves and feeling proud of what we've accomplished is a key to healthy weight loss, and research backs this up. Harvard Health states, "most of them stayed motivated by reflecting on their improved health and appearance at their lower weight."
According to experts at Harvard Health, the concept of getting comfortable with discomfort can help in the weight management process. In their gathering of research, they discovered that things like sometimes feeling hungry, changing stress-eating behaviors, and sometimes resisting cravings of certain foods are all behaviors that can help lead to sustained weight management in a healthy way.
However, it's important to not get this confused with pushing yourself to an unhealthy limit. While going outside of your comfort zone and adopting new habits can be beneficial to your health, it's crucial to always listen to your body and better understand your own boundaries. You know yourself better than anyone, so trust your instinct!
This Eating Habit Can Significantly Improve Your Gut Health, Says New Study
Your gut is arguably one of the most important parts of your body. The gut, also known as the "second brain," helps many other parts of your body function properly. It is even connected to things like the health of your skin and hair, as well as your mental health! And while the gut is powerful, it is also delicate.
Your gut is delicately balanced with bacteria, and when something throws it off balance, it can mess up the overall "gut microbiome."
Many of us may not even realize this problem exists, but your gut contains certain microbes that can resist very common antibiotics. Common antibiotics such as tetracycline and aminoglycoside are needed for many different health conditions, and experts around the globe are concerned that our gut's resistance to these antibiotics may continue to get worse in the future. 6254a4d1642c605c54bf1cab17d50f1e
Thankfully, researchers are working hard to find the best solutions to this common problem known as anti-microbial resistance. And many of these solutions can be traced back to some of the foundational choices we make each and every day, including the types of food we consume.
According to a recent study published in The American Society of Microbiology, eating enough fiber on a daily basis can help you improve your gut health overall, but may also help to reduce the number of antibiotic-resistant microbes in your gut.
Here's what this means for you and your gut health, and for more healthy eating tips make sure to check out Best Eating Habits if You Don't Like Vegetables.
First off, what does the food you eat have to do with resistance to antibiotics? According to Science Daily, it all starts with your gut microbiome. Antimicrobial resistance is found in your gut microbiome, and those microbes are known to "carry genetically encoded strategies to survive contact with antibiotics."
This is the main reason the research results from ASM are so important to us. If we can care for our gut and continue to cultivate a healthy gut microbiome, we can improve our overall health in ways we may not have even thought of before.
The results of this new research concluded that getting at least 8 to 10 grams of soluble fiber (found in oats, seeds, beans, and certain fruits and vegetables) per day can significantly decrease the antibiotic-resistant microbes in your gut.
"And we're not talking about eating some exotic diet either, but a diverse diet, adequate in fiber, that some Americans already eat," says molecular biologist Danielle Lemay, who was a researcher involved in the study, via Science Daily.
But what researchers found to be even more important than fiber intake was diversity in your diet. "This suggests that we may want to eat from diverse sources of foods that tend to be higher in soluble fiber for maximum benefit," says Lemay.