The #1 Best Supplement to Help Lower Blood Pressure, Says New Study
If you have high blood pressure, it's likely you already know that exercising and eating a healthy diet will help even out your levels.
But a new study in the journal Nutrients shows that one ingredient in particular can help significantly lower your blood pressure.
According to the study, eating aged black garlic extract can help reduce blood pressure in people with high cholesterol. Aged black garlic is available in a supplement form.
Results showed that at six weeks of taking aged black garlic, subjects saw significant reductions of diastolic blood pressure (DBP) compared to placebo, particularly in men.
Related: The #1 Best Juice to Drink Every Day, Says Science6254a4d1642c605c54bf1cab17d50f1e
"Aged black garlic has long been regarded as a culinary delicacy and integral component of the Asian diet, as well as a tool to maintain health," Alberto Espinel, spokesperson for Pharmactive, a biotech company located in Spain that produces aged black garlic extract, said in a press release. "Empirical evidence is unfolding on the beneficial effects of black garlic on cardiovascular health."
This savory ingredient is traditionally produced by aging whole bulbs of a selected Spanish species of fresh garlic at high humidity and temperatures for a few weeks. The garlic cloves turn dark and assume a soft, jellylike texture while losing the characteristic pungent garlic flavor as it turns sweet.
"This is some of the first evidence emerging on the blood pressure-balancing effect of an aged black garlic extract, as a natural alternative, in a population where the strategies of intervention are based on diet and maintaining a healthy lifestyle," continued Espinel. "Importantly, its positive effects were achieved following a simple protocol of consuming one aged black garlic extract tablet daily."
Future clinical studies focusing on the blood pressure-managing capacity of aged black garlic extracts are in the pipeline—but combined with exercise and a healthy diet, it may help prevent increases in blood pressure.
"Lifestyle choices, including dietary protocols such as the DASH or Mediterranean diets, are the first line of treatment for delaying and preventing increases in blood pressure," said Julia Diaz, Head of Marketing for Pharmactive. "Aged black garlic offers an additional potent—and flavorful—nutritive tool for helping to manage blood pressure, especially in people who have difficulty abiding by dietary restrictions."
For more on helping high blood pressure, check out Here's How To Lower Your Blood Pressure.
This Is the Worst Supplement for Your Brain, New Study Says
Along with keeping up with healthy daily habits, sometimes in an attempt to help our bodies steer clear of the unwanted disease in the later years of our lives, doctors recommend taking a set of supplements for our health. However, a recent study found that the dietary supplement L-serine, an essential compound that influences brain functionality, may cause a cognitive decline in some adults.
L-serine is a naturally occurring amino acid that is made up within the body and is most necessary for producing Phosphatidylserine, or in other words, the main component that forms the membrane of brain cells (also known as neurons). There is one specific enzyme that is responsible for creating our body's natural serine levels, it's called PHGDH.
Research in the Cell Metabolism reported that increasing one's serine levels (especially through a supplement) may end up contributing to Alzheimer's disease and dementia. Head researcher Xu Chen and his team gathered genetic samples from the brains (post-mortem) of four groups, made up of 40 to 50 people ages 50 and older. The groups that were researched included patients with Alzheimer's, subjects who showed early signs of Alzheimer's-related signs, and people with healthy brains.6254a4d1642c605c54bf1cab17d50f1e
This study found that both the Alzheimer's patients and people with early signs of Alzheimer's showed an increase in PHGDH, compared to the subjects with healthy brains. Not only that, but the Alzheimer's patients' PHGDH levels became even higher as their condition worsened, and researchers equated these high PHGDH results to overstimulation within the brain caused by too much serine.
An extreme amount of stress on the brain (from overstimulation) can lead to a decreased number of neurons in the brain, and researchers believe that a metabolic-like cycle occurs to make up for the loss in brain activity. The body continues to create more and more PHGDH to increase serine levels and healthy brain cells. Unfortunately, when there is too much PHGDH in the brain, there is too much stress on the brain, and neurons/brain cells continue to die. The cycle repeats due to the brain trying to restore balance.
While this study is new, there have been other opposing research done on the contrary. For example, another study in Cell Metabolism back in 2020 claimed that many Alzheimer's patients similarly had lower levels of PHGDH in their brains. The study supported the use of L-serine supplementation because serine is a key component of the body's neuronal receptors—which control brain function.
Other studies and clinical trials have found L-serine to be a neuroprotective agent for a number of other neurological diseases and conditions (other than Alzheimer's), according to Frontiers. The supplement has been seen to have a therapeutic effect on epilepsy, schizophrenia, and psychosis.
Overall, if you're looking into supplementation to accommodate concerns regarding your future brain functionality and the possibility of developing Alzheimer's disease, talk with your doctor. Research has fallen on both sides of the spectrum for whether or not it's necessary or productive to feed your brain these compounds that your body forms naturally if there isn't already an imbalance.
Jordan Summers-Marcouillier
Jordan Summers-Marcouillier was born and raised in San Jose, California and now works as a writer in New York, NY. Read more
Surprising Side Effects of Eating Olives, Says Science
By now, you've most likely heard of the multiple health benefits associated with the Mediterranean Diet. It's been found to help reduce inflammation, improve your cognitive function, and help you have a healthier heart. And while the diet consists of many different types of foods, one of the most popular Mediterranean Diet snacks is olives!
Whether you love them or hate them, olives are packed full of health benefits, which is why they are such a healthy staple in many types of healthy eating plans. Learn more about the surprising effects of eating olives, and for more healthy eating tips check out Secret Side Effects of Eating Cucumbers.
Olives are made up largely of healthy fats and contain high levels of a specific fat called oleic acid, which makes up 74% of the fat found in olives. Oleic acid is a monounsaturated fat and has been known to help with inflammation.6254a4d1642c605c54bf1cab17d50f1e
Getting more of these "healthy" fats like monounsaturated and polyunsaturated fats in your diet, especially when they replace fats like saturated and trans fats, can significantly help your overall health. You'll see more specific health benefits related to these fats below.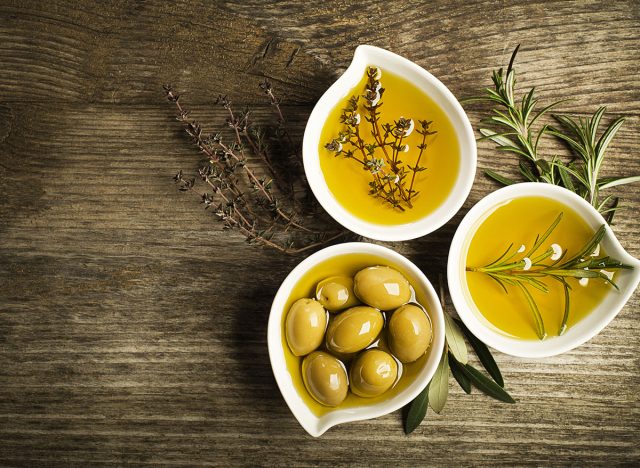 One of the main benefits of getting more healthy fatty acids in your diet is that they can help you improve your brain health and functioning. According to Psychology Today, people who eat plenty of monounsaturated fats often have higher levels of the neurotransmitter acetylcholine, which we need for functions like memory retention and learning.
Olives also contain phenolic compounds, which have found to have a connection to protecting against age-related diseases like Alzheimer's or dementia.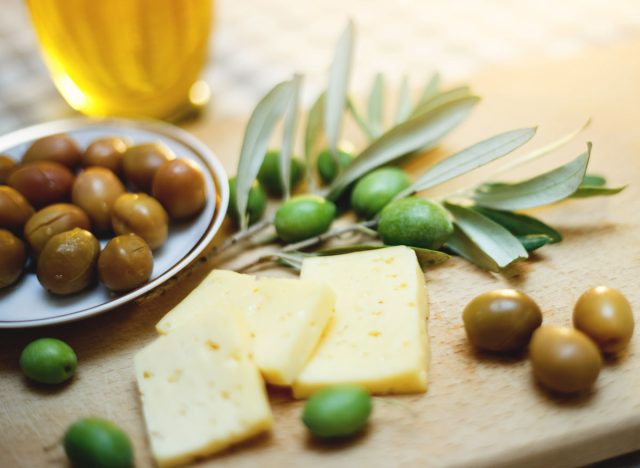 While olives and olive oil have many of the same health benefits, one of the specific effects of eating olives is that they contain dietary fiber! In fact, three ounces of canned olives contain around 3.2 grams of fiber, which is a helpful amount for a small snack.
Getting enough fiber in your diet is one of the main keys to a healthy heart, healthy cholesterol levels, good digestion, and longevity as a whole, and olives can be a helpful part in reaching your fiber goals.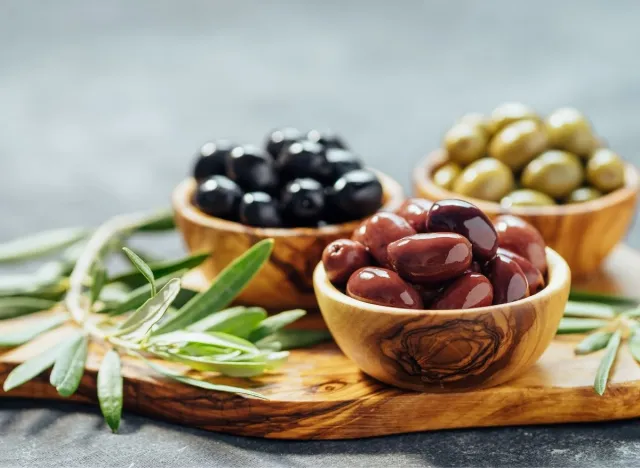 Olives are one of the best heart-healthy foods you can snack on because of their high levels of monounsaturated fats. According to a report published in Lipids in Health and Disease, monounsaturated fats were found to help reduce the overall risk of mortality, stroke, and cardiovascular disease in the study's participants.
Monounsaturated fats can also help you lower "bad cholesterol" (LDL) and raise "good cholesterol" (HDL), which in turn can help you maintain a healthy heart.