The #1 Worst Eating Habit for Dementia, Suggests New Study
While there are certainly plenty of reasons to take vitamin C every day and vitamin D definitely does some amazing things for your body, there's now a very good reason to add vitamin B9 (folate) to the list of vitamins to make sure that you're consuming on a regular basis.
That's because research recently published in the Evidence Based Mental Health journal has shown that not ensuring that you're getting enough vitamin B9 could be an eating habit that's connected to developing dementia.
While looking at medical records from more than 27,000 people who were all 60 to 75 years old, researchers found that those who were deficient in folate were also "68% more likely to be diagnosed with dementia," per EurekAlert!.
"Folate seems to influence cognitive function," LisaYoung, PhD, RDN and a member of the ETNT medical review board, tells Eat This, Not That!."It is crucial to the proper functioning of the nervous system and in the elderly, a deficiency may contribute to the aging brain which can elevate dementia risk."
At the same time, Dr. Young points out that "too much folate can mask a B12 deficiency so if you have a tendency for a B12 deficiency, you should notify your MD if taking folate supplements." Beyond that, Young adds, "It's plentiful in food so it's easy to get enough."
Indeed, if you're looking to add more vitamin B9 to your diet, Dr. Young says "it is plentiful in fruits and vegetables as well as legumes/beans—asparagus, lettuce, beans, chickpeas, broccoli, and most fruits and veggies contain folate. Its name folate even comes from foliage." On top of that, "the bread supply (wheat bread and flour) is also fortified with folate."6254a4d1642c605c54bf1cab17d50f1e
To find out more about how to make sure you're getting enough vitamin B9 in your diet, be sure to read The 20 Best Folate-Rich Foods.
5 Breakfast Habits to Live Like the World's Oldest People
No one knows just how long they're going to live, but there are things that you can do to help prolong your given lifespan, like following a healthy diet and living an active lifestyle. There are also places you can live where you're more likely to live longer. The Blue Zones, as they're referred to, are Okinawa, Japan; Sardinia, Italy; Nicoya, Costa Rica; Ikaria, Greece and Loma Linda, California.
"The Blue Zones refer to five areas of the world where longevity rates are longer than the average human lifespan," says registered dietitian Sarah Schlichter. "Specifically, people reach age 100 at 10 times greater rates than in the United States."
Maybe it's some sort of magic that leads people in these five locations throughout the world to live longer lives, but it's more likely that they follow active lifestyles and make healthy dietary choices.
"While genetics likely account for some of this, this is largely believed to be due to their dietary and lifestyle habits," says Schlichter.
While we can't all move to one of the Blue Zones, we can follow some of their eating habits to see what they do and what they never do. Here are some of the best breakfast habits to follow if you want to live like the world's oldest people.
This one seems like a no-brainer, but sometimes it can be hard to pass up an extra serving of food if you're eating a really delicious meal, even if you already feel full. This isn't the best practice to follow if you're trying to live the longest life possible, as those who live in the Blue Zones of the world, where people live the longest, rarely tend to continue eating meals after they begin to feel full.
"People in the Blue Zones are believed to follow the Confucian mantra of stopping eating when they feel 80 percent full," says Schlichter. "Of course, to do this, they are likely eating regular, balanced meals and not allowing themselves to get too hungry either."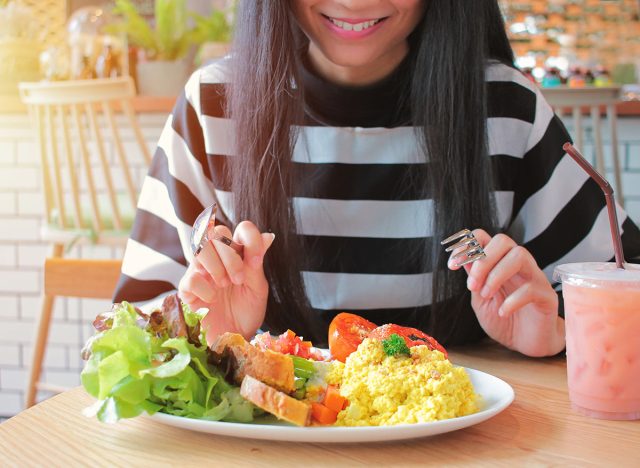 You've definitely heard it before: breakfast is the most important meal of the day. People who live in the Blue Zones, who are 10 times more likely to live to 100 than residents of the United States, take that to heart.
According to Schlichter, "[people in the Blue Zones] also allegedly eat their smallest meal late in the afternoon or early evening, which is counterintuitive to the ways that many Americans eat."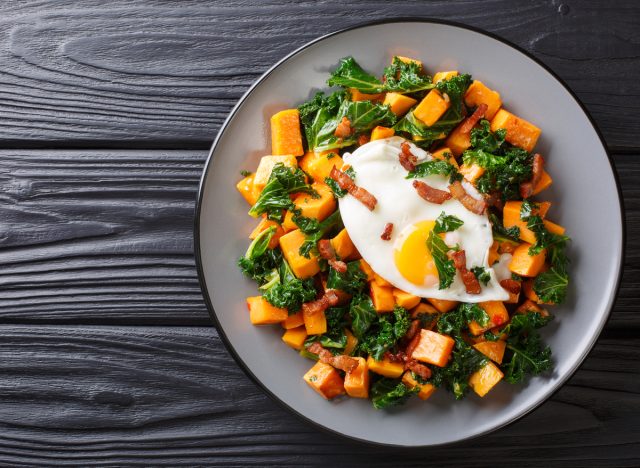 Plant-based diets are rising in popularity throughout the country, making this habit a bit easier to follow. The diet consists of eating mostly, or entirely, foods made from plants, which still leaves plenty of options for breakfast, like whole-wheat pancakes or sheet-pan veggies.
"A cornerstone of the Blue Zones diet is including many fruits, veggies, sweet potatoes, nuts, beans, lentils and legumes daily," Schlichter says.
That doesn't mean that you have to go completely vegan, as the world's oldest people also eat meat and dairy, although at far lower levels than in the United States.
"They do eat meat, but about once a week, and they stick to a 3-4 oz serving size. They do encourage eating fish daily," Schlichter says.
It's hard to cut out sugar entirely, as it's naturally found in many foods, including an abundance of fruits. But if you want to live like the world's oldest people, it's important to not eat excess sugars that are found in a majority of junk foods.
"Many Americans know we should reduce added sugars but don't know where to start," Schlichter says. "In many of the Blue Zone areas, they have less access to added sugars so it's an easier task. Their traditional foods don't have added sugars, except maybe the honey they add to their tea."
She adds that the world's oldest people do consume sugar, but it's not a regular occurrence and it's not added into every meal that they eat.
"People in the Blue Zones consume sugar intentionally, not by habit," Schlichter says.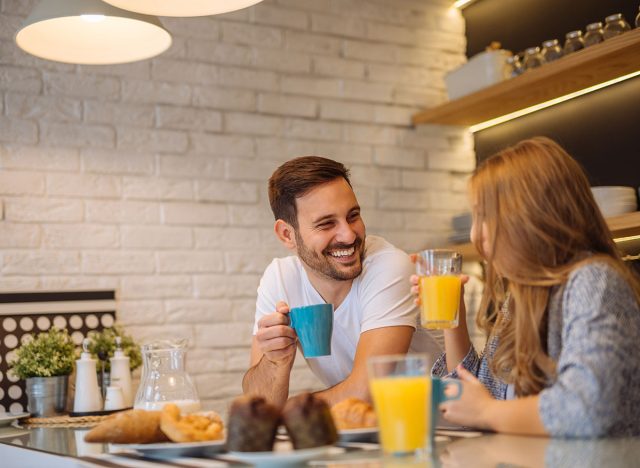 For the most part, residents in the world's Blue Zones follow very healthy diets, but that's not because they feel they're being forced to follow a certain diet, or because they're restricting themselves from eating what they really want. Instead, they celebrate the food that they're eating in moderation, rather than banning themselves from eating certain foods.6254a4d1642c605c54bf1cab17d50f1e
"In the Blue Zones, they don't worry about counting calories or reading food labels," Schlichter says. "They eat intuitively from the land and listen to their bodies, rather than external signals of the diet culture around them."
When you're trying to emulate the world's oldest people while making breakfast, you should use ingredients that you enjoy in moderation, and enjoy your breakfast rather than being concerned about what diet you should be following.
"Here in the US, we are bombarded with new diets all the time, and reasons why we should eat one way, or cut out foods entirely," Schlichter says.
This Is the Worst Supplement for Your Brain, New Study Says
Along with keeping up with healthy daily habits, sometimes in an attempt to help our bodies steer clear of the unwanted disease in the later years of our lives, doctors recommend taking a set of supplements for our health. However, a recent study found that the dietary supplement L-serine, an essential compound that influences brain functionality, may cause a cognitive decline in some adults.
L-serine is a naturally occurring amino acid that is made up within the body and is most necessary for producing Phosphatidylserine, or in other words, the main component that forms the membrane of brain cells (also known as neurons). There is one specific enzyme that is responsible for creating our body's natural serine levels, it's called PHGDH.
Research in the Cell Metabolism reported that increasing one's serine levels (especially through a supplement) may end up contributing to Alzheimer's disease and dementia. Head researcher Xu Chen and his team gathered genetic samples from the brains (post-mortem) of four groups, made up of 40 to 50 people ages 50 and older. The groups that were researched included patients with Alzheimer's, subjects who showed early signs of Alzheimer's-related signs, and people with healthy brains.6254a4d1642c605c54bf1cab17d50f1e
This study found that both the Alzheimer's patients and people with early signs of Alzheimer's showed an increase in PHGDH, compared to the subjects with healthy brains. Not only that, but the Alzheimer's patients' PHGDH levels became even higher as their condition worsened, and researchers equated these high PHGDH results to overstimulation within the brain caused by too much serine.
An extreme amount of stress on the brain (from overstimulation) can lead to a decreased number of neurons in the brain, and researchers believe that a metabolic-like cycle occurs to make up for the loss in brain activity. The body continues to create more and more PHGDH to increase serine levels and healthy brain cells. Unfortunately, when there is too much PHGDH in the brain, there is too much stress on the brain, and neurons/brain cells continue to die. The cycle repeats due to the brain trying to restore balance.
While this study is new, there have been other opposing research done on the contrary. For example, another study in Cell Metabolism back in 2020 claimed that many Alzheimer's patients similarly had lower levels of PHGDH in their brains. The study supported the use of L-serine supplementation because serine is a key component of the body's neuronal receptors—which control brain function.
Other studies and clinical trials have found L-serine to be a neuroprotective agent for a number of other neurological diseases and conditions (other than Alzheimer's), according to Frontiers. The supplement has been seen to have a therapeutic effect on epilepsy, schizophrenia, and psychosis.
Overall, if you're looking into supplementation to accommodate concerns regarding your future brain functionality and the possibility of developing Alzheimer's disease, talk with your doctor. Research has fallen on both sides of the spectrum for whether or not it's necessary or productive to feed your brain these compounds that your body forms naturally if there isn't already an imbalance.
Jordan Summers-Marcouillier
Jordan Summers-Marcouillier was born and raised in San Jose, California and now works as a writer in New York, NY. Read more