[VIDEO] This 11-Sec Clip From Madrid, Explains Exactly Why Joe Needs Cue Cards That Say, "YOU Take YOUR Seat"
Well, another trip, another debacle… Joe Biden looked and sounded like a bumbling old fool overseas.
***FOLLOW US ON RUMBLE***
He was on the world stage for the G7 Summit and other "globalist" meetings where all the commie are gathered to discuss how to implement the "New Liberal Order."
Of course, Joe was half out of it the entire time… and it's not just me saying that.
Sky News called out Joe for his "stumbling and bumbling" in Madrid.
MORE NEWS: Here's Most Compelling Evidence Yet That Michelle Obama Will Be Dems 2024 Candidate
Watch:
Once again, the foreign press is doing the job that the US press won't: telling the truth.
As you likely know by now, Joe is prone to having issues finding his way off the stage.
We've seen it happen often. He looks around, seemingly lost, wanders in circles, and calls out to his Handlers, "Where do I go?"
Chances are, he's heading the wrong way when he asks for help and has to turn around and shuffle off the other way.
***FOLLOW US ON CLOUTHUB***
Well, that happened again in Madrid, where Joe tried to make a fast, energetic exit, but couldn't find his way off and had to ask for help on which way to go.
What an embarrassment.
Now, we can see why Joe needs those cue cards, right?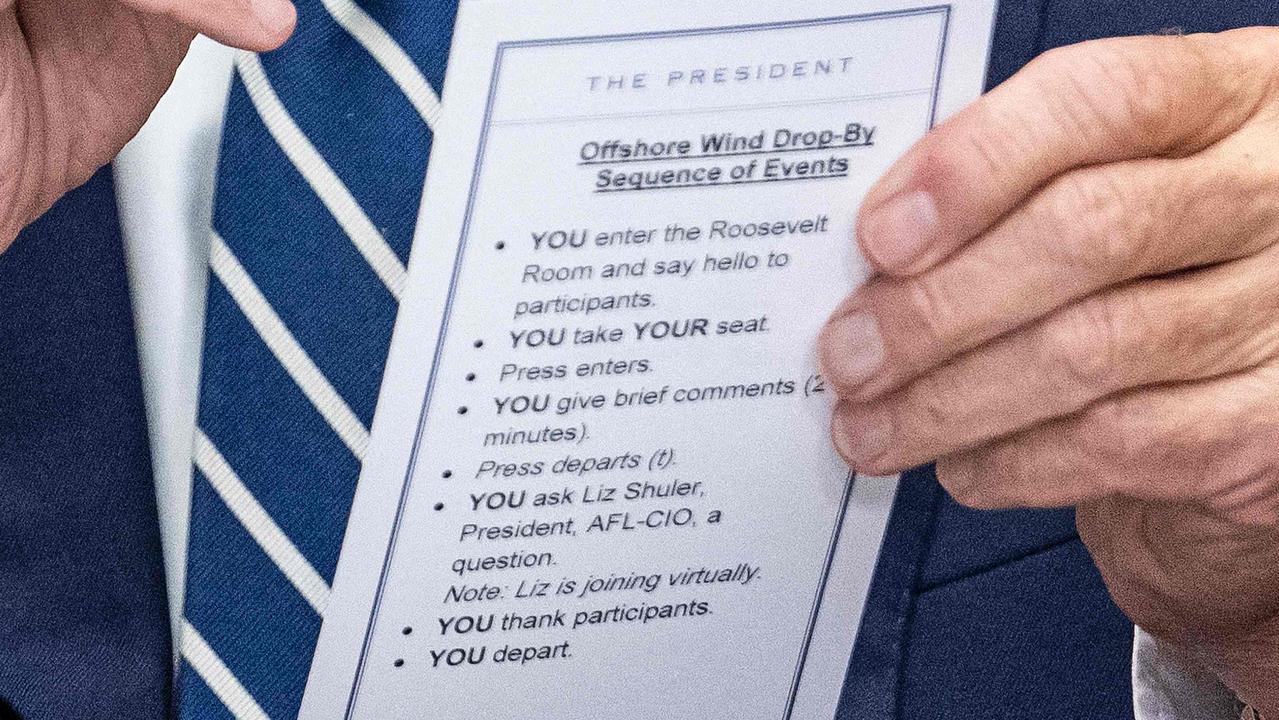 You can watch the video below:
Here's what people online are saying:
"Should have let him get lost in Spain – and his talk of negating the filibuster for a rushed and over hyped abortion vote is pure anarchy. Let this disgraceful puppet be a lesson to Democratics and the MSM that stacking and fallaciously hyping an incompetent presidential candidate has cost this country dearly."
"He's so frickin embarrassing"
"Some of this is bad advancing. The ins & outs should have been clear before he started. Plenty of staffers have responsibility for this. Repeated passive-aggressive moves like this – marooning him in public – show even staff are fed up. LGB"
"Which way are you going Joe? Down….Straight the f down."
"He was confused before, during and after the speech!"
"This explains the index card that says YOU take YOUR seat"
****FOLLOW US ON TELEGRAM***
Somebody needs to add a note to the cue cards: "YOU go LEFT when YOU leave the stage"
The opinions expressed by contributors and/or content partners are their own and do not necessarily reflect the views of WayneDupree.com
---
DEAR MEMBERS,
Are you sick of seeing ads? Well then it's time to get rid of them! WayneDupree.com is proud to offer a PREMIUM VIP MEMBERSHIP that eliminates ads and gives you the BEST browsing experience.
SIGN UP HERE and join us!
---
Follow Wayne on Rumble!