What Happens To Your Body When You Give Up Alcohol
Did you ever stop to think those happy hours were actually making you less happy? Alcohol has been linked to significant changes in people's health, for both the better and the worse. So giving up alcohol—for even just one month—can make a big impact on your health and well-being. Not only can you make serious progress toward increasing your chances of weight loss after quitting alcohol, but what happens when you stop drinking alcohol also extends beyond dropping a few pounds. It can also include lowering your cancer risk, boosting your heart health, and even helping you sleep better.
If you drink alcoholic beverages frequently, you might be interested to know how your body may change if you cut out beer, wine, and liquor for a while. Whether it's for a day, a week, or even a month, it can make a difference.
To give you an idea of what happens when you stop drinking, we've gathered the 15 benefits of not drinking alcohol you can expect to reap below. And while you're making healthy changes, be sure to try out these 21 Best Healthy Cooking Hacks of All Time.
Why does alcohol cause weight gain? The bulk of it can be attributed to excess empty calories, but there are other factors at play, as well. Research shows that drinking alcohol can also increase your appetite for high-calorie foods, both immediately and the next day. According to a study published in the journal Appetite, people who drank only half a shot of alcohol (20 grams worth) ate 11 percent more than those who abstained. The drinkers also experienced more cravings for high-fat (high-calorie) foods.
You may even overindulge a day after drinking. According to a 2013 study published in the journal Nutrition & Diabetes, drinking alcohol results in shorter, less quality sleep, which caused study subjects to shift from eating carbohydrates to eating fats. And each 30-minute deficit of sleep caused the subjects to eat 83 additional calories per day, on average!
RELATED: Sign up for our newsletter to get daily recipes and food news in your inbox!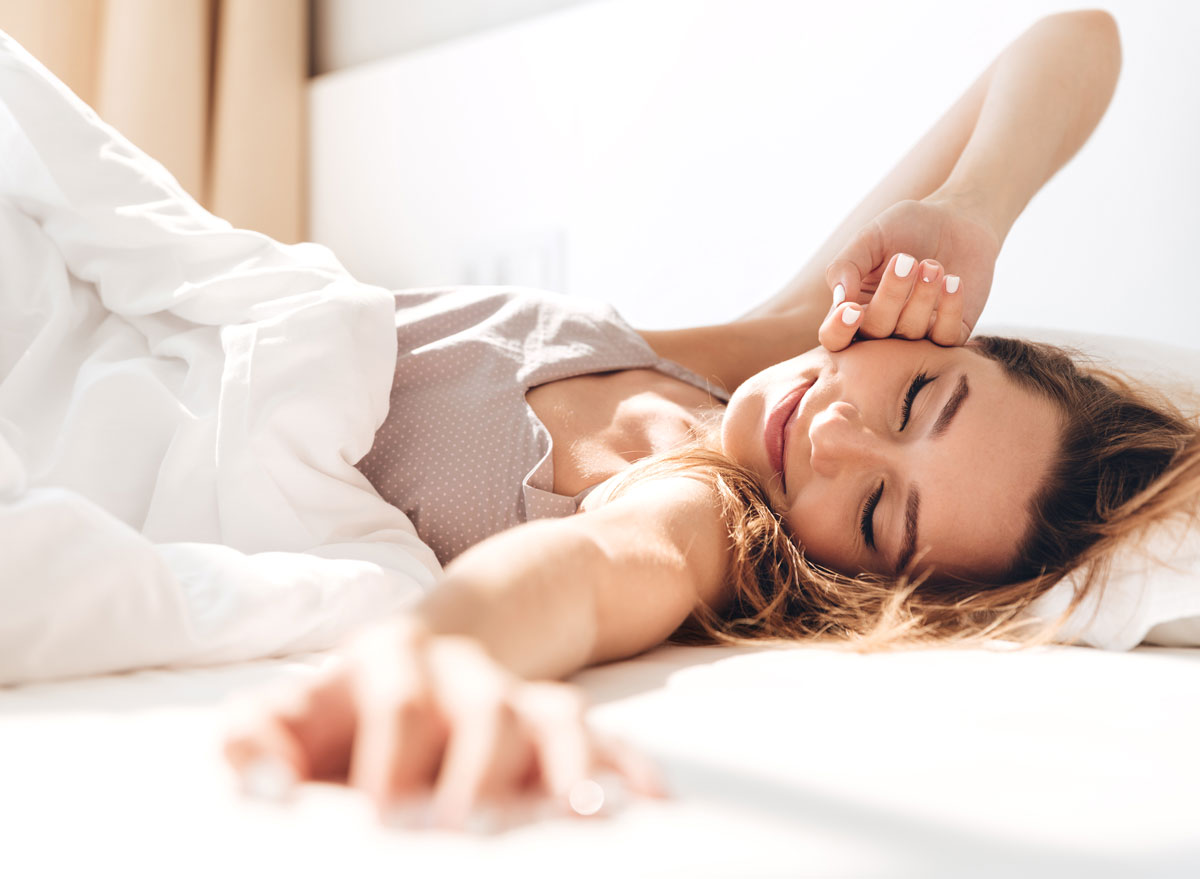 Though booze can make you fall asleep initially, it disrupts shut-eye. That conclusion was reached by a review of 20 studies on the topic. Another recent study in the journal Alcoholism: Clinical & Experimental Research found that drinking before bed increases alpha wave patterns in the brain. If you want restorative sleep, those waves don't help. Once you give up alcohol, however, you'll get better sleep and start feeling more refreshed and sharp.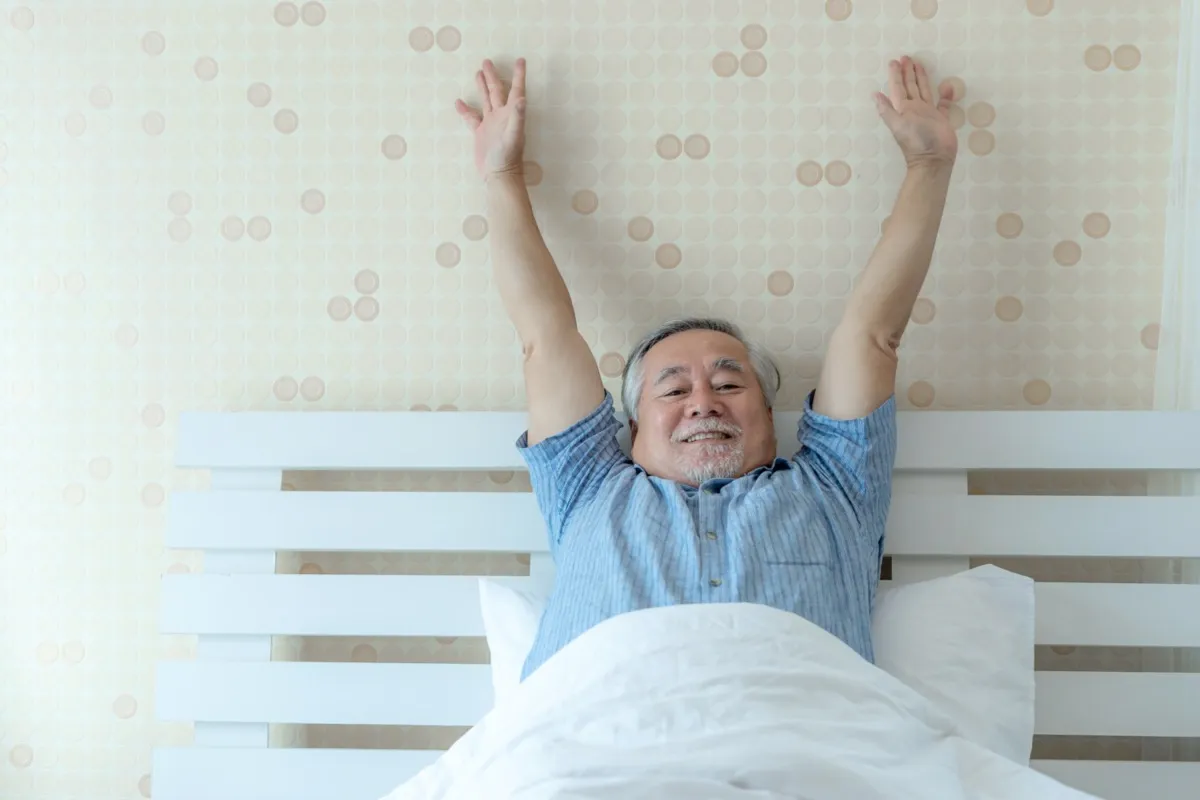 Hangovers are draining. Luckily, if you don't drink, you won't have one! And with fewer hangovers comes more energy and less fatigue. As we just saw, when we drink, our sleep is disrupted. Naturally, this will affect your mood and energy levels the following day. According to a recent study published in Sleep and Vigilance, heavy alcohol consumption significantly increases daytime sleepiness the following day, with nearly 35 percent of participants self-reporting feeling slowed down and losing interest in remaining awake during a hangover whereas less than 5 percent of participants reported the same feelings on a regular day.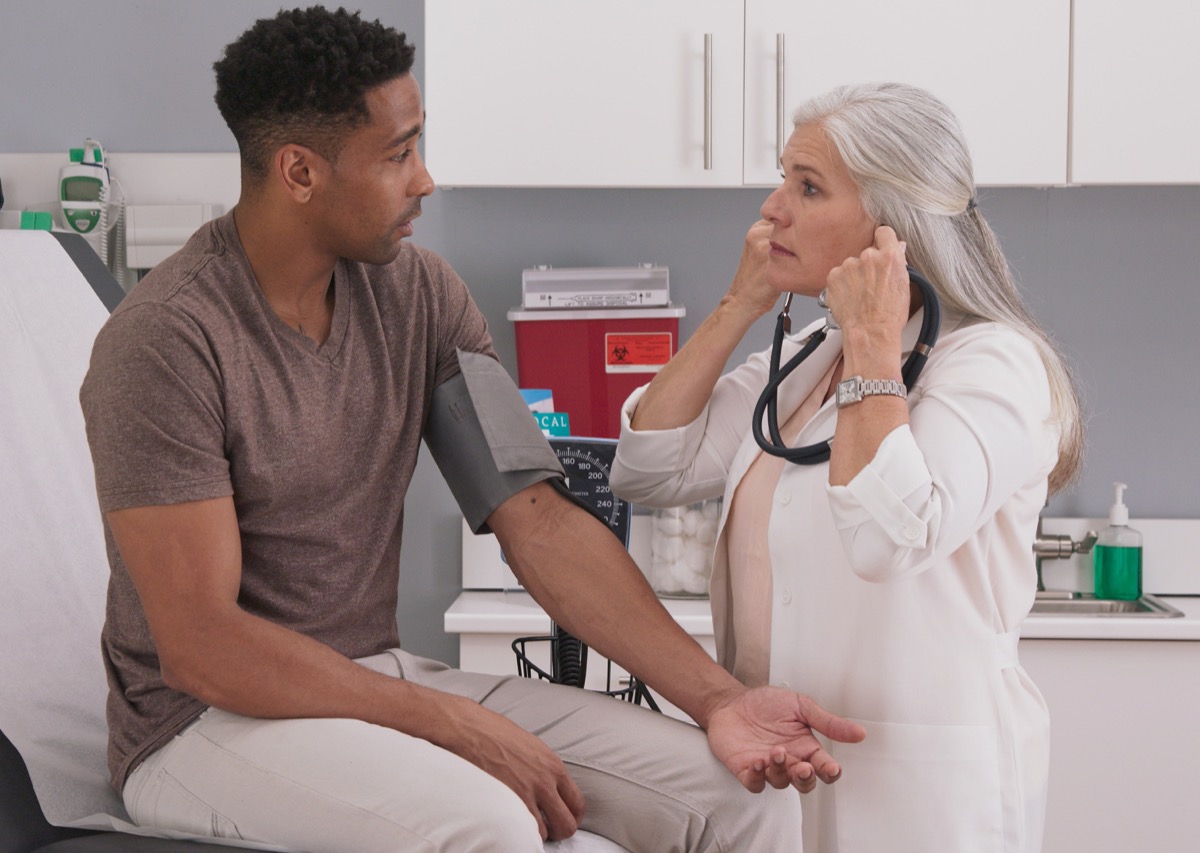 In 2013, 14 staffers at New Scientist magazine whose drinking ranged from eight to 64 12-ounce bottles of beer per week took a short-term break from alcohol. Ten people gave up the booze for five weeks. Another four didn't. Doctors at the Institute for Liver and Digestive Health at University College London tested their blood before and after, and discovered that the teetotalers' liver fat—a predictor of liver damage—fell 15 to 20 percent! The abstainers' blood glucose levels—a key factor in diabetes—also dropped by an average of 16 percent!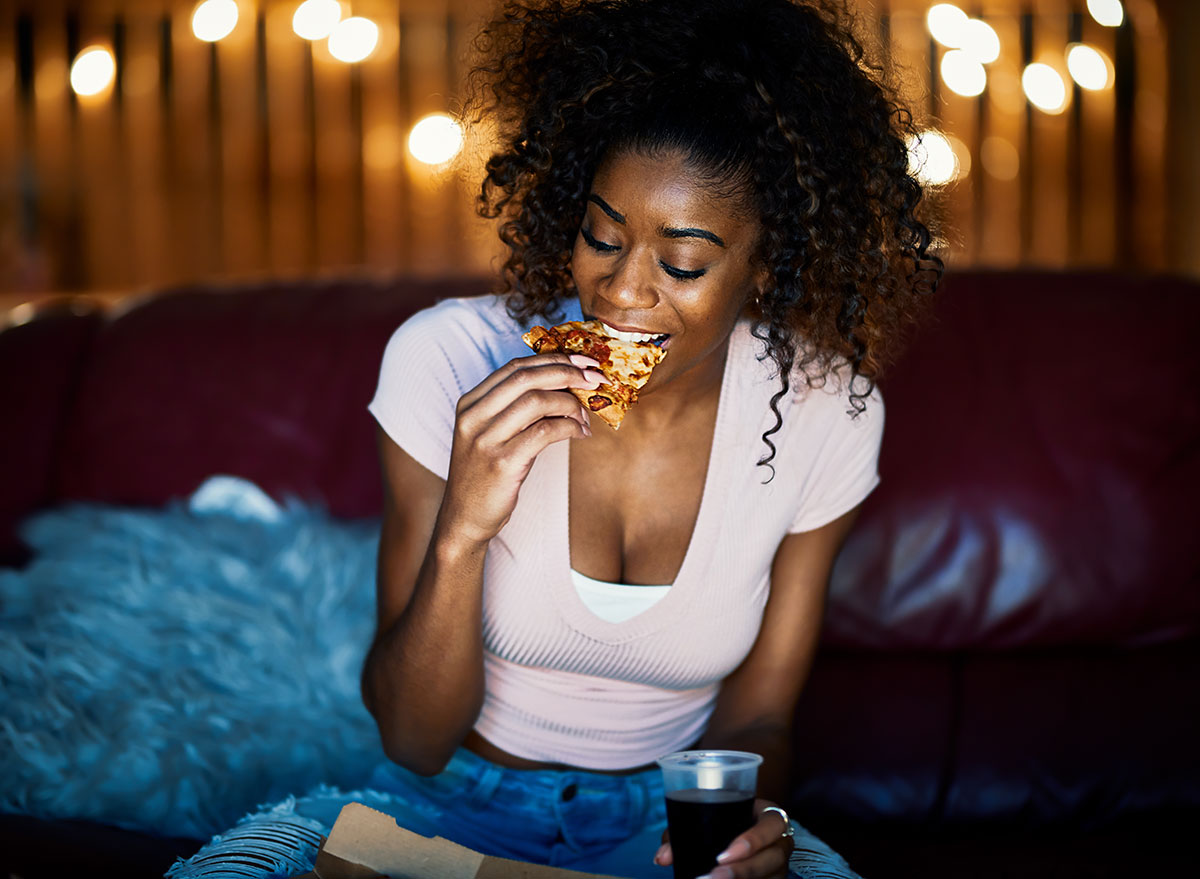 A study in the Nature journal found that booze can trigger cravings. How does that work? Agrp neurons, which are usually activated by starvation and result in intense hunger, were found to be triggered by alcohol consumption. If you want to curb your cravings in more ways than just cutting out booze, don't miss these 12 Ways to Crush Your Unhealthy Cravings for Good.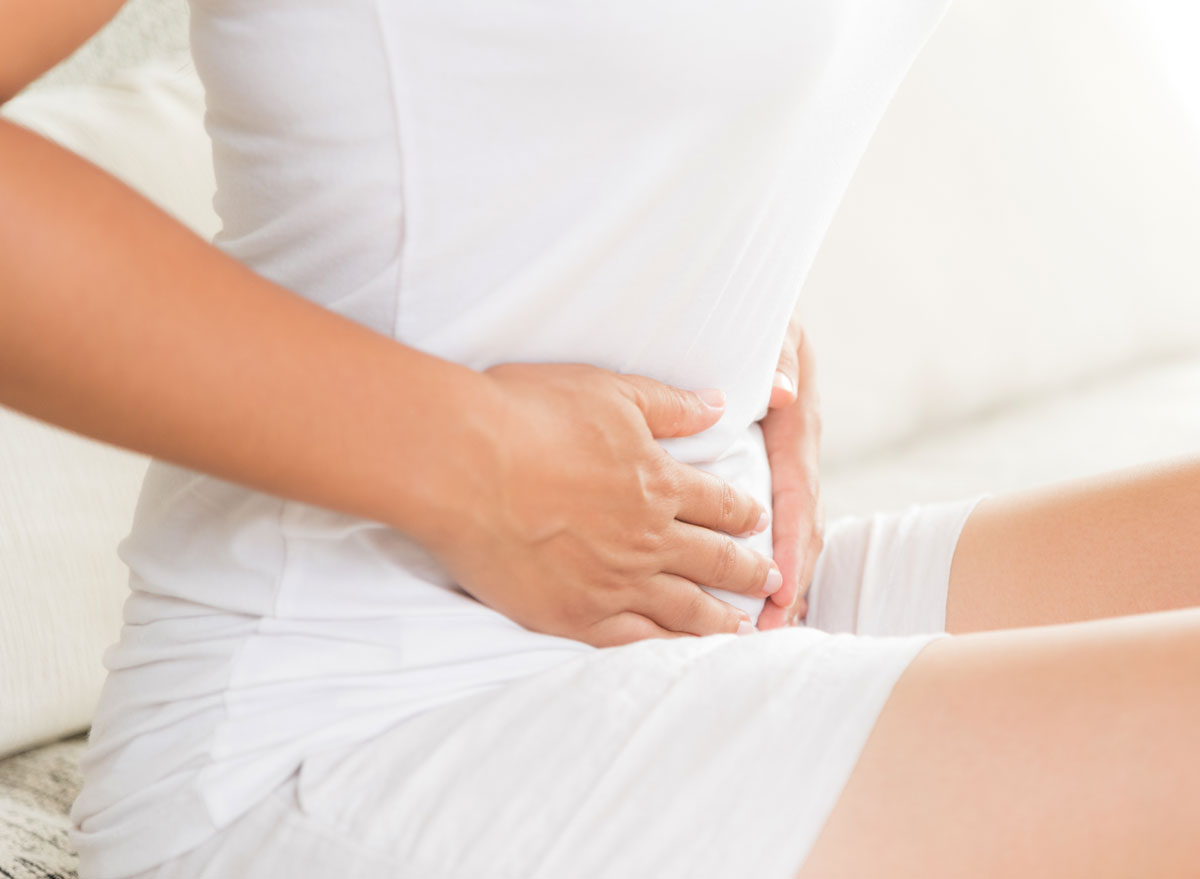 Even in relatively small doses, alcohol can negatively affect digestion by altering the stomach's secretion of gastric acid as well as its gastric motility: the ability of your stomach muscles to break down ingested food. It can also hamper the digestive enzymes' ability to function and break down food. When these functions are impaired, your digestion suffers. Studies have shown that pairing alcohol with a meal can slow down digestion while the overproduction of gastric acid can irritate the stomach.
When you consume alcohol, your body has to focus on processing this toxin and eliminating it from the body. Like macronutrients, the ethanol in alcohol has calories: 7 calories per gram. However, unlike carbs or fat that can be stored for energy, alcohol is not stored in the body, and simply remains in the body until it can be eliminated. Skip the booze, and your body won't waste time expelling alcohol, but it can burn carbs, then flubber.
RELATED: Learn how to fire up your metabolism and lose weight the smart way.
If you're used to having a few brews or glasses of wine at home each night, you might want to stop drinking and replace the ritual with flavored seltzers or detox waters you make yourself. Plus, alcohol is a diuretic, meaning it flushes your body of water through urine. Less alcohol means your body can retain the right amount of water for proper hydration and electrolyte balance.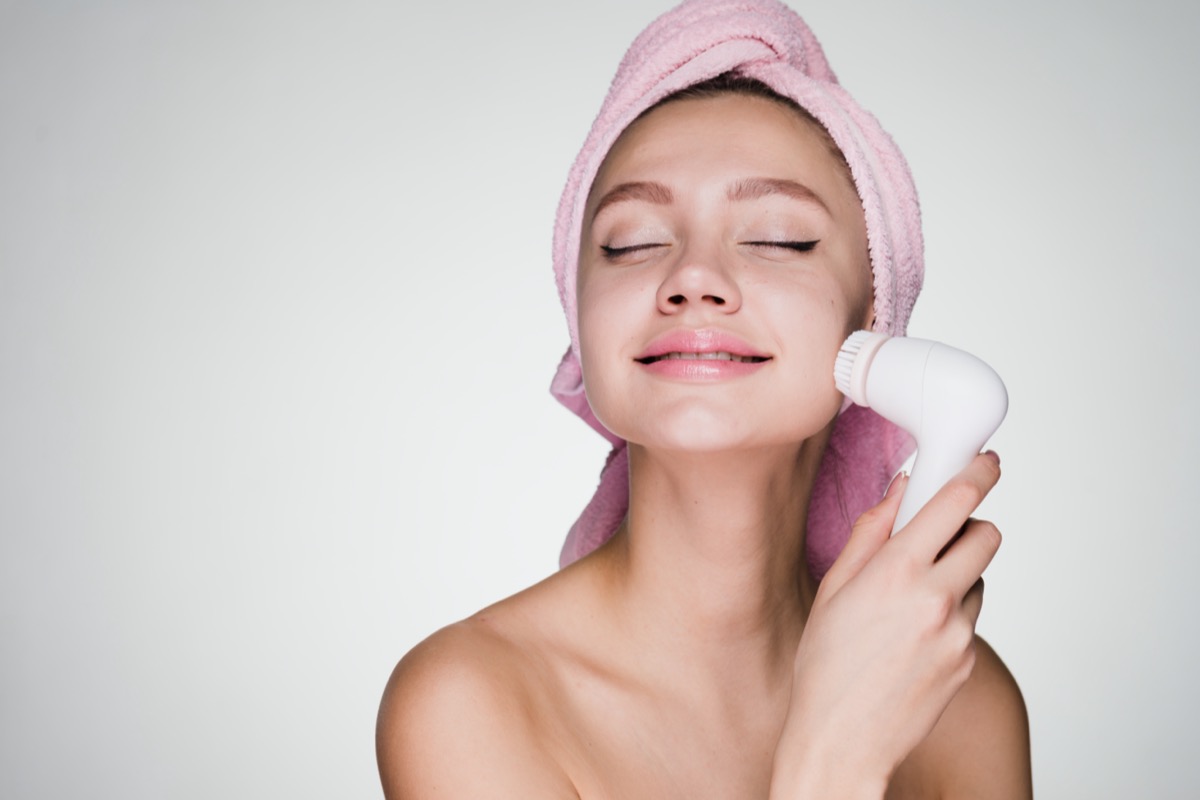 Alcohol is a diuretic, which leeches fluids from your body. Booze also decreases the body's production of the antidiuretic hormone that helps the body reabsorb water. That'll show up on your face. After just a few days of abstinence, you'll notice that your skin looks and feels more hydrated, and skin maladies like dandruff, eczema, or rosacea may also improve over the long term. Researchers have identified a close correlation between alcohol use and skin conditions such as psoriasis, eczema, spider veins, post-adolescent acne, and even superficial skin infections.
Per the American Heart Association, drinking alcohol can raise the level of triglycerides and harmful fats in the blood. That can lead to plaque buildup in your arteries and heart disease. How? According to a study published in the journal Current Opinion in Lipidology, drinking booze is closely related to the ingestion of fat. Consuming one makes your hypothalamus signal that you're craving the other.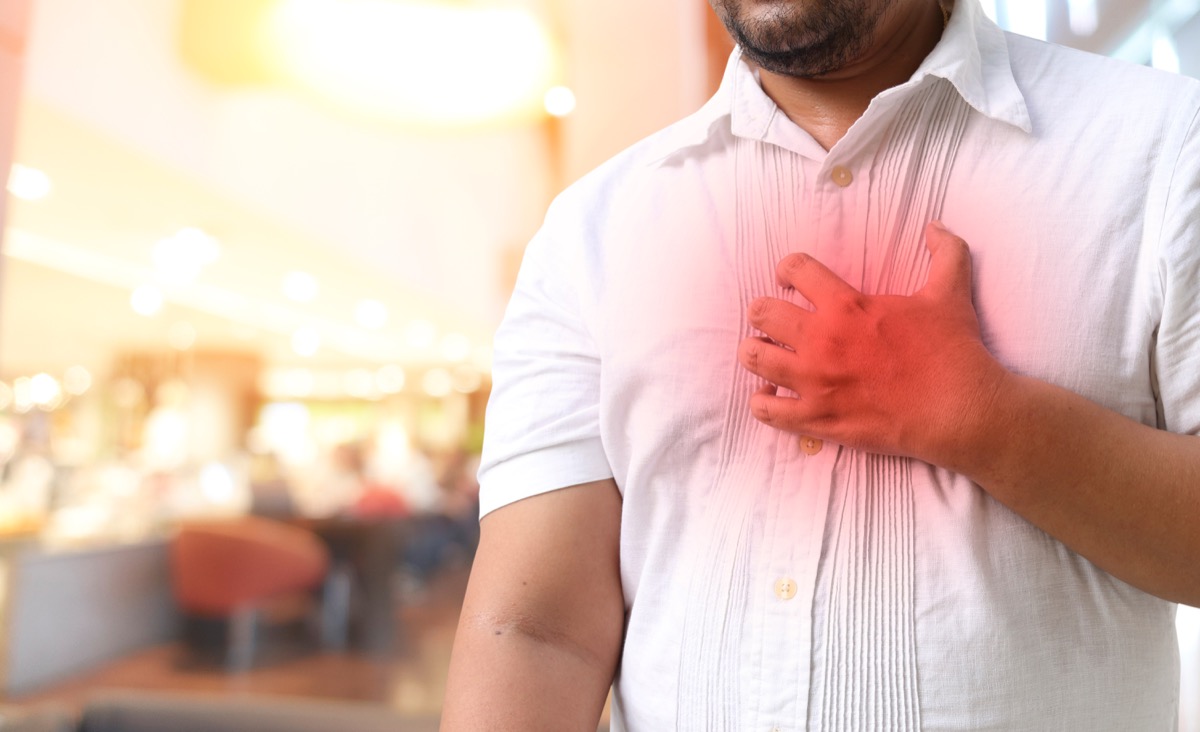 Excessive drinking and binge drinking can lead to stroke and neuropathy. Why? The American Heart Association says that regular heavy drinking can raise blood pressure and cause irregular heartbeats over time. And according to the National Institute of Health, excessive boozing directly poisons nerves.
Long-term health risks of chronic alcohol use include exacerbating or inducing mental health problems such as depression and anxiety, memory loss, problems with learning, dementia, and severely hindered mental functioning. However, it's never too late to cut back on booze and save your brain.
In the New Scientist study, participants who quit booze for 30 days reported an 18 percent increase in concentration and a 17 percent boost in performance at their jobs. What happens when you stop drinking? Quit raising a glass and you'll be on your way to getting a raise!
In the New Scientist study, staffers who quit alcohol found their blood cholesterol levels fell by an average of 5 percent in just 30 days! This is because abstaining helped their bodies sweep out those nasty, fatty triglycerides.
While a glass or two of wine or a few cocktails may seem to set the mood, it's actually a depressant, which is the last thing you want in the bedroom. It can play havoc with a man's ability to get and keep an erection, which can dampen the libido for women as well. And while all alcohol affects the liver's ability to get rid of excess estrogen, beer contains phytoestrogens—plant-derived estrogens that dampen virility and fertility. Taxing the liver with alcohol can make it less effective at metabolizing hormones, which can convert androgens into estrogens, resulting in a diminished sex drive.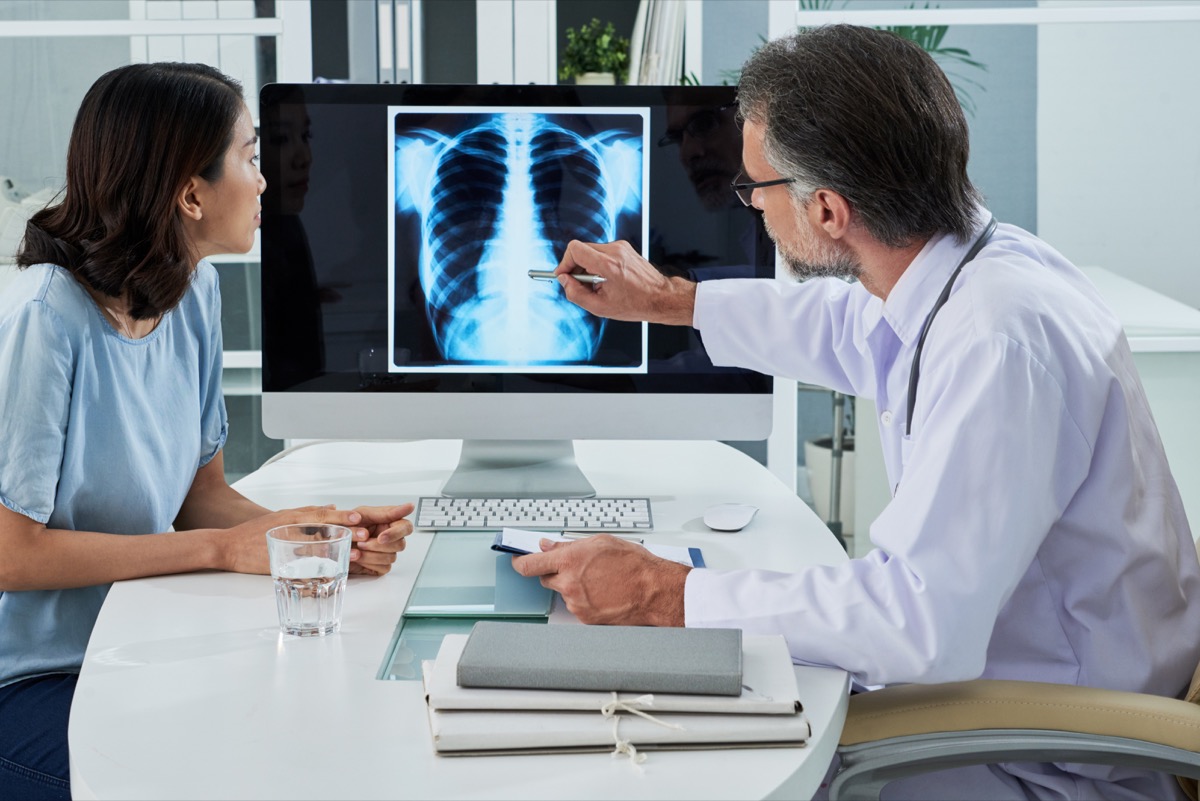 According to the National Cancer Institute, drinking booze has been linked to an increased risk for cancers of the mouth, liver, breast, colon, and rectum—and the risk increases the more you drink. You can guarantee you'll lower your cancer risk in just 30 days. How? Replace your post-boozing McDonald's menu with snacks and meals high in fibrous fruits, veggies, and legumes. In a 2015 Nature Communications study, scientists from Imperial College and the University of Pittsburg found that swapping a meat-heavy Western diet for a high-fiber one increased healthy, protective gut bacteria and lowered colon cancer biomarkers—in just two weeks! Wondering whether you should change your diet? Consider these 9 Warning Signs You're Not Eating Enough Fiber.
5 Eating Habits to Avoid to Live Like the World's Oldest People
Did you know that your longevity is only about 25% attributable to genetics? As it turns out, your lifestyle choices, including your diet, can play a massive role in how long you live. Residents of the "Blue Zones"—which include Okinawa, Sardinia, Nicoya, Icaria, and Loma Linda—are well aware of this. Because of their healthy eating habits, they have a larger population of centenarians (people over 100) than anywhere else in the world.
"Following the Blue Zones' eating habits is a centuries-old proven method to promote longevity, connection, and energy," says Lexi Endicott, RD and culinary nutrition specialist at To Taste Culinary Nutrition. "You can start adopting these eating principles at 2 or 92; it's never too early or too late to make food choices that promote your long-term health. Not only do the Blue Zones eating principles help you live a longer, healthier life, but they also naturally promote a longer, healthier life for our planet, too—a double win!"
Just as you can take a cue from Blue Zone residents on what to eat, you can also take a cue from them on what not to eat. Below, registered dietitians share a few eating habits you'll want to skip if you want to live a longer life.
It's all too easy to go overboard on the snacks when you're bored or distracted. For instance, if you're watching Netflix or working at your desk and eating straight out of the bag or box, you may find that you frequently eat way more than one portion size.
"When you eat mindlessly, you are more likely to overeat, and you likely will not enjoy your food as much as you could have," says Endicott. "In one of the Blue Zones—Okinawa, Japan—they have a practice called Hara Hachi Bu, which translates to 'eat until you are 80% full.' Saying this phrase before each meal reminds them to not eat too much, which allows Okinawans to tap into their body's hunger and fullness signals. This strategy can help you, too: eating enough but not too much can keep you nourished while staving off excess pounds."
If it helps, you may want to pre-portion out snacks to avoid mindless munching.
"Overeating can lead to obesity and further aggravate chronic conditions," adds Blanca Garcia, RDN, a nutrition specialist for Health Canal.
Processed foods are unhealthy in not one, but two ways: they tend to be loaded with excess sugar, salt, fat, calories, and other additives, and also lacking in essential vitamins, minerals, protein, fiber, water, and phytonutrients.
"High ultra-processed food intake is consistently correlated with increased risk of overweight, obesity, metabolic disorder, cancer, type-2 diabetes, cardiovascular diseases, irritable bowel syndrome, depression, and all-cause mortality," explains Endicott. "Blue Zones residents focus on whole, natural foods that promote satiety and are packed with disease-fighting vitamins, minerals, fiber, and phytonutrients."
Trista Best, RD at Balance One Supplements adds that some of the worst options you can have are processed meats (bacon, pepperoni, hot dogs, etc.), salty processed snacks, sugar-sweetened beverages, and packaged sweets.
"Packaged sweets should be avoided because they contain refined carbohydrates which are inflammatory, this can dull the immune system and is detrimental to gut health," she explains. "Salty snacks contain preservatives and salt which increase the risk of other metabolic conditions like hypertension and cholesterol. And processed meats are off-limits due to their link to cancer and heart disease risks."
According to Dana Ellis Hunnes, RD—a senior dietitian at UCLA medical center and author of Recipe For Survival—avoiding these foods can support longevity by lowering inflammation, a well-known predictor of chronic disease and early death.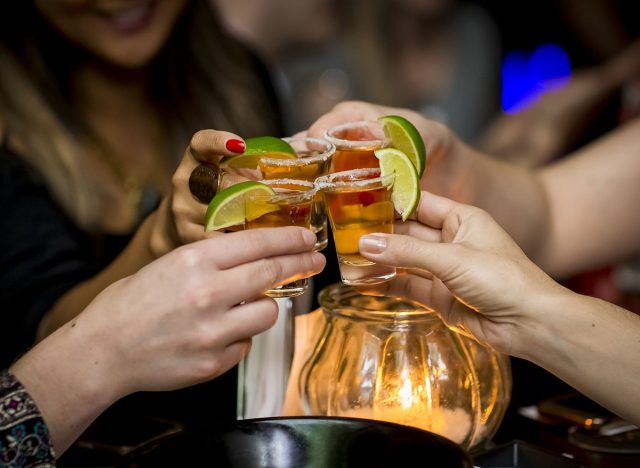 It's not that Blue Zoners don't drink—it's that they do so in moderation, and they stick with polyphenol-rich wine. For example, Sardinians often enjoy a glass of Cannonau red wine with a meal. Dry reds are an excellent choice because they're low in sugar and high in antioxidants.
In fact, a 2006 study in Nature found that reds from Sardinia and southwestern France are naturally higher in procyanidins, a type of antioxidant that's been linked to promoting heart health. Chardonnay, Riesling, and sauvignon blanc are a few white wines with the highest antioxidant levels.6254a4d1642c605c54bf1cab17d50f1e
"If Blue Zone residents drink at all, it's typically just one drink a day, and socially—not to be drunk," explains Hunnes. "Alcohol is associated with increased risk of certain cancers, like breast and liver cancer, and early death."
Remember: the 2020–2025 Dietary Guidelines for Americans recommends limiting alcohol intake to two drinks or less in a day for men and one drink or less in a day for women in order to prevent the health risks associated with alcohol.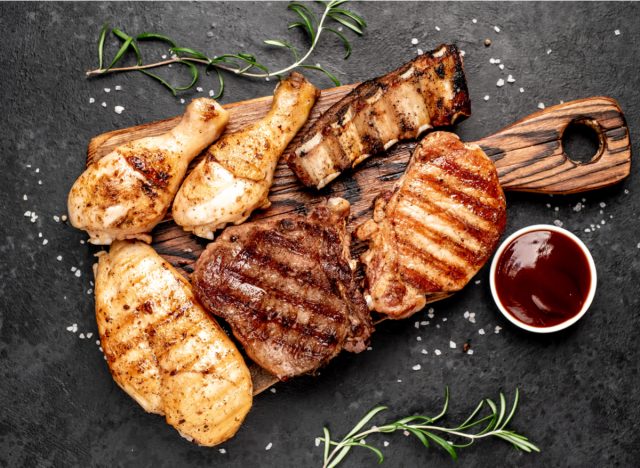 You don't necessarily have to go vegetarian to live a long life—in fact, many Blue Zone residents still occasionally enjoy meat, fish, eggs, and dairy in their diets. That said, according to Endicott, the vast majority of their nutrients come from plant-based foods. Blue Zone residents typically only eat about two ounces of meat five times per month, about three ounces three times per week, and about two to four eggs per week.
"They do not consume animal foods in the same way that most Americans do," she explains. "They consume them in smaller quantities alongside lots of other plant foods. By limiting their animal protein intake, they naturally avoid excess calories, saturated fat, and other potentially carcinogenic compounds."
Rather than getting all of your protein from animal-based products, Garcia advises leaning into protein-rich beans, lentils, whole grains, vegetables, nuts, and seeds.
"By increasing plant-based protein you include healthy unsaturated fats, vitamins, minerals, and cholesterol-free protein," she adds.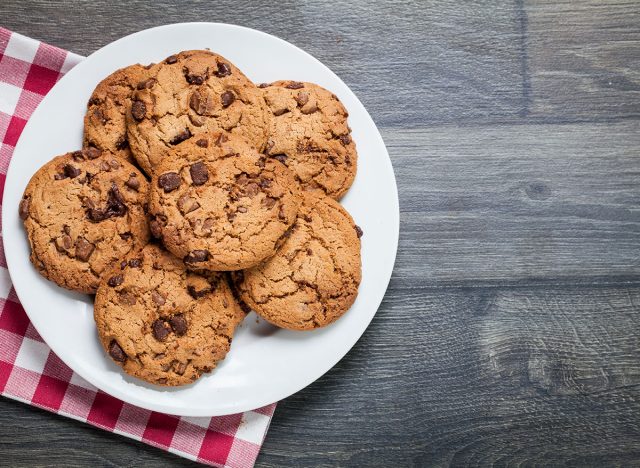 Like meat, Blue Zone residents usually reserve sweets for special occasions and celebrations. They don't eat many foods with added sweeteners and overall only consume around seven teaspoons of sugar per day. The average American consumes more than double that—about 17 teaspoons per day.
Regularly consuming excess sugar can shorten your lifespan by increasing your risk of type 2 diabetes, heart disease, and obesity. such as weight gain and obesity And added sugar isn't just in the obvious foods like cookies and candy—it's also hiding in many other unexpected foods like yogurts, cereals, smoothies, condiments, and even salad dressings. Make it a point to always check the nutrition label on processed foods to confirm the sugar content, and try not to exceed a max of 12 teaspoons per day. When you're craving dessert, do like the Blue Zoners do and enjoy some fresh fiber-rich fruit, which will fill you up while satisfying that sweet tooth.
The #1 Best Vegetable to Lower Cholesterol, Says Dietitian
We get it, sometimes eating enough vegetables can be difficult. But if you skip out on veggies, you're potentially missing out on tons of nutrients, vitamins, and health benefits.
For example, there are certain vegetables that contain heart-healthy and cholesterol-lowering nutrients. In fact, according to Lisa Young, PhD, RDN, author of Finally Full, Finally Slim and member of our medical expert board, carrots are some of the best veggies you can eat to help lower and manage your cholesterol levels.
"Carrots are a good source of soluble fiber, which can help reduce cholesterol levels. They are also rich in beta carotene, the vitamin A antioxidant that can protect you from chronic disease like heart disease," says Young, "and the best part is, carrots are super versatile. You can munch on them with hummus, add them to a salad, or toast them with olive oil and garlic and enjoy them as a side dish."6254a4d1642c605c54bf1cab17d50f1e
Continue reading to learn how carrots can help your heart, and for more healthy heart tips, check out Side Effects of High Cholesterol After 50.
Carrots are almost always first associated with your eye health—and for good reason. They are rich in vitamin A, which has been known to help reduce your risk of certain eye diseases. They also contain lutein, which can help lower your risk of macular degeneration. But while carrots are great for your sight, their benefits don't stop there.
According to Harvard Health, carrots make a great snack for helping your heart and reducing cholesterol because they're easy to eat and are loaded with fiber.
The connection between dietary fiber and cholesterol is significant. A review published in Nutrients states that both insoluble and soluble fiber has been known to help lower blood cholesterol levels, which ultimately helps in reducing one's risk of heart disease.
Another study published in The Lancet found that eating at least 25 grams of fiber a day was known to help manage weight, blood sugar, blood pressure levels, and cholesterol.
Along with its fiber content, carrots can also provide heart-healthy benefits through its levels of beta-carotene. According to a study published in Circulation Research, beta-carotene was said to help reduce the risk of heart disease, cardiovascular disease, stroke, and some cancers.
Lastly, carrots contain vitamin A, which experts know has some connection to your heart health. However, much more research needs to be done before we can say for certain how vitamin A can help your heart.
So, next time you're in the mood for a quick snack and want to try roasting some yummy vegetables in the oven, try grabbing some carrots and giving your body a dose of heart-healthy nutrients.