Wife of Missing Returning Officer Talks About His Disappearance
Tabitha Mbolu, the wife of Daniel Musyoka Mbolu, the returning Independent Electoral and Boundaries Commission (IEBC) official for Embakasi East, now says she spoke to him just before he went missing.
Speaking to the media on Sunday, August 14, Tabitha hinted that she last heard from her husband when he made a rather unusual phone call while he was still on duty.
She assumed he confirmed the work was going according to plan, but did not mention any challenges he would have faced.
Missing Embakasi East Returning Officer Daniel Musyoka.
Twitter
"We usually spoke before he left for work and when he came back in the evening. I last spoke to him on Wednesday afternoon.
"He admitted it was a lot of work, but assured me he would come home as soon as he was done. He didn't tell me he had any problems at work," Tabitha said.
She noted that since Musyoka went missing, she had tried to reach him by phone, but without success.
In addition, the distraught woman noted that they had since launched searches, which have turned up nothing.
"We searched him everywhere he could be – from hospitals, pharmacies and even the morgue – but to no avail. We are asking anyone who knows where he is to come out with the information," Tabitha said.
For their part, Musyoka's colleagues announced that he was leaving his station shortly before the announcement of the results of the MCA and the parliamentary elections. His last digital footprints were at 10 a.m. on August 11.
His family has linked his disappearance to his job at the Commission, calling it a major risk.
Notably, Musyoka is not new to working with IEBC. He started working for the Commission 15 years ago and was a returning officer for Oloitoktok before being transferred to Embakasi East.
In a statement from IEBC chairman Wafula Chebukati, the returning officer's colleagues raised the alarm after he went missing and the phone could not be traced.
"The returning officer has been reported missing at the Embakasi counting center. Reports received by the Commission show that he was escorted to the counting center by his bodyguard around 9:00 am yesterday.
"At about 9:45 a.m., he apologized for calling but did not return to the office," Chebukati said.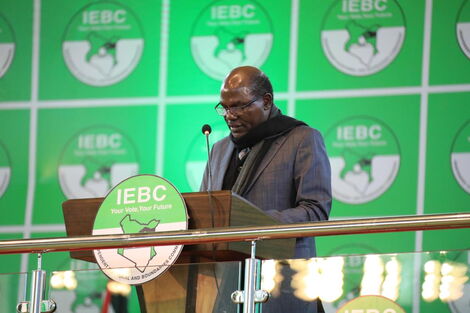 IEBC President Wafula Chebukati at the National Tallying Center in Bomas, Kenya on Friday, August 12, 2022.
UKTN.co.ke